Chrissy Metz Says Toby & Kate Will Face Unexpected Parental Struggles On 'This Is Us'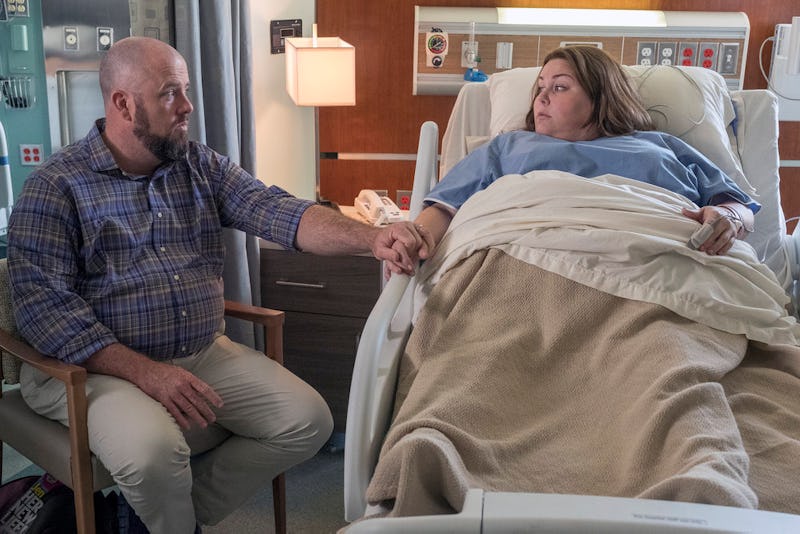 Ron Batzdorff/NBC
NBC's This Is Us has always been a twist-and-turn-filled roller coaster ride. Even so, perhaps no storyline has had more highs and lows than Toby and Kate's parenting struggle on This Is Us — though not for lack of some serious competition. Well, hold on to your safety harnesses because, according to Chrissy Metz (AKA Kate Pearson), her character's trials in starting a family with husband Toby (played by Chris Sullivan) has a major bump ahead that — in true This is Us fashion — you likely won't see coming. As the Emmy nominee recently teased to Entertainment Weekly, "It's something I don't think we've ever seen, at least not on network television."
Loyal viewers, who are firmly planted in front of their television sets on Tuesday nights — requisite tissues within reach, of course — are well aware that "Katoby" had already dealt with a heartbreaking miscarriage, followed by unsuccessful attempts to conceive naturally, before eventually undergoing difficult IVF treatments.
In the Oct. 23 episode, at long last, the couple got the good news they'd been yearning for: Kate is finally pregnant. Don't forget, however, that said pregnancy is still considered high risk, and, to complicate matters, Toby is also battling severe depression, after secretly going off his medication in order to help their chances of conceiving.
As Metz further revealed to EW:
"Toby and Kate are going to have a bit of an unconventional parenting situation. Not unconventional in that people aren't doing it, but not what I think either of them ever had in mind ... It's going to be challenging for me as an actress, which I'm excited about — scared but excited."
This Is Us executive producer Elizabeth Berger echoed Metz's comments to EW, saying that the pair's "very specific struggles" are "not necessarily something that we've seen up close before." Added Berger: "Nothing about Kate and Toby's journey thus far has been pretty conventional, and it's going to continue to be something that they have to navigate very carefully. We're excited to share their journey. It's a really specific one that we've been plotting out very carefully."
Fans first got a hint that Kate might be pregnant when Metz posted a happy-looking episodic photo of herself and Sullivan (both in character) on Instagram, captioning the Oct. 22 snapshot, "What in the world could #Katoby be smiling about?!" (Most commenters had a pretty good idea.)
Kate and Toby's fictional struggle has also had real-life effects for many people. One such instance Metz shared with NBC's Today show involved a woman who told her she had a miscarriage and went through IVF at the same exact time Kate was. "Because of the show, she was able to get through her miscarriage, and she knew that it was gonna be OK. And I was like, 'What?'" revealed Metz.
With Kate so desperately wanting to be a mother on This Is Us, many have wondered if Metz wants a baby in real life. Well, not just yet, said the actor. "I have a huge family and I taught preschool. I love children and they are the funniest, most magnificent creatures," Metz recently told Us Weekly. "But I can't even keep a succulent alive, so I'm concerned that should these thoughts and desires come about, that whether I do it conventionally or unconventionally, who knows? I just feel like a baby myself. I need to nurture myself first before I could do that to another human being."
So exactly what twists and turns lie ahead for Kate and Toby? Fans will have to continue tuning in to This Is Us on Tuesdays at 9 p.m. ET to find out.