Here's Your Horoscope For Today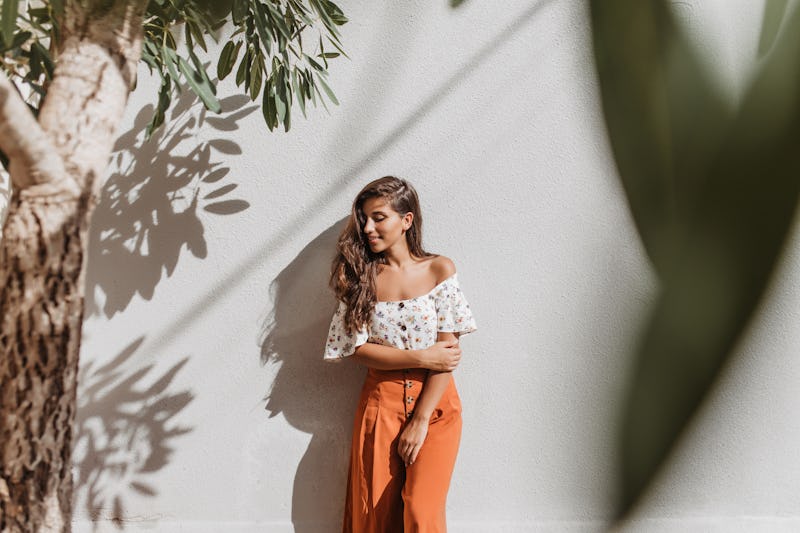 Shutterstock
We're constantly fascinated by what our zodiac sign says about our lives, whether it's which signs are most compatible or how each sign handles conflict in relationships. That's why Bustle has enlisted Mecca Woods, a New York City-based astrologer of MyLifeCreated.com, to tell us all about how astrology is affecting our lives each day. Today's topic: your daily horoscope for July 25, 2019.
The day gets off with a bang thanks to the Taurus Moon teaming up with unpredictable Uranus in Taurus and passionate Mars in Leo teaming up with happy-go-lucky Jupiter in Sagittarius. If we're to accomplish anything today, especially during the first half, we're called to take an innovative and determined approach.
Although the stable Taurus Moon will square off with Mars in Leo by the late morning, we can still seize the day by taking a steady yet creative approach to getting the job done. We'll just need to look to the Taurus Moon to help us with keeping calm and grounded when things get too challenging or aggravating.
Read below to see what the stars mean for your sign today, and make sure to check out your July 2019 monthly horoscope.
Aries (March 21 - April 19)
Financial stability is on your mind now, making it the perfect time to go after an opportunity that you want. No matter what it is that you're going after, you get what you want when you honor your worth and define success on your own terms. Believe in your gifts.
Taurus (April 20 - May 20)
It's all about what you're feeling today, which may call for you to ramp up your self-care. Doing so may require that you speak up about what you need or require that you set some healthier boundaries, especially where family is concerned. Honor your anger and your passion.
Gemini (May 21 - June 20)
You might be feeling restless or tired today, no in between. Either way, you might need to more protective with your energy and look towards the activities, info, and people that inspire and energize you. Some alone time could help you tune out the noise and focus.
Cancer (June 21 - July 22)
You might find that people or friendships that you used to identify with are beginning a bit confining now. This is because you're being pushed to define your own value system as doing so could separate you from the pack. Meanwhile, some extra effort can help a plan succeed.
Leo (July 23 - Aug. 22)
You're a trendsetter. Keep this in mind today when it comes to your goals and career. Though setting the trend may require that you both step outside of your comfort zone and be more of your authentic self, even if others aren't on board at first. Show them who's boss.
Virgo (Aug. 23 - Sept. 22)
You could use a vacation, Virgo. So why bother with unnecessary work or trying to force things to happen if those things aren't moving right now. There's a reason why things are moving slowly and that means you should too. Taking time out to rejuvenate is needed.
Libra (Sept. 23 - Oct. 22)
You may need to have a discussion with your partner or someone close to you about a financial matter. Though you can come to a solution or an agreement if you're willing to take a fresh approach. Communication is the key to success now, even if it's uncomfortable.
Scorpio (Oct. 23 - Nov. 21)
You might feel like you're in competition with someone today, which could throw you off if you let this person pull too much on your energy. Sometimes the best thing you can do is not worry about the competition. You're above that. Focus on your success.
Sagittarius (Nov. 22 - Dec. 21)
When it comes to the work that's currently on your plate, are they worth the time and energy that you're investing in them? This might be the biggest question for you to answer today as something's got to go. On a similar note, where can you stand to shake up your routines?
Capricorn (Dec. 22 - Jan. 19)
You may need to have an honest conversation with a romantic partner or potential one. See this conversation as an opportunity to break away from unhealthy relationship patterns as being your authentic self can pave the way for authenticity with this person. Be receptive.
Aquarius (Jan. 20 - Feb. 18)
You may need to cocoon yourself away today as others could get on your nerves or rub you the wrong way. At the same time, if you find that there's something you've been holding on to emotionally, today could provide you with the catharsis that you need. Let it go.
Pisces (Feb. 19 - March 20)
You might be spinning your wheels today and overthinking or obsessing over something that you may or may not be able to control. A new approach or perspective is needed, but it will only come if you take a step back from the situation and let it breathe. Make time for fun.