Tom & Abby's 'Queer Eye' Reunion Almost Didn't Happen But Here's How Antoni Fixed It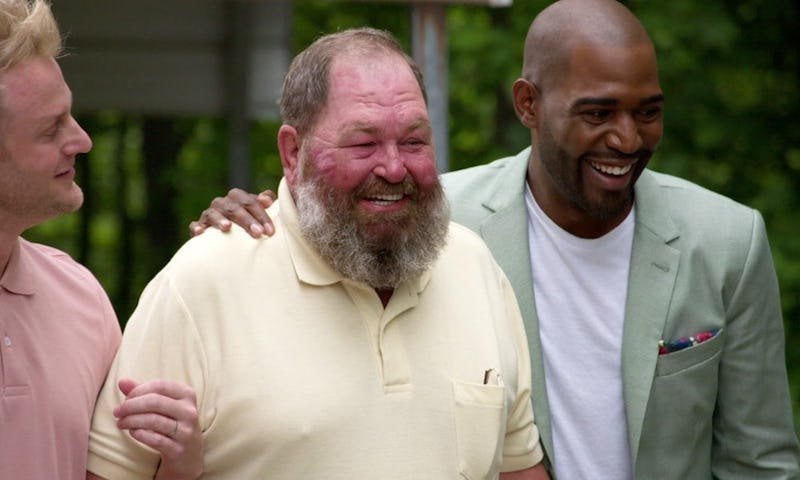 Courtesy of Netflix
You might want grab yourself a seat and a redneck margarita while you're at it because this Queer Eye news will have you shook. It turns out, that everyone's favorite reality show couple Tom and Abby almost didn't reunite on Queer Eye. But, luckily, Antoni Porowski is not only a good cook, but one hell of a listener.
In a May 30 interview with Entertainment Weekly, Karamo Brown, Queer Eye's culture expert, revealed that Tom Jackson's episode, which also happened to be the very first of the Netflix reboot, was almost very different. The original plan was to help Tom move on in his love life after his divorce from Abby by improving his online dating profile.
But, Antoni picked up on a comment Tom made about his ex-wife that forced the new Fab Five to switch gears. "Antoni shifted that episode," Brown told EW, admitting the guys had never spoken about this change publicly.
In the episode while looking through Tom's kitchen, Antoni noted that maybe he should lay off all the sugar. Antoni assumed it was Tom's daughter's candy since she has a little boy, but Tom said it was Abby who had been buying him the chocolate bars. "We see each other now and then," Tom said. "Wait, why did your face twitch?" Antoni said all smiles. "Talk to me about that."
Turns out, Tom wasn't quite over his last ex-wife telling Antoni, "I love her more than anything. I wanna spend my life with her." With that, the guys made it their mission to bring these two together. What fans didn't see was that Tom had already revamped his dating profile with help from Karamo, who even took him "to meet different women to learn how to talk to him, to build his confidence."
But, Karamo couldn't be happier about the switch. After all, Tom and Abby's love story is one of the best things to come out of the show. "Antoni catching that one [comment where Tom mentions Abby] literally cut my scene out, which I'm happy about," Karamo told EW. "All of a sudden we are on a bench and I'm like, 'Call your ex-wife!'" Tom invited her to the car show, and the rest is history. Tom and Abby were re-married back in March, eloping in Tennessee followed by a "honeymoon in the mountains."
After the two got hitched, the Queer Eye guys were quick to congratulate Tom and Abby. Tan told Entertainment Tonight, "Watching Tom with Abby was the most beautiful thing. You can tell how much he loves her." Bobby also told ET, "The whole world saw all the love re-blossom on the first episode of Queer Eye. We couldn't be more happy. Tom and Abby, congratulations. We love you."
While Tom teased in his tweet announcing his engagement that it would be fun to have the Queer Eye guys plan his wedding, even saying Bobby could be his best man, it appears from Tom's wedding photos as if that didn't happen. But, don't worry, when Queer Eye Season 2 returns on June 15 it's going to be filled with even.
According to Entertainment Weekly, the new season of the "make better" not make-over show will include eight new episodes, that will feature "the show's first female and first trans male subjects."
Whether or not Tom and Abby actually show up in Season 2, fans will always have his episode in which they not only fell in love with the guy who thought "they couldn't fix ugly," but the Queer Eye guys, too. And, it's hard to believe Antoni, Karamo, Jonathan, Tan, and Bobby won't find new ways to make the world love them even more in this new season.
Photos courtesy of CHAPEL AT THE PARK