'Queer Eye' Star Antoni Has Landed A Cookbook Deal & We're Expecting Lots Of Avocado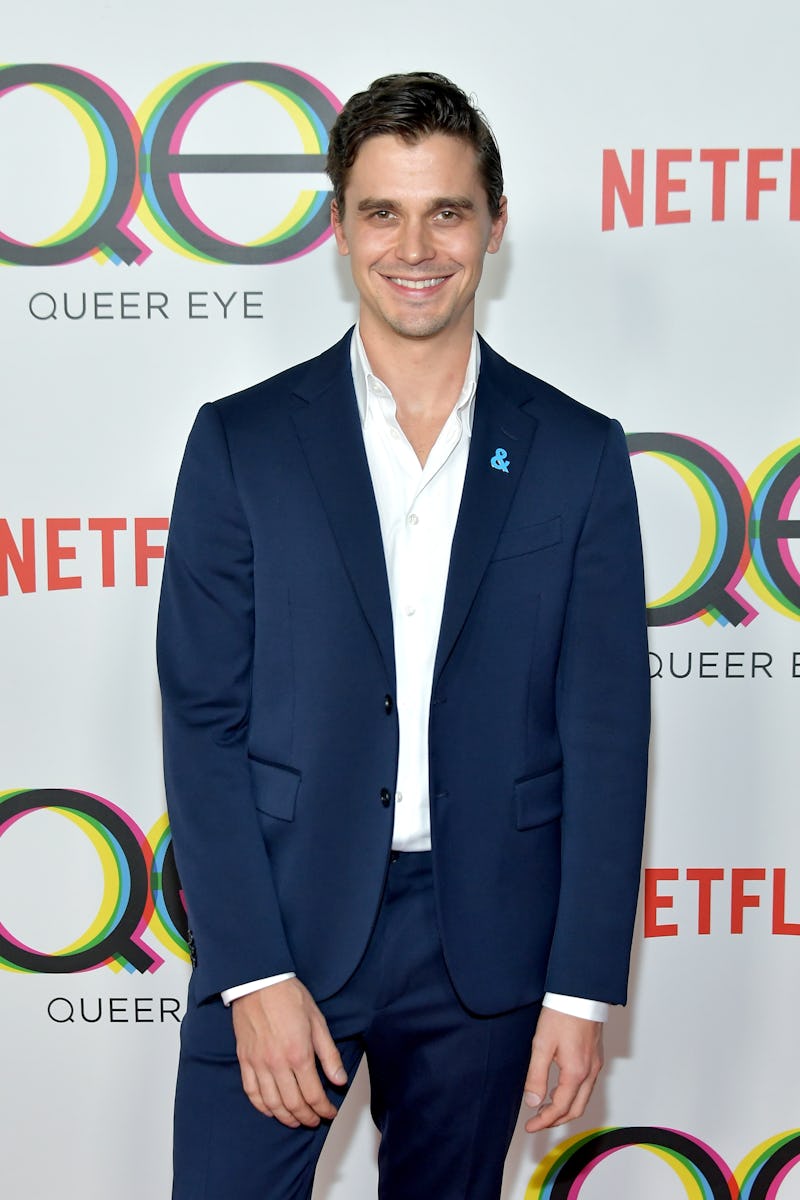 Neilson Barnard/Getty Images Entertainment/Getty Images
The world may still be debating whether Queer Eye's food and wine expert can actually cook, but today's delicious news should be enough to finally silence the haters: Antoni Porowski has a cookbook coming out. You may never get a personal cooking lesson from the Fab Five's resident food guy, but at least now, you can get the second best thing.
If you've been meaning to try pork tenderloin canapés or clean-eating avocado grapefruit salad ever since seeing it on Netflix's rebooted Queer Eye, you're in luck, because the recipes may be available soon. According to exclusive reports from Entertainment Weekly, Rux Martin of Houghton Mifflin Harcourt has acquired Antoni's first cookbook, which will feature 100 simple yet sophisticated recipes. Like the easy yet delicious meals that made him a hit on Queer Eye, Porowski's cookbook will focus on healthy dishes that look beautiful and taste even better.
"I could not be more thrilled to be writing about the recipes I love and think are essential to any novice home cook, professional, and somewhere in between," Porowski told EW in a statement about his exciting new project. "I'm also truly honored to be published by Houghton Mifflin Harcourt: the talented and passionate Rux Martin, for whom I have such tremendous respect. We immediately bonded on the importance of hors-d'oeuvres and our mutual love for Vermont, and I can't wait to publish this book and share my personal recipes with the world."
Antoni is a food expert and a member of the the Queer Eye cast, otherwise known as the Fab Five. Over the course of the reboot's first season, he taught men everything from how to cut an avocado and make a healthier version of guacamole, to how to compose the perfect grilled cheese for a crowd and mix amazing margaritas. But what Antoni gives the guys he teaches is more than basic kitchen skills and easy-to-follow recipes; he shows them the power of food and the joy cooking can bring. Though his cooking style has raised some fierce debates on social media, including one particularly heated one about mac and cheese and another about whether or not the food expert can actually cook, his food has proved to be healthy and tasty by many who have tried it themselves.
Before Queer Eye, Antoni was the personal chef and assistant to his predecessor, Ted Allen, who was the original food and wine connoisseur on Bravo's Queer Eye for the Straight Guy and the current host of Chopped, among other cooking shows. Since making his debut on Netflix's reboot, Antoni's star — which was beginning to shine thanks to small acting roles on shows like The Blacklist — has skyrocketed. Recently, the food and wine expert landed a deal with Hanes as an underwear model, attended model Gigi Hadid's celebrity-packed birthday bash, and he even gave teen activist Emma Gonzalez cooking tips during a dinner they both attended for the LGBT Center in New York City.
"Antoni has an appealing vulnerability that helps him connect instantly with newbies in the kitchen," Martin of Houghton Mifflin Harcourt told EW about the upcoming project. "But his recipes are so stylish and contemporary that they pull in sophisticates too. I was drawn to their blend of European classical approach and American accessibility."
Fans of Antoni can look forward to seeing him cook and share his simple recipes on the upcoming Season 2 of Queer Eye, which is supposed to drop on Netflix later this year. Beyond that, Antoni's currently untitled cookbook is expected to hit shelves in spring 2019.