Why Tom Felton Has Only Seen The 'Harry Potter' Movies Once Will Make Potterheads Smile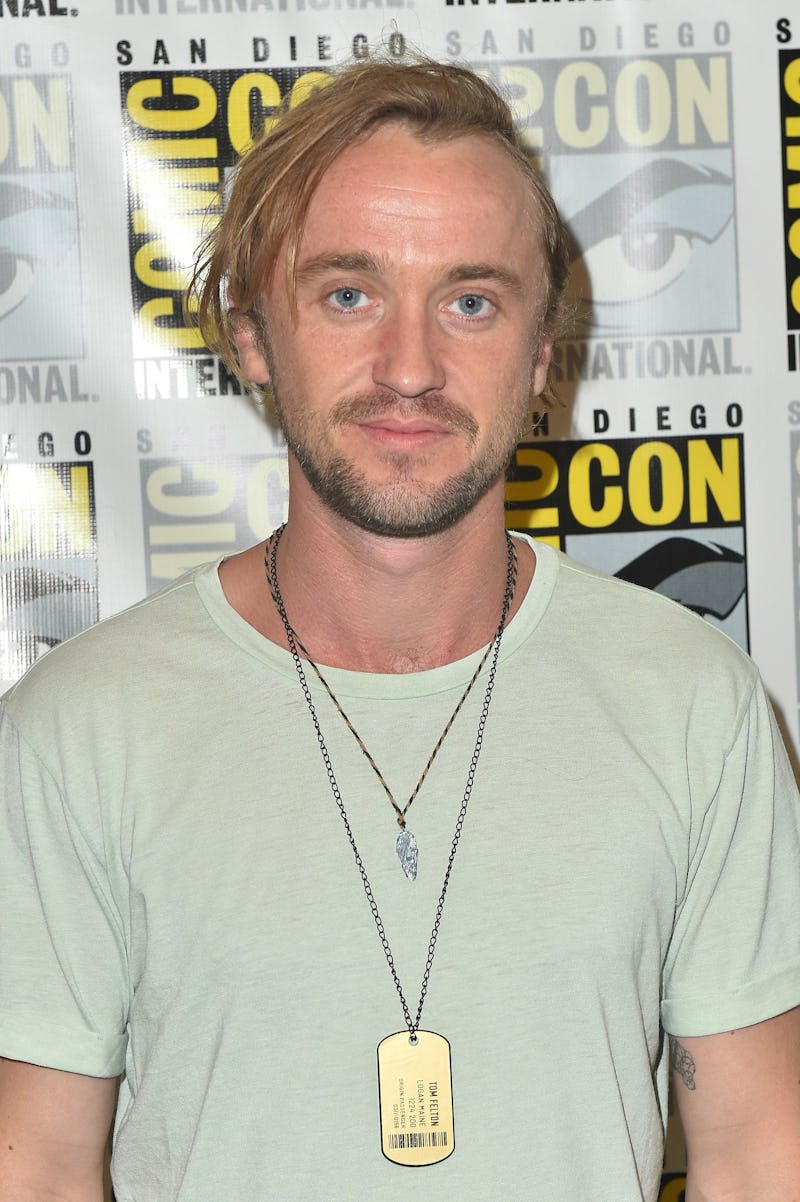 Jerod Harris/Getty Images Entertainment/Getty Images
Unlike Potterheads who have seen the Harry Potter movies multiple times, Tom Felton won't rewatch the Harry Potter movies. You read that right. The actor who played Draco Malfoy in all eight films has only seen each movie once. That revelation might be hard for fans to digest, but after you hear Felton's reason for refusing the movies adapted from J.K. Rowling's book series, you won't be able to stop smiling.
"I have seen the Potter films during the premieres, but other than that no — never!" Felton admitted recently to People. "I'm saving that for a sacred day."
A "scared day," he says? What could he possibly mean by that? Brace yourselves for the sweetest explanation ever. The 31-year-old actor revealed,
"I have visions of doing that with my two kids, when I'm a little bit older."
Oh, my gosh! Did you expect that answer? His response is absolutely the best. To clarify, Felton does not currently have any children. He's simply thinking about the future, in which he hopes he has kids, specifically two to watch Harry Potter with! To hear Felton say he wants to rewatch the movies again when he becomes a father is truly beautiful. To know the Origin star even thinks about the day he welcomes children into the world is so heartwarming.
Who else is picturing Felton sitting on the couch with his children watching Harry Potter? Yeah, same.
It's no secret Felton cherishes his time spent filming the Harry Potter movies, in addition to the friendships he made on set. As he told People about staying in touch with his former co-stars,
"It's all a lie, we hate each other and we're all absolute bastards! No, everyone is really sweet. I was lucky enough the last few months to see Daniel [Radcliffe] on Broadway, he's doing well. He is always inspiring with his work choices and his outlook on life. I saw Emma [Watson] recently and had a little day on the beach."
Regarding Felton going to see Radcliffe on Broadway, the two even took a photo backstage at The Lifespan of a Fact in New York City. Felton was kind enough to share the picture on Instagram, in which he captioned, "Go see it. He's fantastic as per @lifespanofafact."
As for Felton and Watson's beach day, well, she posted a selfie of them on the beach and also the cutest video of the two on a skateboard together. If you haven't seen it yet, here it is:
Watson shared the Instagram in support of Felton's new YouTube original series Origin. She wrote next to the post,
"Tom's @origin_series is out on 14th November. Congrats dear friend. #TFToleratingmysubparskatingskillssince1999."
It makes sense why Felton won't rewatch the Harry Potter movies and wants to save that moment for whenever he has kids. The films impacted his life greatly and he walked away with some of the most amazing memories and friends, so he simply wants to relive all that as a father. To wait all that time will also make the experience with his kids that much more special. Not only will Felton get to relive it all with somewhat fresh eyes, but also through the eyes of his children.