This Video Of Harry Potter Alums Emma Watson & Tom Felton On A Skateboard Is So Magical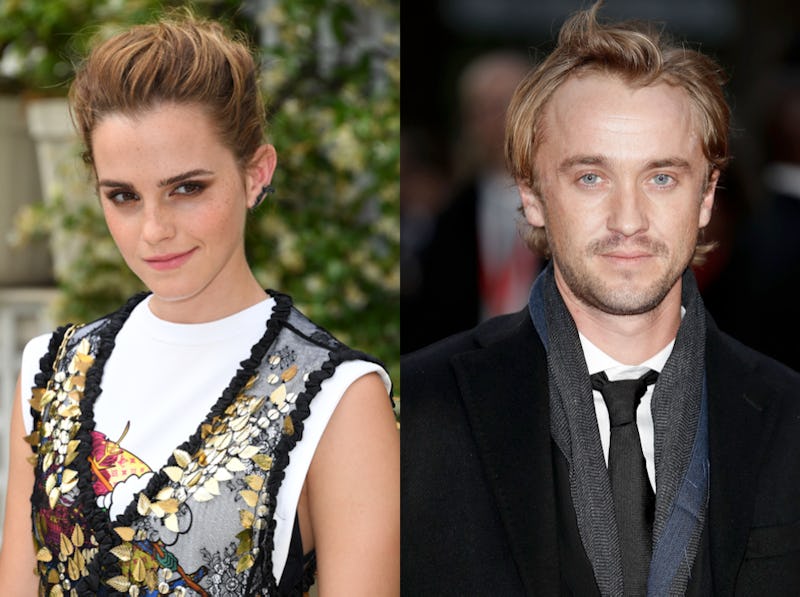 Pascal Le Segretain/Getty Images Entertainment/Getty Images; John Phillips/Getty Images Entertainment/Getty Images
Here's something Harry Potter fans always needed without realizing it: An Instagram video of Hermione Granger and Draco Malfoy on a skateboard together. In a post to her Instagram, Emma Watson supported Tom Felton and his new show Origins with a few sweet memories, including a video of the two of them chilling on the beach and cruising through LA on the same set of wheels, as Gryffindors and Slytherins do.
On Thursday, Nov. 8, Watson posted two cuddly moments between friends to her Instagram. One is a selfie of her with former Harry Potter nemesis Tom Felton, and the next is a video of the pair huddled together on a skateboard — that they're trying to ride at the same time. It's pretty amazing. And his was an especially magical moment, as fans don't normally see the costars hanging out — they're all so busy, after all! Plus, there's her caption. Next to emojis of a palm tree and a clown, Watson wrote:
"Tom's @origin_series is out on 14th November. Congrats dear friend. #TFToleratingmysubparskatingskillssince1999."
Ever the supportive friend, Watson made sure to plug Felton's new TV series in her Instagram caption. (It wasn't sponsored content, since she didn't use the hashtag #ad or anything similar. Just being a good mate!) But what is this new show, exactly? Origin is a YouTube original series that debuts on Nov. 14. In it, Felton plays a character named Logan Maine, a jokey, stubborn passenger aboard a doomed spaceship that leaves Earth. So, yeah, he probably won't be skateboarding around in the sunshine any time soon, at least not on screen.
Putting the purpose of the post aside, Watson's sweet Insta brings up so many questions. First of all, even Harry Potter superfans probably didn't realize Watson and Felton were so close. But way more importantly: Has Felton been trying teach Watson how to skate for the close to 20 years they've known each other? That might just be the cutest thing in the Wizarding and Muggle worlds.
"Easy with the wobbling!" Felton admonishes her in the clip, "Keep your feet still!" Watson insists, "I'm not!" but who could blame her if she was? Anyone that's been a passenger on a skateboard knows it's really not that easy. Even if you are Hermione Granger on- and off-screen.
"You're dancing around on the board like a clown," jokes Felton, "Hang on tight!" Watson mutters back, "I'm hanging on." This is surely the clip that will launch a thousand new Hermione-Draco Tumblr posts. It's just so cozy. And stylized! What are these performers trying to do to their fans' hearts?
Knowing that Felton and Watson are close enough IRL to literally ride one skateboard together is pretty enchanting. Charming, even. (The Harry Potter puns write themselves for this one.) It looks like even though one of their best scenes in the franchise involved Watson punching Felton square in the face, there's no hard feelings about that all these years later. And for that, Hermione-Draco shippers will be eternally grateful.