This Adorable Anecdote Proves The Harry Potter Cast Are Still Total Besties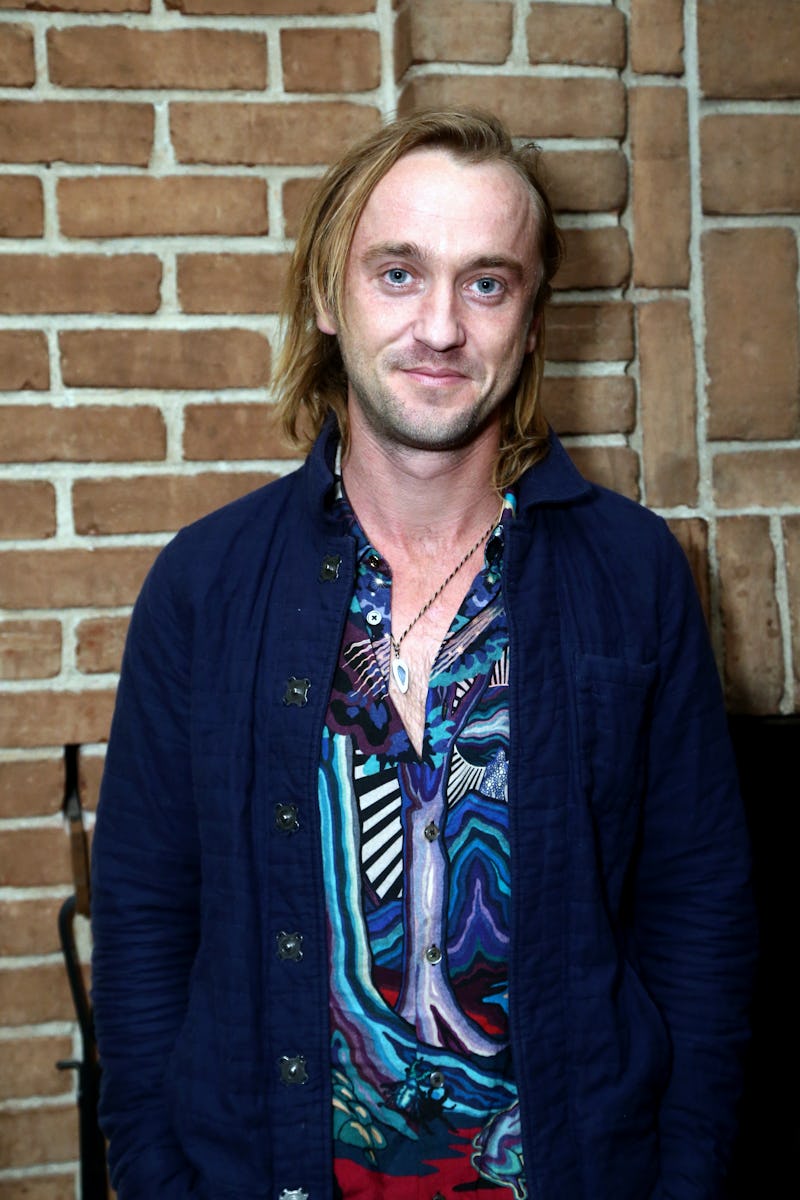 Tommaso Boddi/Getty Images Entertainment/Getty Images
Is there anything more magical in this life than Harry Potter? That was a rhetorical question — of course there isn't. I would say the franchise takes me back to my childhood, but I'll be real with you, my love for it grows every day. I can't imagine not watching one of the films to warm me up on a dark and rainy evening. It's a sure-fire way to feel 100 percent better. And while the original Harry Potter film franchise wrapped up eight years ago (I know, I know), it turns out Tom Felton's friendship with his Harry Potter co-stars is still super close. Which makes sense given that they practically grew up together on that film set. Felton (who played Slytherin bad boy Draco Malfoy) recently opened up about his relationship with his former castmates in an interview with People magazine.
He told the publication, "It's all a lie, we hate each other [...] No, everyone is really sweet. I was lucky enough the last few months to see Daniel [Radcliffe] on Broadway, he's doing well. He is always inspiring with his work choices and his outlook on life. I saw Emma [Watson] recently and had a little day on the beach."
If social media is to be believed, the cast hang out any chance they get. Evanna Lynch aka Luna Lovegood, the kindest Ravenclaw of them all, recently starred in the final of the U.S. version of Strictly Come Dancing, Dancing With The Stars. She came third in the final on Monday and got good luck messages from Emma Watson, Felton, and Bonnie Wright to spur her on.
And while for most Potter fans, rewatching the films is a regular treat, our favourite Hogwarts bad boy hasn't allowed himself such luxuries. Felton told People that that he has only seen the Harry Potter series once. He explained that he's waiting for one special occasion to get the films out again and it will truly melt your heart.
Felton told People magazine, "I have seen the Harry Potter films during the premieres, but other than that no, never! I'm saving that for a sacred day." If I had starred as Slytherin anti-hero Draco Malfoy, you can bet good money on the fact that I would watch the Harry Potter series in full once a week just so I could act out my own scenes and get on everyone I know's nerves. So, when possibly could this sacred day be? Felton explained, "I have visions of doing that with my two kids, when I'm a little bit older." Wow, Draco may have been cold, but Felton is the total opposite. What a softie.
So while he might not have those two kids to share the epic highs and lows of Harry Potter with just yet, it looks like the Harry Potter family is still the best one to belong to. And when the time does come that Felton has children of his own I can't think of anything cooler than watching your dad in one of the most iconic magical film franchises. If you are missing Felton's charming ways you can catch him in the new YouTube Originals series Origin, which is available to stream now.