Tom Hanks's Next Project Sounds Amazing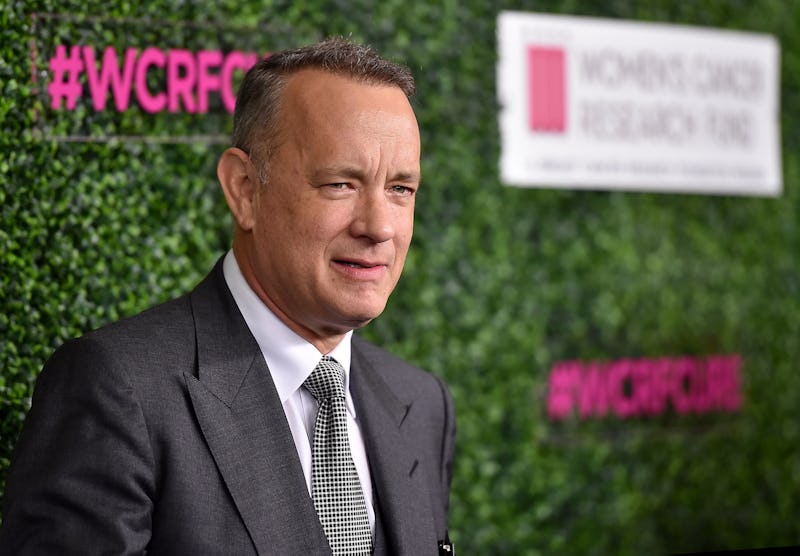 Alberto E. Rodriguez/Getty Images Entertainment/Getty Images
It's no secret to me, and hopefully it's no secret to you, that Tom Hanks was snubbed during the 2017 Oscars. His acting in Clint Eastwood's Sully was superb and should've solidified his spot amongst the other Actor In A Leading Role nominees. The icon didn't let the snub stop his shine, however. In fact, Hanks' HBO mini-series about the 2016 election could help him get the love that he deserves.
The actor and his production company Playtone have signed on to executively produce a new HBO miniseries that'll highlight the most dramatic moments from the 2016 presidential election — specifically, Hillary Clinton's unforeseen defeat to Donald Trump. The series will be an adaptation of the upcoming presidential memoir written by 2010 New York Times best seller Game Change authors and political journalists Mark Halperin and John Heilemann. Game Change covered the 2008 election and was adapted by HBO into a five-time Emmy winning film in 2012, starring Julianne Moore as Sarah Palin and Ed Harris as John McCain.
The new book is scheduled to be released early 2018, so I'm guessing that we'll be able to get a first look at the series shortly thereafter. Joining Hanks on the production side are the Halperin and Heilemann, Hanks' Playtone co-founder Gary Goetzman. Game Change director Jay Roach — who's also best known for his work on the Austin Powers films — will helm.
One of the biggest concerns that comes to mind is the casting of Trump forthcoming project. The leads in 2012's presidential race dramatization Game Changers were on point, so I can only guess at the same will hold true for this one. Halperin and Heilemann sat down with NYT to discuss the details of their upcoming election memoir and the HBO miniseries adaptation, hinting at who one of the potential stars will not be. According to the interview, Heilemann thinks casting Alec Baldwin in the role isn't the best idea: "As great as [he] is, the idea behind this is less caricature, and more interesting dramatic portrayal that's not a cartoonish caricature."
I agree with the rest of the world, in that Baldwin's portrayal of Trump on Saturday Night Live is absolutely hilarious. But, as Heilemann said, it's a bit over the top. And, sadly, after knowing more about the series' tone, I don't think Baldwin's over-the-top performance will fit either.
However, I don't think Baldwin's potential absence from the project will stand in the way of Hanks and the rest of the team being celebrated. From what we know so far, it sounds like the HBO miniseries has the makings needed to take the 2019 awards season by storm.