Tom Hardy's Writes An Emotional Tribute To His Late Dog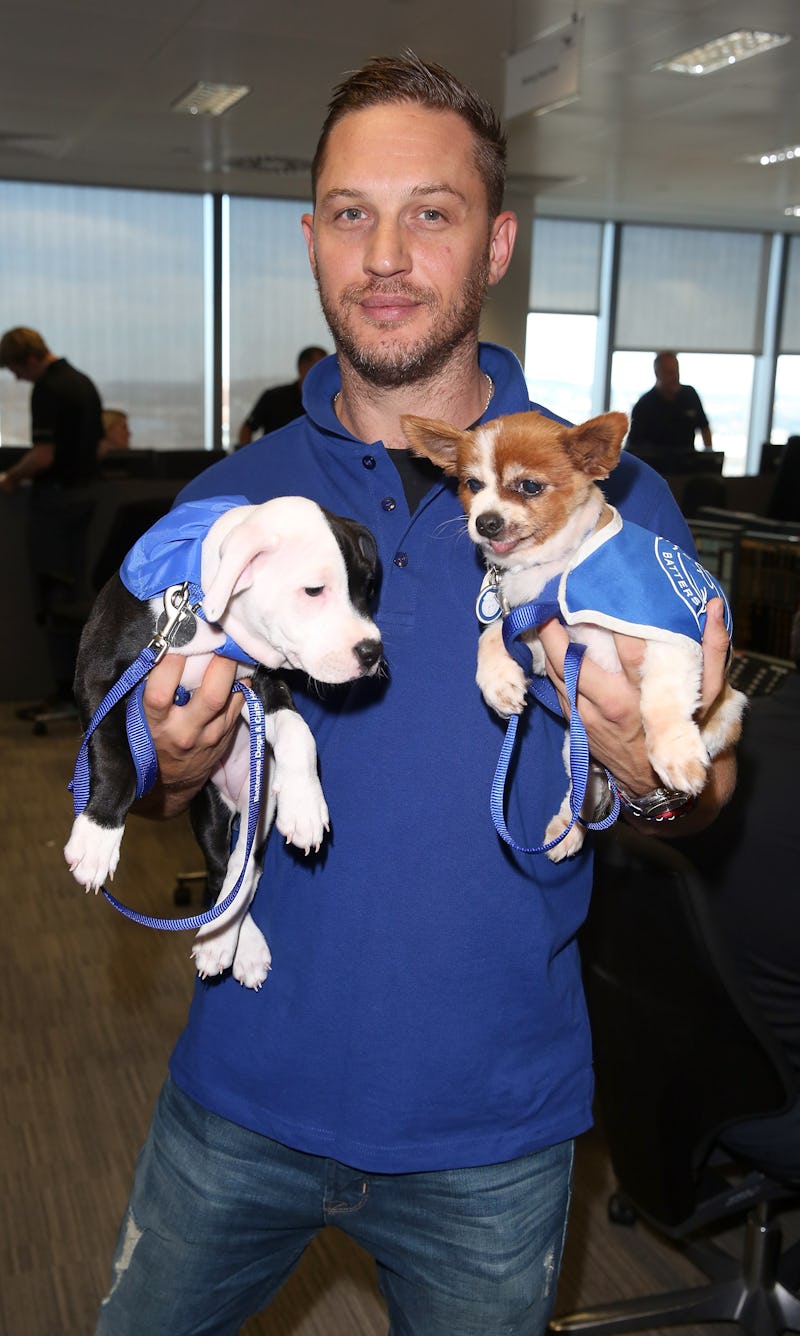 Tim P. Whitby/Getty Images Entertainment/Getty Images
It's always heartbreaking when a canine friend has to cross the rainbow bridge. Tom Hardy, who is a proud and dedicated dog lover (so much so that there's a fan Instagram account called @tomhardyholdingdogs), sadly had to say goodbye to his four-legged best friend, Woody, this week when he passed away at age six after a six-month battle with polymyositis, a muscle disorder. In a devastating and very unique tribute that Hardy posted on his Tumblr, he tells the story of finding Woody while filming Lawless in Georgia when the pup was only 11 months old. "He was an angel. He was my best friend," Hardy wrote. "We went through so much together." Sob. If you're not already hugging your dog right now, make it your first priority to do so.
I'm sure Hardy's intention was not to make readers weep, but then why did he embed a nine-minute slideshow featuring photos of himself and Woody enjoying their lives as best friends forever?! Woody, whose full and proper name is Woodstock Yamaduki Hardy, was a yellow lab mix who came up from his humble beginnings as a scared stray to a fixture on Hardy's sets. Woody appeared in Peaky Blinders, often accompanied Hardy on the red carpet at premieres, and was ranked #73 on TIME's Most Influential Animals of 2016. (Hardy says he got a kick out of Woody beating Jaws.) "Everyone who met him loved him," Hardy writes. "He didn't have a bad bone in his body. All he knew was love." What a good boy.
Hardy's heartbreak in his statement is magnified by the fact that, generally, the actor is extremely private about his personal life. Maybe he knew that other dog owners who had lost their best friends needed some comfort themselves. Hardy calls Woody "a shining example of man's best friend," and here come the waterworks: "Above all I am completely gutted. The world for me was a better place with him in it and by my side ... Woody was the bestest of journey companions we ever could dream of having. Our souls intertwined forever." My god, man.
But there is some comfort: Hardy found Woody shortly after his last dog, Max, passed away, and he ends his tribute to Woody with a thank you. "Thank you Woody for choosing to find us... run with Max now and the angels." I'm not crying, it's just raining on my face. Every dog owner knows that the puppy picks you, and that's the luckiest feeling in the world. Hug those good boys and girls tight.