Tom Hiddleston Gave A Speech On Benedict Cumberbatch & The Story Is Major BFF Goals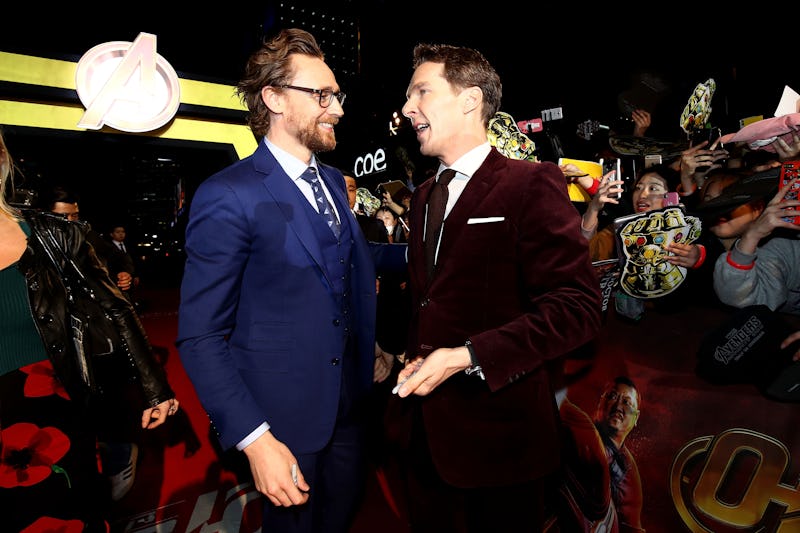 Chung Sung-Jun/Getty Images Entertainment/Getty Images
In the marvel universe, Benedict Cumberbatch's Doctor Strange and Tom Hiddleston's Loki don't really see eye to eye. Like, at all. Their first meeting in Thor: Ragnarok ended up with Loki falling through one of Strange's portals for an eye-watering 30 minutes. IRL, however, it seems to be that Tom Hiddleston and Benedict Cumberbatch's friendship is one of the strongest in Hollywood. So how did the pair become so close?
According to an interview Hiddleston gave to ET Canada, the pair met in 2010 on the set of Steven Spielberg's epic War Horse. Since then, Hiddleston and Cumberbatch have been keeping fans captivated by their beautiful bromance for eight years. From their hilarious banter, ridiculously adorable compliments to one another, and sibling-esque mockery, the actors continue to prove that guy love is alive and well.
And that love was particularly on show at this year's South Bank Sky Arts Awards on Sunday night. Held at London's Savoy Hotel, Hiddleston presented his BFF with the Outstanding Achievement Award. "He can do anything; he has done almost everything," Hiddleston said when presenting the award. "He's a great actor, a great man and I'm glad to call him my friend."
Are you crying? Because I totally am. And I bet Cumberbatch had to hold back the tears, too.
This isn't the first time Hiddleston has poured his heart out with compliments for his guy. I mean, who remembers this interview below between the two for Empire magazine in 2012? In the discussion, Cumberbatch heaped praise on his fellow Brit. "He's got the looks. He's an incredibly talented actor and he's one of the finest of our generation. And a friend," he explained.
If the gushing wasn't enough, they've also got each other's back. In 2016, the pair sat down together to chat for the now closed Interview magazine. In the reported discussion, Cumberbatch shielded his pal who at the time was in a relationship with Taylor Swift. "I just want to say that I'm not going to ask questions about my friend's personal life just because there are unsolicited photographs of him and a certain someone, in a relationship or together," he asserted. "I'm not going to get into that. So that door is closed, dear reader." If that's not having your BFF's back, I don't know what is. Hiddleston seemed to appreciate the move, with the interview reporting that he "chuckled" before replying "thank you."
But back to last night's proceedings. For Hiddleston to present his bae with such a prestigious award was a class choice. Cumberbatch was absolutely flawed with the nomination and describing his shock at receiving the award, he actor couldn't thank the organisers enough:
"I am quite flabbergasted to be receiving this award especially when looking at past recipients. I am needless to say immensely grateful and humbled. The South Bank Show has always had a place in my heart as being an inspirational exploration of the best of culture so to be recognised in this way by Melvyn and the show is incredibly flattering and I am very humbled to be this year's recipient. Many, many thanks."
Past recipients of the Outstanding Achievement Award include host Melvyn Bragg, Dame Helen Mirren, J. K. Rowling, Julie Walters, Dame Judi Dench, and Andrew Lloyd Webber. From Cumberbatch's recent work in the critically acclaimed Patrick Melrose to his work for the National Theatre, it was a certainty that he would be recognised like this at some point in his career. He's a British treasure — and legend — for sure.
Speaking to BT after the ceremony, Cumberbatch still couldn't quite believe that he too is now a recipient of one of Britain's most prestigious awards.
"Never in a million years did I think a few years down the line it would be me. I was convinced that some fans had got hold of the internet or somebody was pretending to be Melyvn Bragg and it was all a bit of a hoax," he said. I'm sure that when Hiddleston receives an award with this same grandeur — which will no doubt be soon — Cumberbatch will be the one giving it to him with the same amount of love and respect that Hiddleston gave him.
It's safe to say that the bromance between Hiddleston and Cumberbatch is one for the ages, and you'll be able to swoon over their friendship during the ceremony that airs on Wednesday, July 4 at 8 p.m. on Sky Arts.