Tom Hiddleston Gave Jeff Goldblum An Award & It's The Coolest Thing You'll See Today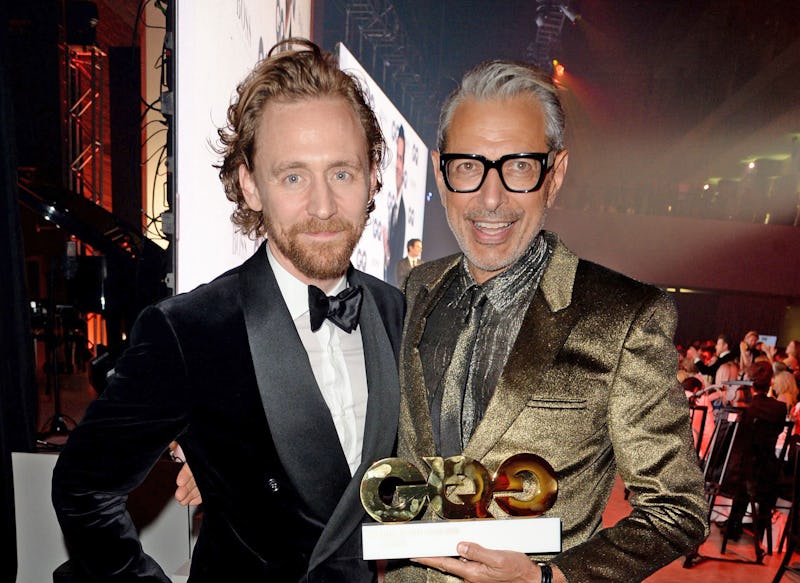 Richard Young/Shutterstock
Is there a duo more iconic than Jeff Goldblum and Tom Hiddleston? No, I didn't think so. Someone at GQ obviously felt the same, and decided to create the iconic moment of Tom Hiddleston giving Jeff Goldblum an award. There's me thinking that nothing could top their scenes together in Thor: Ragnarok.
Goldblum's wife Emilie Livingston filmed portions of her husband's special night on her Instagram story, and thanks to a savvy Twitter user, you can see snippets of Hiddleston's speech and Goldblum's acceptance of the "Haig Club Icon Award."
Hiddleston took to introducing the eccentric Goldblum with swoon-worthy grace, as is to be expected: "He is gracious and very kind," Hiddleston said. "The depth of his talent and the extent of his range is well-documented [and] he is also a good man."
The actor then took to the stage in true Goldblum style, accompanied by an ever-so-perfect song choice of The Offspring's 'Pretty Fly (For A White Guy)' — no, I'm not kidding — and proceeded to thank his wife Emilie and GQ editor Dylan Jones.
Goldblum also jokingly asked "what even is Haig? I thought I'd won the fashion category."
Described by GQ as a "man men want to be, women want to be with, and whose own planet probably wants him back," it's no surprise Goldblum was the choice for this award.
"He is a man who is such a one-off," GQ added. "He seems to have invited a cadence and rhythm of speech that is all his own. Because even in human communication, why follow?"
Goldblum and Hiddleston weren't the only Marvel alumni in attendance, Chadwick Boseman and Chris Hemsworth were also there, with Hemsworth presenting Boseman the "International Man Of The Year Award."
And if you so happened to be travelling through London's St Pancras on your Wednesday morning commute, I am so jealous. For some majestical reason, Goldblum took it upon himself to conduct an impromptu jazz set in the middle of the bustling train station.
Why is that, you may ask? Actor and probable extraterrestrial Goldblum is releasing a jazz album. But let's be real, even if he didn't have a jazz record to promote, he'd be at that piano anyway. I mean, when in London, right?
Goldblum is actually pretty well known for his musical talents in the Los Angeles jazz circuit. In fact, he regularly "perform[s] with his own jazz band The Mildred Snitzer Orchestra [...] since the 1990s," according to Billboard, "and is a regular presence at Los Angeles' Rockwell Table and Stage, where he hosts a jazz variety show."
In case you missed it, Goldblum also provided a piano accompaniment to Gregor Porter on The Graham Norton Show last year. You can watch the clip here:
Wait a minute... Hiddleston is no stranger to music either, portraying country singer Hank Williams in I Saw The Light, he sung the now infamous track 'Lovesick Blues'. Perhaps some kind of Hiddleston and Goldblum collaboration could be on the cards soon after their cute moment at the GQ Awards.
Come on, I can't be the only one wanting a Goldblum-Hiddleston country/jazz crossover now can I?