Tom Petty's Death Is Ruled An Accidental Overdose & It's Absolutely Heartbreaking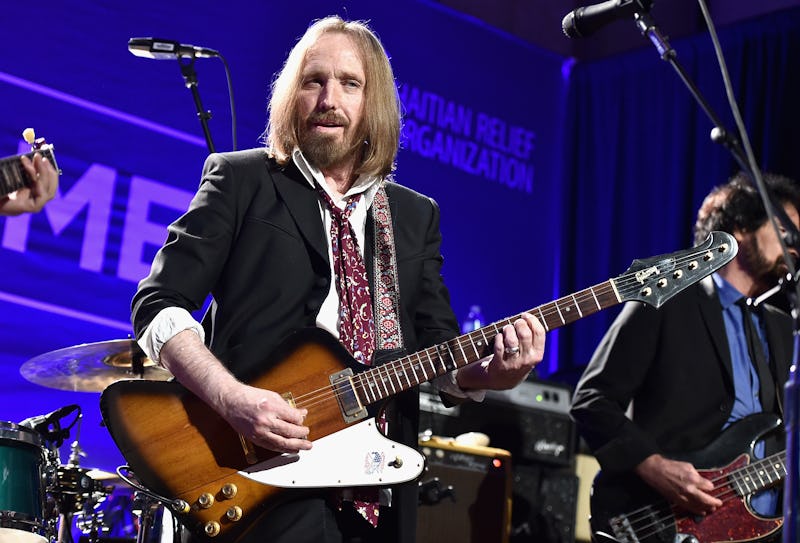 Alberto E. Rodriguez/Getty Images Entertainment/Getty Images
Back in October, the music world lost a legendary artist. Tom Petty passed away at age 66. At the time, his manager confirmed he went into cardiac arrest. On Friday, Jan. 19, TMZ received a copy of the singer's autopsy results. According to TMZ, Petty's cause of death was an accidental drug overdose, reportedly resulting from taking multiple medications that led to organ failure. Petty's family also confirmed the news on the singer's website soon after, stating that they are "confident that this was, as the coroner found, an unfortunate accident."
The Petty family's statement, signed by his wife Dana and daughter Adria, noted that they met with the medical examiner on Friday morning, where the news was shared with them. They also make clear that they were aware he was prescribed multiple pain meds at the time. Their message reads, in part:
"Unfortunately Tom's body suffered from many serious ailments including emphysema, knee problems, and most significantly a fractured hip.
Despite this painful injury he insisted on keeping his commitment to his fans and he toured for 53 dates with a fractured him and, as he did it, it worsened to a more serious injury.
On the day he died he was informed his hip had graduated to a full on break and it is our feeling that the pain was simply unbearable and was the cause for his over use of medication."
Per TMZ, Petty's autopsy results reportedly included Fentanyl patches, oxycodone, temazepam, alprazolam, citalopram, acetylfentanyl, and despropionyl fentanyl, which were prescribed due to the aforementioned injuries and health issues.
The autopsy, according to TMZ, also noted that Petty suffered from coronary artery atherosclerosis. As explained on Web MD, that essentially means the hardening of the arteries that carry blood to the heart, which can create life-threatening blockages.
As you may recall, Petty was rushed into the hospital on Oct. 2 in critical condition. There was initially a mix-up at the time and he was reported dead before it actually happened; unfortunately, he passed away later that night. His manager, Tony Dimitriades, released a statement the following day, per Deadline:
"On behalf of the Tom Petty family, we are devastated to announce the untimely death of our father, husband, brother, leader and friend Tom Petty. He suffered cardiac arrest at his home in Malibu in the early hours of this morning and was taken to UCLA Medical Center but could not be revived. He died peacefully at 8:40 p.m. PT surrounded by family, his bandmates and friends."
As Petty's family makes clear in the latest statement, they know this news may get people talking, but they hope it leads to a beneficial conversation. They wrote:
"As a family we recognize this report may spark a further discussion on the opioid crisis and we feel that is a healthy and necessary discussion and we hope in some way this report can save lives. Many people who overdose begin with a legitimate injury or simply do not understand the potency and deadly nature of these medication."
They also follow that up on what they call a "positive note," adding that they "now know for certain he went painlessly and beautifully exhausted after doing what he loved the most, for one last time, performing."
While they thank fans for all the love and support, as well as "respecting the memory of a man who was truly great during his time on this planet both publicly and privately," they also ask for privacy for the entire Heartbreaker family at this time.