Attention 'Vanderpump Rules' Fans: Tom Tom Is Reportedly Opening SO SO Soon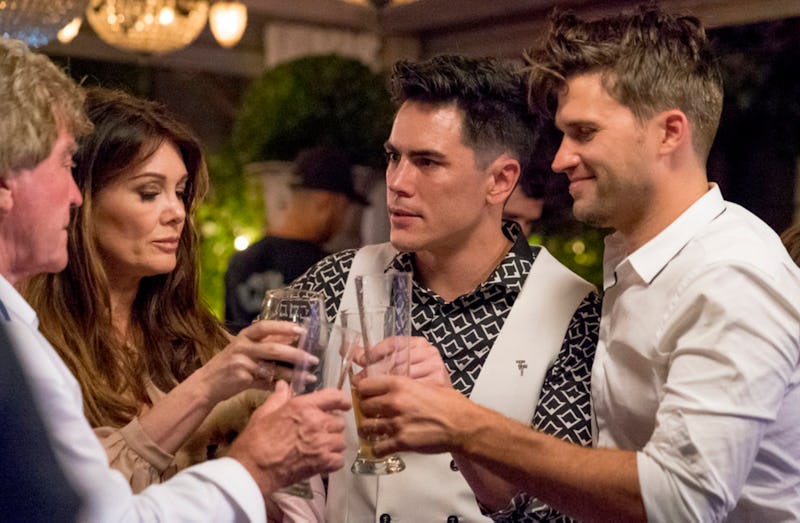 Nicole Weingart/Bravo
If you heard something that sounded exactly like a pair of slip-on sandals shuffling across a floor strewn with Coors Light cans earlier this week, you weren't imagining things. That was the ringing of the Vander-update alarm. The occasion: There's news regarding whether or not Tom Tom is open yet. On this week's episode of Watch What Happens Live with Andy Cohen, Vanderpump Rules star Tom Sandoval said that Tom Tom could open as early as May. Oh, and the bar just got a new sink. Lots of exciting things going on with Tom Tom.
Like pasta, buoys, hot tub cushions, post-hookup recordings, and that backwards Taco Bell sweatshirt, Tom Tom was a big part of Pump Rules Season 6. Sandoval and Tom Schwartz spent the entire season working on the bar with established restauranteurs Lisa Vanderpump and Ken Todd, and on next Monday's finale, they will celebrate the extremely unfinished bar with a "progress party."
And by golly, it sounds like the bar may soon host another event: its official opening. When a WWHL caller asked Sandoval about the current status of Tom Tom, he said,
"OK so, Tom Tom is opening either end of May or early June. We don't have a date set yet, but it's coming along. It's looking great. It's been a lot of work … A month ago, we had to put a new sink in this side bar we're going to have. And we had to dig up the concrete and everything. Ken's been working really hard."
If you would be so kind, please pull up your calendar. Look at today's date. And then, look at what Sandoval said on Watch What Happens Live. Take a minute. Let it wash over you. And then, try to come to terms with Tom Tom possibly opening its doors to the Sexy Unique Public in just one month. Possibly.
And if it does not open next month? Sandoval said it could happen in June, which is a projection that lines up with what Sandoval and Schwartz gave Bustle earlier this year. While early June is not as soon as end of May, it is still pretty dang soon.
The Tom Tom adventure began when the cast filmed the Pump Rules Season 5 finale back in August 2016. Hours into the Bubbas' wedding reception, LVP pulled Sandoval and Schwartz aside and asked if they'd like to build a bar with her and Ken in West Hollywood. It would be called Tom Tom, and LVP and Ken would bring Schwartz and Sandoval as business partners. The Toms eventually accepted, but it was several months before LVP, Ken, and the Toms really got the ball rolling on this endeavor. After the Season 5 finale aired in March 2017, Schwartz told Bravo's The Daily Dish that the Tom Tom thing was "up in the air." He explained,
"We've looked at a spot near PUMP, and we've had some creative conversations. But we've only talked about it one time since then."
Oh, but how quickly that "one time" turned into "many times." Within the next few months, Tom Tom was officially underway. And what do you know? All of it lined up perfectly with Season 6's shooting schedule. This season, viewers have watched the Toms negotiate with LVP and Ken, make hungover fools of themselves in front of LVP and Ken at an interior designer's showroom, present LVP and Ken with a cocktail made with scorpion chili-infused honey in the middle of a construction site, and show LVP and Ken their pins-and-vests uniform idea.
Wow. And to think, less than two years after LVP first approached the Toms with this idea, Tom Tom could be up and running and serving shots out of wooden spoons. What a SUR-lrwind this has been.