Why Toni Topaz Is So Much More Than Just A Betty Rival On 'Riverdale'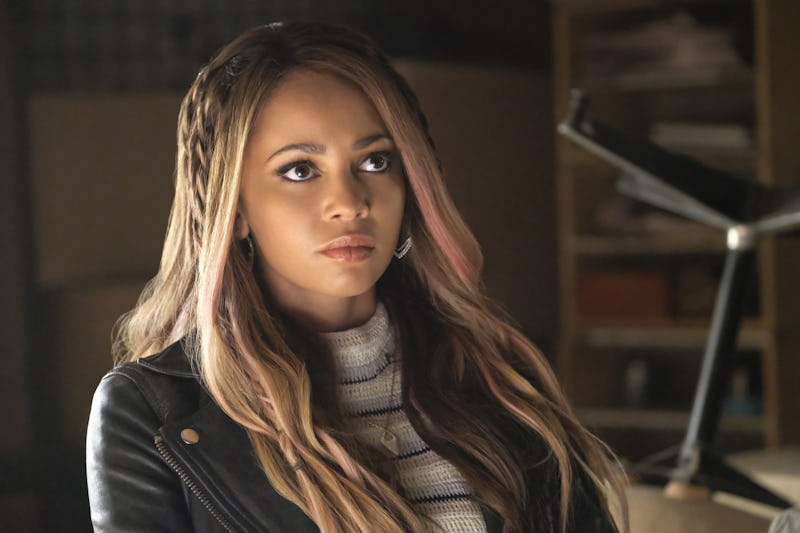 Bettina Strauss /The CW
Jughead is finally going to show up for class at Southside High on Riverdale, and it looks like he'll encounter some similarly fashioned weirdos when he does. Who is Toni Topaz on Riverdale? The Archie comics character is making her debut on the CW in the Oct. 25 episode.
The Southside student is played by actor Vanessa Morgan, and while her pink hair matches her comic book counterpart, the comparisons may end there. In the comics, Toni Topaz is Jughead's eating competition rival. She's a student at Riverdale High in the comics, a member of the band "The Bettys" alongside Betty, Midge, Sabrina Spellman, and Ginger Lopez. She loves cupcakes and isn't a huge fan of Reggie. You can't really blame her there.
According to her character description on the official Archie Comics website, "the newest rival to Jughead's eating contest crown, Toni Topaz is a tough girl who sports pink hair with her purple jumpsuit. She finally met her competition at a cupcake-eating contest, where Jughead was surprised to discover that his sister Jelly Bean had run off. Toni offered her assistance along with her sarcastic BFFs Snarky and Hammer. Jug forfeited the challenge after finding Jelly Bean, and Toni still hopes to defeat him one day."
We still haven't met Jughead's sister Jelly Bean on the show, and Toni's friends are named Sweet Pea and Fangs Fogarty — who are also Archie Comics characters, but probably don't have the same vibe as these "sarcastic BFFs" Snarky and Hammer.
Toni is also bisexual in the comics, which will figure into her arc on Riverdale. That said, whether she ends up dating Jughead Jones, Cheryl Blossom, or nobody at all this season, she's going to mix things up on the show. In an interview with Bustle, Morgan revealed that not only will her sexuality be addressed but that in this adaptation, Toni is a member of the Serpents. The Anybodys to their Jets, so to speak, invoking a West Side Story reference. Whether or not she causes tension or a love triangle that disrupts the Betty and Jughead bliss remains to be seen.
She'll definitely be one of Jughead's first friends at the new school. "I'm the girl in the gang," Morgan tells Bustle. "My character is badass, and Jughead is the son of the King Serpent... why wouldn't I [welcome] him?"
In an interview with Glamour, Morgan said that she hopes the character will cause people to think about how they're viewing this side of town. "I hope the lesson is 'Don't judge a book by its cover," she said, "by someone's upbringing, or by who they love.' I hope people watch Toni and think, 'Why are we judging people?' I would love that if people took that from my character."
It seems like the biggest difference between Toni in the comics and Toni on Riverdale is that in the comics she and Jughead are initially rivals, whereas on the CW they're initially friends — or at least cohorts. In both the comics and the show she is portrayed as tough, and Riverdale will likely start to pick apart those layers. There is also, of course, the lack of eating contests. Why aren't there more eating contests on Riverdale? Surely the murder and intrigue can take a break so everyone can stuff their faces with some friendly competition.
That's one of the great things about this show. They take these archetypal, sometimes even stereotypical characters that have maybe only appeared once or twice in the comics and really get to expand on them. Whatever happens with Toni on Riverdale will be totally new, and that's what makes her addition to the show so exciting.