This New Too Faced Palette Is Literally Inspired By Puppies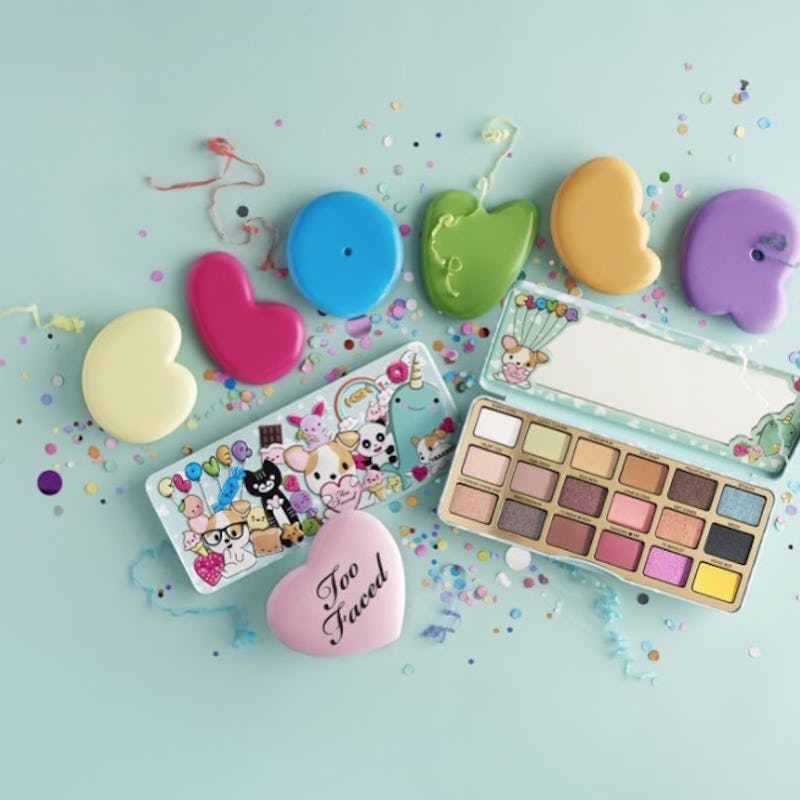 When makeup and puppies collide, it's guaranteed to put a beauty lover's bank account in serious trouble. Well, it's about to be puppy love at first sight for all dog-obsessed, beauty enthusiasts. Too Faced just released the Clover Palette, and it is all in tribute to a special pup.
Back in April, Too Faced teased they'd be releasing 18 new eyeshadows encased in the brand's cutest packaging yet. Now the collection — which was inspired by brand cofounder and chief creative officer, Jarrod Blandino's beloved dog, Clover the chihuahua — is here. And the colorful set of shadows are some of the prettiest mattes and shimmers in Too Faced's beauty stash to date.
Fans were hooked as soon as the cartoonish packaging was revealed, and now the long wait is over. The Clover Palette has finally hit virtual shelve exclusively on Too Faced's website, selling out instantly during its initial launch. With a beautiful range of warm neutrals, sparkling brights, and vivid mattes, it's a palette that's already showing up the Too Faced x Kandee Johnson collaboration and the highly-favored Peaches and Cream collection.
The palette's instant success is proof that it deserves a spot in your beauty hoard. But if its popularity is not convincing enough, the fact the puppy-inspired palette actually benefits pets might do the trick.
Retailing for $49, the limited edition Clover Palette is not only a girl's best friend, but also a pal for all furry friends. To celebrate the palette's launch, Too Faced committed to donating $250,000 to the Best Friends Animal Society.
And the donations don't stop there. The brand plans to help additional pet rescue, disaster relief, sea, wildlife, and farm animal charities with sales of this palette and others each year. Securing the stunning palette is just as much of a win for beauty lovers as it is for the world's most cuddly creatures.
It's hard not to fall in love with the palette's festive exterior. It features the brand's mini mascot Clover and his gang of animal friends. Rainbows, candies, and the oh-so-fitting "yaaass!!" stamped onto the bottom corner of the shell couldn't make this palette any cuter.
You could seriously ogle over the creative packaging for hours. But it's the bright pigments inside that'll really capture a makeup maven's attention.
Staple nudes and pops of color are what you'll get from the Clover palette. Beautiful neutral shades were created with the chihuahua's milk and caramel-colored fur in mind. Then there are colorful pigments inspired by Clover's infectious, playful personality.
A peachy center matte is the hue that's so on point with current beauty trends. Sparkling blue and violet shades are some of the true stunners of the palette. And there's no overlooking that gorgeous mustard matte. This palette is definitely going to inspire some mesmerizing beauty looks.
The palette's shade names are worth swooning over, too. It's obvious that Clover was on the brain for every aspect of the creation process, because every hue sticks with the puppy theme. "I Ruff You", "Wet Kisses," and "Ruh Roh" are just some of the most perfect shade names to grace a pet-inspired palette. Of course, there's a "Chihuahua" neutral, too. After all, you can't do a Clover-inspired palette without showing love to the mascot's breed.
It's definitely cuteness overload when it comes to this latest palette. Considering the wait for the set of shadows was quite the struggle, it's assuring to see that the build-up was worth the final product.
This puppy palette is truly a diamond in the ruff thanks to its impressive shades. Plus, any beauty buy that benefits animals is worth fetching with your hard-earned coins. If you don't add it to your collection, it'll seriously hound you for days.
OK, enough with the dog puns. Just get the palette.