Tracee Ellis Ross Announced She's Hosting The 2018 AMAs With An Excited Instagram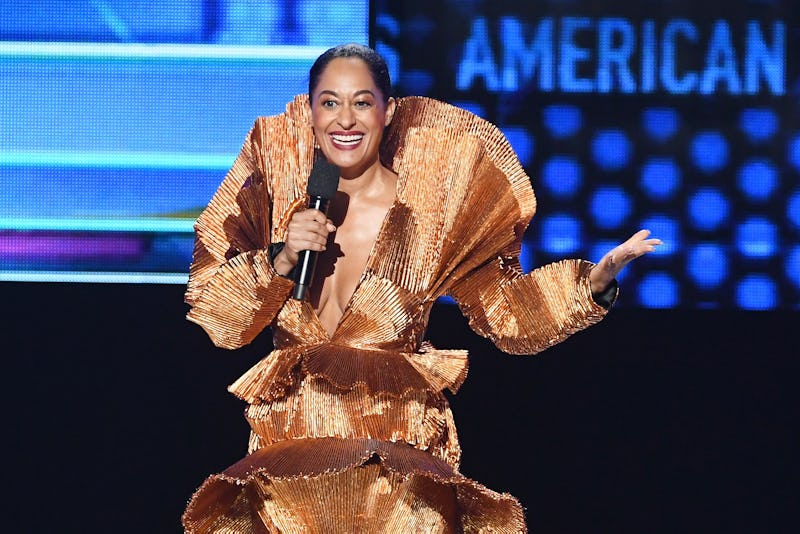 Kevin Winter/Getty Images Entertainment/Getty Images
On Wednesday, Sept. 5, Tracee Ellis Ross announced she will host the 2018 American Music Awards for the second year in a row, and the news couldn't be more exciting. Ellis Ross took to Instagram to share the announcement, captioning a video montage of moments from last year: "SO NICE, I'M DOING IT TWICE." ABC also announced the news in a press release.
The actor quickly became a trending topic last November during the 2017 ceremony after donning clothing which paid homage to her mother Diana Ross, who notably took home the Lifetime Achievement Award.
Prior to her first AMA gig, Ross gushed to E! News about being able to host the same ceremony where her mother was being honored, saying that the "planets aligned" and that "It's extra special. It just feels like sort of a perfect mish-mosh of the right things, you know?"
Ross was the talk of Twitter the minute she stepped out on stage as many rushed to share their opinion on her over-the-top wardrobe changes. Despite becoming the subject of many memes throughout the night, The Girlfriends star was a major hit with viewers that evening who welcomed her promise of focusing the show on "women who take up space."
The 45-year-old entertainer has long been a champion for the equal rights of women. When taking the stage to accept the Golden Globe for Best Actress in a Television Series Musical or Comedy in 2017 - a feat which Us Weekly reveals made her the first black woman to receive the award since 1982 – Ross shared some heartfelt words of encouragement, saying:
"This is for all the women, women of color and colorful people whose stories, ideas, thoughts are not always considered worthy and valid and important. But I want you to know that I see you. We see you."
This year will be a monumental moment for the Emmy Award-nominated actor as she will not only host, but also, according to People, serve as an executive producer for the 2018 AMA ceremony, which means that she will most certainly see to it that women are at the forefront of the this year's annual showcase. The 2017 AMAs, which were dominated by female performers, including Pink and Kelly Clarkson, strongly supported women.
Ross' second time hosting the event should be a breeze although she recently revealed to British Vogue that she still gets nervous when speaking publicly, explaining:
"I still get nervous, but I practice all the time. Say what you mean, mean what you say."
More recently, Ross has taken on the responsibility of hosting awards' ceremonies on her own. Prior to leading the 2017 AMAs, Ross teamed up with her TV hubby Anthony Anderson to takeover the stage at both the 2015 and 2016 BET Awards. She also joined forces with Regina King to host the 2015 Black Girls Rock awards, returning to perform solo hosting duties at the ceremony in 2016.
While this year's AMA show won't feature a Ross family gathering as it did last year, Ross will resurface with her TV brood when the fifth season of her show black-ish makes its premiere the week following the awards show.
The American Music Award nominations will be announced live by Kane Brown, Ella Mai, Normani and Bebe Rexha on Wednesday, Sept. 12, from YouTube Space LA in Los Angeles. The show will air on ABC on Oct. 9 at 8p.m. est.
Things for the AMAs are shaping up nicely with Ross returning for the second year in a row. And with the nominations just right around the corner, there's no doubt that this year's ceremony is going to be one of its best yet.