Tracy Morgan's TV Comeback Is Worth Getting Excited Over For So Many Reasons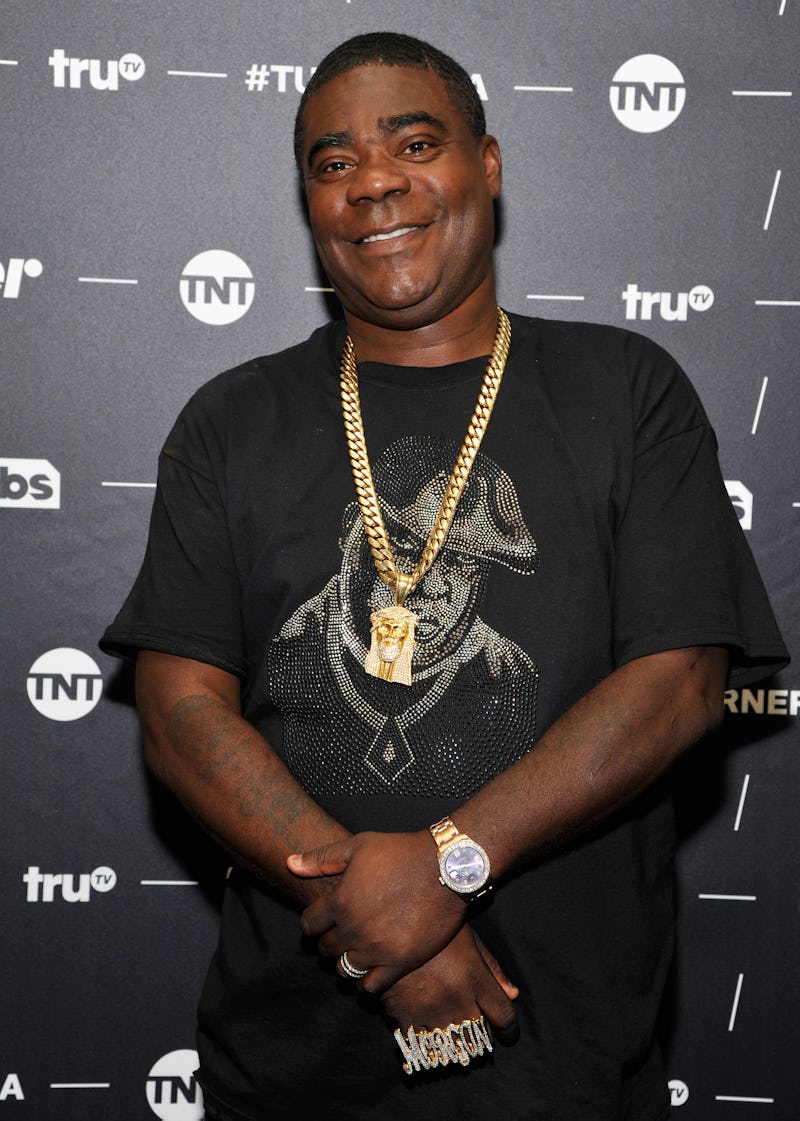 John Sciulli/Getty Images Entertainment/Getty Images
Some more enticing news from the Television Critics' Association: Tracy Morgan's new TBS sitcom, The Last O.G., officially has a premiere date. According to Entertainment Weekly, the series will co-star Tiffany Haddish and Cedric the Entertainer. It's also co-produced by Jordan Peele. Morgan's television comeback already sounds legendary, and those are just some of the reasons. When The Last O.G. premieres on TBS on April 3, it will mark the comedian's return to a regular TV role for the first time since his 2014 accident.
The Last O.G. was created and developed by Peele, and stars Morgan as Tray, an ex-con who returns home to Brooklyn after 15 years to find out his wife remarried "a successful white man" and is raising the twins Tray never knew he had. Tray's wife is played by the newly legendary Haddish, and comedian Ryan Gaul will play Haddish's new husband. The cast is rounded out by Cedric the Entertainer, who plays the person in charge of Tray's halfway house, and Entertainment Weekly revealed that actors like Chrissy Metz and Malik Yoba are set to guest star. The series was originally supposed to debut in October 2017, but was reportedly delayed because of a change in the showrunner. Once The Last O.G. premieres, it will air Tuesday nights at 10:30 p.m. on TBS.
Though this will be Morgan's first starring role in years, it is not the first project he's taken on since his accident. In 2015, Morgan hosted an episode of Saturday Night Live, which he previously starred in from 1996-2003. His hour-long standup special Tracy Morgan: Staying Alive hit Netflix in 2017, and later that year, Morgan made an appearance at Spike TV's One Night Only: Alec Baldwin event-slash-roast. His last major television role was on 30 Rock, which aired from 2006-2013.
Just over a year after 30 Rock aired its series finale, Morgan was involved in a tragic accident on the New Jersey Turnpike. He was a passenger in a "minibus" that was hit by a truck, and suffered the loss of his friend and fellow comedian James "Jimmy Mack" McNair. In early 2015, Morgan appeared on the Today show, discussing his headaches, rehabilitation, and the aftermath of the crash, of which he claims to have no memory. It was an appropriately somber interview, but as time wore on, Morgan returned to his swaggy public persona; in the intro to Staying Alive, he even gently mocks the company that employed the truck driver.
The Last O.G. should be the perfect starring vehicle for Morgan. Further, when bolstered by Peele's production and Haddish's everything, it should be a really big deal.
Morgan has been a high-profile member of the comedy scene for more than two decades, so this return to television is significant. The collaborations he's lined up for this project, and Haddish being on people's TV weekly, will likely make The Last O.G. a success. Several years ago, it was unclear whether Morgan would fully recover from the injuries sustained in the accident. Outlets reported on his motor functions, his ability to walk, and everything else with great care and detail. Knowing that he's not only recovered and not just making guest appearances, but healthy enough to commit to at least 10 episodes of a TV show he knows people will be watching is inspirational. With Get Out's Peele and Girls Trip's Haddish on board, who knows — maybe Morgan will return to film next.
If that's not enough to get fans excited for The Last O.G., then maybe playing "Wait, who's that guy?" about Gaul's character will. He's a comedian that's frequently seen without people knowing his name; Gaul made appearances on Scott Aukerman's Comedy Bang Bang podcast and cameoed in shows like Workaholics and It's Always Sunny in Philadelphia.
For longtime fans of Tracy Morgan, or even those who just followed his miraculous recovery, his return to comedy TV is definitely something to watch.