Trader Joe's Just Launched Chocolate Ornaments You Can Hang On Your Tree & Eat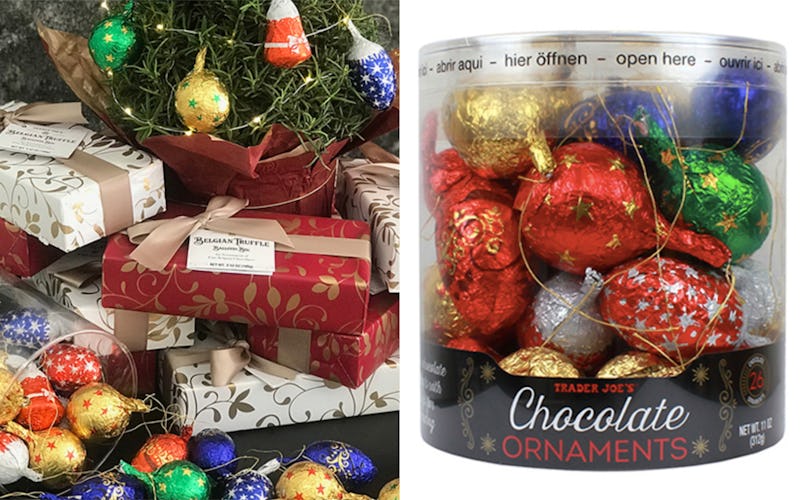 Trader Joe's/Remixed by Bustle
'Tis the season for all things food. I'm talking popcorn strings on trees, candy canes strewn on countertops, and now these chocolate ornaments from Trader Joe's. Alexa, cue the Mariah Carey because we're about to get real festive up in here.
If you've ever had the very human feeling of looking at a Christmas ornament and thinking, "That's so pretty. I want...to eat it," you're in luck. (Yes, that is a normal, human feeling. Don't lie to me and tell me you've never looked at a beautiful, rainbow ornament and thought, "Yummy.") Well, every twentysomething's favorite grocery store Trader Joe's is now selling milk chocolate ornaments for the holidays. They're ornaments. They're chocolate. They look almost too cute to eat. Almost.
They come in an 11-ounce container with 26 chocolate ornaments, wrapped in a variety of colors and shapes. There are red ones, gold ones, green ones, and blue ones adorned with gold or white stars. There are green, red, and blue oval-shaped ornaments with silver stars or gold curly cues. So, regardless of your Christmas tree's specific color scheme, you will find a chocolatey ornament to adorn its branches. Yes, they are functional ornaments. Each chocolate ornament has a sparkly string so you can actual hang them from your tree. That is aggressively cute!!!
The ornaments themselves are hollow and made of milk chocolate. You can get your hands on a set for $6.99 while supplies lasts. Given how quickly Trader Joe's seasonal products fly off the shelves, supplies probably won't last too long.
At this point, Trader Joe's is basically the honorary patron saint of the holidays. The grocery chain recently dropped a bunch of their holiday desserts, and there is something for every single one of your sweet teeth. They've got Peppermint Joe-Joe's (Trader Joe's version of an Oreo) covered in dark chocolate. There's gingerbread Lebkuchen Cookies also covered in chocolate. Essentially, if there's a dessert you love, there is a seasonal Trader Joe's version of it and it is probably covered in chocolate. A Christmas miracle come true!
Is eggnog your thing but your intestines are like, "no please not the dairy"? Trader Joe's has almond nog, the dairy-free equivalent of eggnog. Looking for a dairy-free way to make your hot cocoa even more festive? Trader Joe's has a chocolate peppermint almond drink that will make the most festive of hearts and most fickle of digestive systems sing in perfect harmony.
Worried that your pup will feel left out, what with all the treats you're indulging in? Fear not, fur babies, because Trader Joe's also has advent calendars for dogs. The 24-day advent calendars have a daily treat for your dog to enjoy alongside your human advent calendar. "These smoked salmon treats are made from salmon raised without antibiotics, from the cold waters of northern Scotland," reads a description on the back of the box. "The salmon is combined with sweet potato and smoked over natural hardwood, creating a treat that dogs go crazy for!"
Of course, Trader Joe's also had a variety of chocolate advent calendars for human folk to enjoy. Each $0.99 calendar has 24 uniquely shaped chocolates in a variety of themes: Holiday Traditions and Tidings, Design Your Own Ugly Christmas Sweater, Nisse (Scandinavian Gnomes), and The Adventure of Fearless Fox and His Tangled-Up Scarf.
If you're feeling particularly festive (or have a hard time limiting yourself to just one little, bitty chocolate each day), the chocolate ornaments do come in a pack of 26. So, in theory, you could string them all up on your tree and use them as a makeshift advent calendar, eating one per day. 'Tis the season, after all.