Trader Joe's Is FINALLY Releasing Its Pumpkin Spice Lineup — Here's What To Expect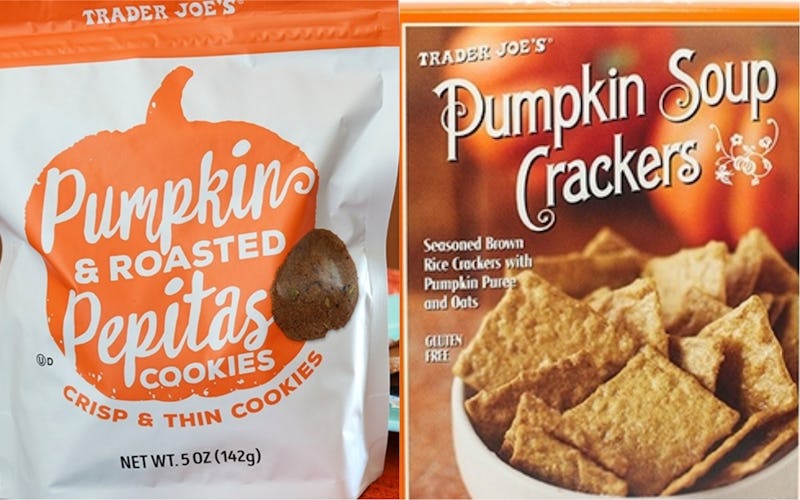 Trader Joe's
Pumpkin lovers, a slightly threatening-sounding event made just for you is on the way. As pointed out by Trader Joe's List, a Trader Joe's "pumpkin invasion" is hitting stores starting on Wednesday, September 12. And while the name sounds sort of eerie — Can the pumpkin invasion be stopped? Who is doing the invading, exactly? This guy? — the treats made available are sure to not be scary at all.
The Trader Joe's List Instagram account reposted a photo taken by Florida Food Lover Blog of a sign outside of a Tampa, Florida Trader Joe's. The sign features a drawing of a pirate ship along with the words "Pumpkin Invasion September 12. A ship load of pumpkin arrives!!!" Trader Joe's List captioned the pic, "What Pumpkin item are you most excited about?!" which gets at the idea that there won't just be pumpkins arriving, but lots of pumpkin-flavored items, as well. And this adds up since Trader Joe's always has a lot of pumpkin products in the fall.
As of now, it's unclear if the pumpkin invasion is an official event or if certain stores are just calling it that when they receive all of their pumpkin goods. It's also not clear if every store will be receiving a lot of pumpkin stuff on the same date. But regardless, fall is the time of year when TJ's goes all out with the pumpkin, so even if it doesn't happen on the exact same day or in the same way, the pumpkin is coming. And it's something some customers have been waiting for:
Last year, Trader Joe's featured a ton of pumpkin items, including pumpkin cinnamon rolls, pumpkin cream cheese, pumpkin and ginger mini ice cream cones, and pumpkin toaster pastries.
As for this year, there are surely more items to come once the pumpkin invasion happens, but Trader Joe's List has already posted about some of the items available in stores. Back on August 30, they posted a picture of Pumpkin & Sweet Cream Cheese Muffins. They also posted about Pumpkin Pie Perfect Bars, which are now sold at TJ's, and on September 5 noted that the pumpkin and ginger mini cones are back.
If you look at the official Trader Joe's website, a wide array of pumpkin products are listed, but the pages about them say that they were "fearlessly archived" as of November 6, 2017. Hopefully for pumpkin fans, they'll be back soon, and possibly on September 12.
If you are looking for other pumpkin products in the meantime or don't have a Trader Joe's near you, there is plenty of pumpkin love to go around. There's the Halo Top Pumpkin Pie Ice Cream, which has actual pieces of pie crust in it. Kellogg's is making a pumpkin spice version of Frosted Flakes that is hitting shelves in September. Thomas' released pumpkin spice English muffins on September 10. And then there's the pumpkin spice item to bring down — or, I guess, lift up all pumpkin spice items, the Starbucks Pumpkin Spice Latte, which returned to stores on August 28.
While there will be no shortage of pumpkin and pumpkin spice flavored foods this fall, Trader Joe's fans should keep a look out for the pumpkin invasion in the coming days. And maybe even stock up since the store will end up archiving the items once again — fearlessly.