Trader Joe's Has A New Almond, Cashew & Macadamia Nut Beverage — Here's What It Tastes Like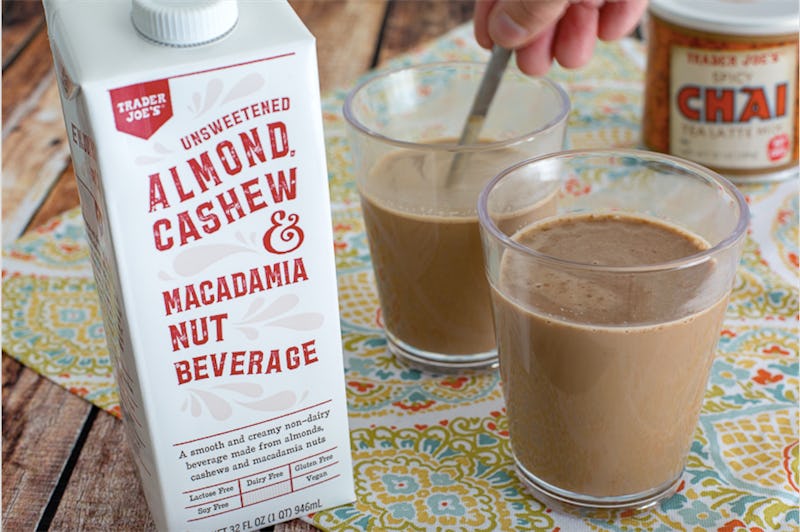 Trader Joe's
I'm pretty sure Trader Joe's just threw down the gauntlet. Sometime in the not-too-distant past, a TJ's exec sat at a big conference room table in a Hawaiian shirt and declared almond milk isn't good enough, cashew milk isn't good enough, no singular nut milk is good enough! So, they raised the bar of non-dairy alternatives. Trader Joe's has a new almond, cashew, and macadamia nut beverage all blended into one, and this is probably the beginning of the end for all the other nut milks out there.
According to their website, the milk alternative is also vegan, gluten-free, and even kosher-certified. While you can drink it straight, TJ's also suggests trying it in a milkshake combined with their chocolate ice cream, or using it instead of water when making their toasted coconut pancakes, not to mention drowning your cereal and oatmeal in it. And I don't mean to get you too excited or anything, but I just want to throw out there the mixed nut almond milk probably tastes fabulous with Trader Joe's pumpkin toaster pastries. It's okay. You can thank me later.
As always, you can count on Trader Joe's for a real bargain. Grab a 32-fluid ounce container for just $2.29 and try not to shove people in line.
Dietician and Instagrammer Maggie Michalczyk (@onceuponapumpkin) tried it in her latte and writes, "ITS GOOD, creamy and nutty."
The milk alternative game isn't what it used to be. In the olden days, you had... milk. Like, cow's milk. That was it. If you were lucky or your grocery store was "fancy," maybe you had almond milk or rice milk. And if it was a holiday, they might have offered chocolate almond milk for a limited time only.
But that's it!
Fast forward to today, and people demand options — and stores are listening. What if you don't like cow's milk? What if it gives you the tummy gurglies? What if you're sensitive or allergic to dairy and you break out in hives and your eyelids swell shut?
Never fear. These days, there are dairy-free options of your favorite foods and drinks at every turn, and people are starting to get creative. BOM BOM's Fully Baked, for instance, officially became the first hemp milk alcohol. Drink it straight or maybe mix a little in with your coffee. However you like it, the flavor combination of chocolate cookies, brownies, and rum is simply divine.
Halo Top didn't want to miss out on the fun, and they've got their own (rather extensive) line of vegan, soy-free ice creams, with flavors like chocolate covered banana, birthday cake, and chocolate chip cookie dough.
A reliable source told me birthday cake is delicious particularly when you sprinkle extra sprinkles and crushed Oreos on top — the reliable source being... me.
Haagen-Dazs doesn't want to exclude anyone either, so they now offer dairy-free ice cream as well. Enjoy flavors like chocolate salted fudge truffle, coconut cookies and crème, mocha chocolate cookie, and peanut butter chocolate fudge. The variety! I almost don't know which one to pick, so I might as well try one of each. *shrugs*
Even Reddi-Wip has jumped on the bandwagon, with their new almond and coconut milk whipped toppings that are 100 percent dairy-free and gluten-free. Hose down your dessert or enjoy it straight from the can. I know, I know. You're thinking, "Reddi-Wip? Dairy-free?! But how?" They're just good like that.
And don't forget, whether you love dairy or prefer to avoid it, Trader Joe's will always have something for you. Next time you stop by, grab a container of the almond, cashew, and macadamia nut almond milk... and maybe a few bags of roasted plantain chips, too.