Travis Scott & Drake's "Sicko Mode" Video Is The Trippiest Thing You'll See Today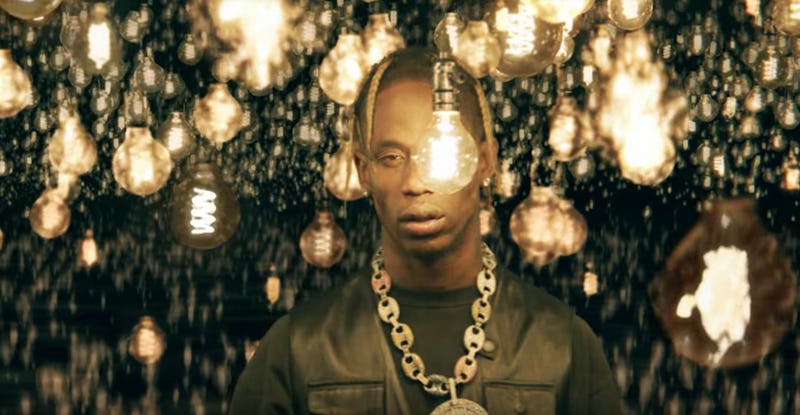 Travis Scott/YouTube
After months of anticipation, Travis Scott and Drake's video for "Sicko Mode" is finally here and it definitely does not disappoint. Just when it seemed that much of the hype surrounding the song had died down following its release in August of this year, the vid and its futuristic vibe has enter to reinvigorate the buzz which has kept the song on many people's playlist for past few months. Much like all things Travis Scott, the new visual for "Sicko Mode" is otherworldly, while at the same time acting as a vivid homage to the rapper's hometown of Houston, Texas, and its roots in hip-hop culture.
There is literally so much to take-in during the rapidly evolving video for "Sicko Mode," which begins with Drake spraying a can of red smoke into the atmosphere of a desolate road, that it's almost hard to keep up. After he begins painting the town, the Toronto-born rapper is joined by Scott, who rides a horse as the pair take viewers on a visually stunning ride through the Texas town that features stops by many historic spots including the iconic Screwed Up Records & Tapes store, as pointed out by Billboard.
The music video, co-produced by Scott and Dave Meyers, and its cinematic glory had Twitter in a major uproar upon it's release with many deeming it a must-see. And their comments on the digitally crafted video reveal just how much of an impact this video will have on future works of its kind.
1. Film Worthy
Exavier Pope, a media figure, was so impressed by the visual and shred their feelings on the video having the look and feel of a "big budget film."
2. Mastered
Another writer, Jozen Cummings, deemed the video a "cinematic masterpiece" upon its release on Oct. 18.
3. Best of 2018
This Twitter user thinks that the video is a definite shoo-in for video of the year.
4. Best of the Century
Meanwhile, this person was so taken aback by the stunning video that they think it should be up for "Video of the Century" at any and all awards shows.
5. WTF Just Happened?
The Scott and Drake video collaboration is so "dope," that one twitter user could only question "WTF."
6. Drake Is All Of Us
Another fan pointed out how Drake is pretty much all fans when "Sicko Mode" plays in the car.
7. Too Hot
The video is simply just too hot for some to handle.
8. It Doesn't Get Any Better
Someone used all caps just to explain the video's iconic status.
9. Full Attention
A commenter revealed that "Sicko Mode" had "every second" of their attention.
10. Mind Blown
This fan is amazed that the "Sicko Mode" video has given them the same excitement they once felt from the iconic 2007 UGK and OutKast video for "International Players Anthem."
"Sicko Mode," the three-part song that reportedly also features uncredited vocals from Rae Sremmurd rapper Swae Lee, has remained in the top 10 of Billboard's Top 100 for the past 10 weeks and shows no signs of stopping now that the video has been released. The song is notable for many reasons, including the fact that it played a huge part in Scott's album Astroworld landing in the Number 1 spot two weeks in a row.
The mention of Scott's girlfriend Kylie Jenner and their daughter also didn't hurt things for the rapper. In the very last line of the song's final verse, Scott referred to Kylie's recent accomplishment of nearly becoming the youngest self-made billionaire in history, as determined by Forbes, rapping:
"Passes to my daughter, Imma show her what it took / Baby mama cover Forbes, got these other b*tches shook"
Drake recently made headlines for bringing Travis Scott out to perform the hit during the LA stop of his "Aubrey & The Three Amigos" tour. Fans were jaw-dropped to see the two perform together as Lakers star Lebron James joined them for the onstage celebration.
Despite what seemed like a major delay, the artistic spectacle of the "Sicko Mode" video was well worth the wait. That said, there's no doubt that fans will have it on repeat for the remainder of 2018 and beyond.