You Need To Read Travis Scott's Reaction To Kylie's Baby Announcement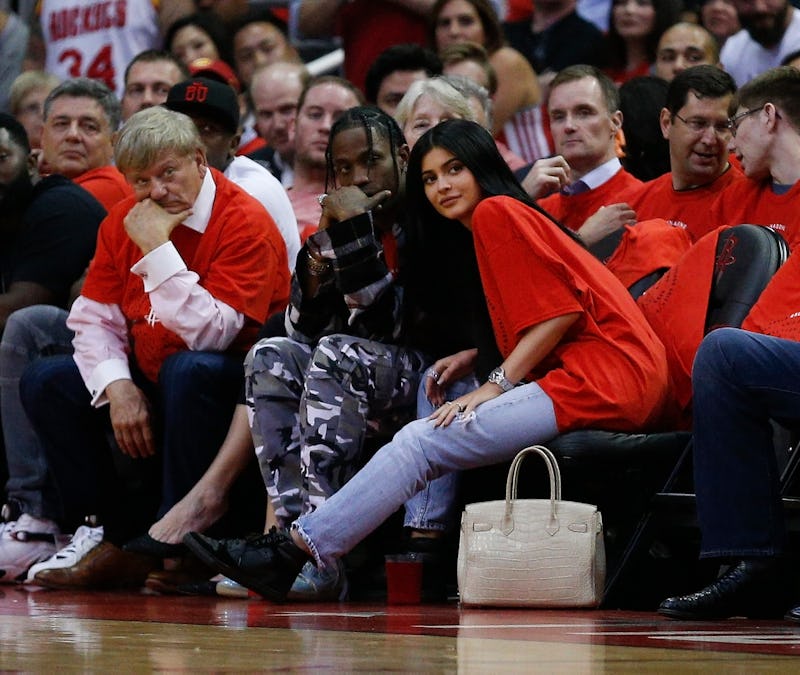 Bob Levey/Getty Images Sport/Getty Images
In a move that will probably go down in pop cultural history as "the Instagram post that broke the internet," Kylie Jenner has officially gifted her rabid social media following with the news fans have long been pining after: she had her baby, folks! Which means, of course, those dogged pregnancy rumors were true, after all. Even better, Travis Scott's reaction to Kylie's baby announcement was about as sweet as any first-time dad's might be.
Following Kylie's already viral Instagram post Sunday morning, Feb. 4 — in which the reality star, makeup super-mogul, and now first-time mom announced the birth of her baby girl — Scott took to Twitter to share some of his thoughts on the news. In a short-but-sweet exclamatory message to his Twitter following early Sunday afternoon, the 25-year-old rapper wrote:
February 1st, for the record, is the new baby's birthday. Kylie provided her inquiring fans with pretty much all the answers to their five-plus months' worth of questions regarding her pregnancy, as well as some much-anticipated details about the arrival of her tiny bundle of joy, via an explosive string of back-to-back Instagram posts Sunday morning. The first post, which has already racked up 4.3 million likes (and counting), is a sort of apology letter to Kylie's fans, many of whom have spent the better part of the last six months scouring the internet for any shred of evidence that might confirm the long-circulated rumors of the youngest Jenner's reported pregnancy. "I'm sorry for keeping you in the dark through all the assumptions," Kylie wrote, opening the post, which continues on for a solid two paragraphs. "I understand you're used to me bringing you along on all my journeys. My pregnancy was one I chose not to do in front of the world."
Since rumors of her pregnancy first began to circulate last September, Kylie has managed to lie remarkably low. Not such an easy feat for social media's reigning monarch; but still, somehow, the 20-year-old reality superstar ducked egregiously out of the limelight since the start of her pregnancy. In a somewhat shocking move for Kylie — given the incredible scope of her social media prowess — she even took a step back from Instagram (pretty much entirely), posting infrequently, and often exclusively sharing old photos.
Needless to say, when Kylie finally opened up about her pregnancy (through not one, but two Instagram posts, no less) Sunday morning, it was a really big deal. Almost immediately following the initial announcement post — in which Kylie cited her pregnancy as "the most beautiful, empowering, and life changing experience" she's had her entire life (so much so that she's "actually going to miss it," she wrote) — Kylie broke her extended Instagram silence with a double whammy, of sorts. In her quick follow-up post, Kylie provided her fans with a much more in-depth glimpse into what the past nine months of her life have actually looked like, via a 10-minute tribute video to her pregnancy journey.
Scott appears throughout the video, though his commentary is never explicitly featured. Regardless, Kylie's video makes it pretty clear that the rapper has been fulfilling the prescribed duties of a bona fide "good dad" for quite some time now. The video footage cuts between several clips of the new parents' journey this past year, many of which feature Scott attending Kylie's doctors appointments, holding her hand, and generally assuming the characteristics of an all-around stand-up guy. (Really, though. That video is everything.)
Plus, according to a new report by E! News, Scott's "good dad" chops have only grown since the birth of his daughter last week. As E! reported, an unidentified source claimed that Scott has already been parading his daughter around to various members of his "crew." The source added, "He seems so happy and just keeps rubbing her head and saying, 'Daddy's here. Daddy's here.'"
Scott might only have three days of fatherhood under his belt, but if his comments so far are any indication, it seems like he's gearing up to make a pretty strong case for "No. 1 Dad."