Travis Scott Just Shared The Cutest Video Of Baby Stormi Bopping Along To His Music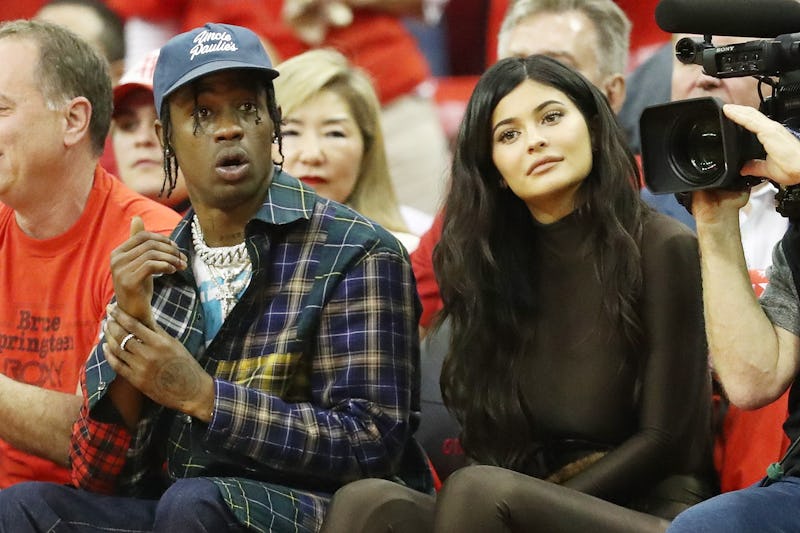 Ronald Martinez/Getty Images Entertainment/Getty Images
At this point, everything Kylie Jenner's daughter Stormi Webster does is adorable and newsworthy. And she's not even a year old yet. On Tuesday night, dad Travis Scott shared a video of Stormi dancing and giggling along to video footage of his concert and there's no doubt about it — she's his biggest fan.
The rapper shared two videos on Instagram of Stormi bopping around while she watched video footage of his performance at Madison Square Square Garden in New York City. He captioned the photo, "MSG ALL RAGERS INCLUDED."
And Stormi was definitely the number one rager in attendance. She was really feeling her dad's performance and truly having the time of her life. Thankfully, someone (probably Kylie) captured the videos of Stormi rocking out. It was just too cute and needed to be documented.
This isn't the first time that Travis referred to his daughter as a "rager" either. On the day Kylie announced their baby's birth with that video tribute, the rapper share the news in his own way. On Feb. 4, he tweeted, "2.1.18 4 ever New rager in town. !!!" Clearly, the word "rager" is a term of endearment for the new dad.
Then when Travis shared his first photo of Stormi on Instagram in March, he captioned it, "Our little rager !!!!"
Clearly, Kylie's longtime best friend Jordyn Woods got the "rager" memo. She posted the comment below:
Meanwhile, Kylie just expressed her self through some emojis.
Even though Travis is a pretty private guy, that video wasn't the first father-daughter moment that he shared on Instagram. In August, the Astroworld rapper shared two photos of himself holding Stormi. The pictures couldn't have been any more loving, but it was the caption that really turned the social media post into a precious moment.
Travis shared, "Big mood ! Teach my stormi to love I'll forever protect that smile." That's just such a sweet sentiment, and it's a rare look into a very private person's more sensitive side.
For the most part, the "Sicko Mode" rapper uses his social media accounts for promotional purposes. And that's where Kylie fills in the gaps. She has shared some special father-daughter moments on her own Instagram page.
On Nov. 18, Kylie shared a series of black-and-white photos of Stormi and Travis backstage his Astroworld festival. In the post, she commended her man for all of his hard work. She ended it with, "we're so proud of you. we love you" and you can really feel that love when looking at the photos. This duo does have a strong bond.
Before that, the family of three went pumpkin picking. During the outing, Travis and Stormi rocked matching camouflage outfits in the photos.
On a personal level, Travis tends to be pretty mysterious, since he tends to share more about his music than his personal life. Nevertheless, it's evident that he and his daughter have a super special bond. She's definitely her dad's number one fan.