This Major Life Event Brought Kylie Jenner & Jordyn Woods Even Closer Together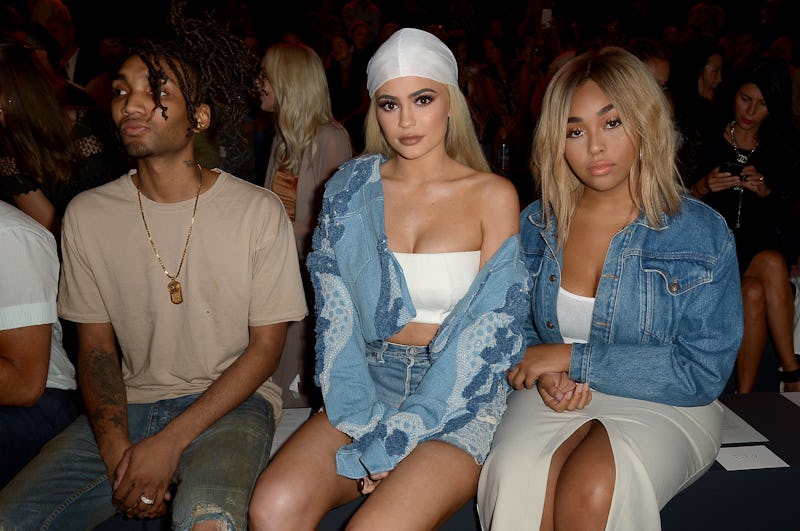 Gustavo Caballero/Getty Images Entertainment/Getty Images
Experiencing life's many twist and turns can sometimes result in the revamping of lifestyles and inner circles — especially when one of those twists includes a major milestone like having kids. For besties Kylie Jenner and Jordyn Woods, however, that couldn't have been further from the truth. Kylie becoming a parent didn't drive them apart. In fact, Kylie and Jordyn are even closer after Stormi's birth, according to a recent E! News interview.
After specualting for months, or more like her entire pregnancy, Kylie confirmed that she had given birth to a baby girl named Stormi on Feb. 1, with boyfriend Travis Scott. The 20-year-old had always been vocal about having children, even saying in a 2015 interview with Entertainment Tonight that she wanted to become a mother by the age of 27. After growing up in such a huge family, in which she's surrounded by nieces and nephews galore, it's only fitting that she would have parenting aspirations as well, right? For some, 20 might seem to be a little young to start a family, but for Kylie, it was right on time.
Kylie's best friend Jordyn spoke to this a bit in Kylie's "For Our Daughter" baby announcement video, published Feb. 4. Speaking to Stormi via the camera, the model said,
"When you're 20-years-old, you're just figuring out your life. You don't know what you want. You're an indecisive teenager, and you're just becoming a young adult, and there was one thing that your mom knew for sure, and that was you."
And seeing as Jordyn has been by Kylie's side from the very beginning, honoring Kylie's wishes to keep her pregnancy under wraps in the midst, it only makes sense that their bestie bond got even stronger.
When asked whether or not her relationship has changed with Kylie since baby Stormi's arrival the trendsetter and model revealed to E! News,
"I think it just has gotten better. It is a part of life and the process of growing up. I think it has been really great with her around now. Stormi is so sweet and so beautiful. I love hanging out with her all day."
Uh, and the rest of the world loves watching Jordyn hang with Stormi all day too. No seriously... to the delight of fans, Jordyn is always around. Whether accompanying Kylie and Travis on trips to France, or making appearances in the Kardashian-Jenner clan's reality series. Jordyn is a staple in Kylie's life, which, in turn, means that she's also a staple in baby Stormi's too. In fact, if you've been following Kylie's Snapchat closely, you'll see that she appears to have a pretty tight bond with her bestie's first born, and the photo proof of Jordyn and baby Stormi's bond is everything.
Aside from strengthening their bestie status, it looks like Jordyn and Kylie are adding another layer to their relationship. In a Q&A video posted to YouTube July 6, the reality star turned makeup mogul confirmed that a special makeup collab with she and Jordyn is on the way. And in her own interview with E! News, Jordyn may have given fans an official release date for the project, saying,
"We have been trying to do this since she launched her company and we finally figured things out. It is coming out sometime next month...It must just be...on my 21st [birthday], maybe."
This means that the Kylie Jenner x Jordyn Woods makeup collab could be available Sept. 23, which is Jordyn's birthday. And nothing says "best friends forever" like a business venture.
Kylie and Jordyn are definitely giving off #bestfriendgoals, and it seems that Stormi is officially part of their squad.