Tristan Thompson's Reaction To Khloé's Baby News Is So Subtle, You Might've Missed It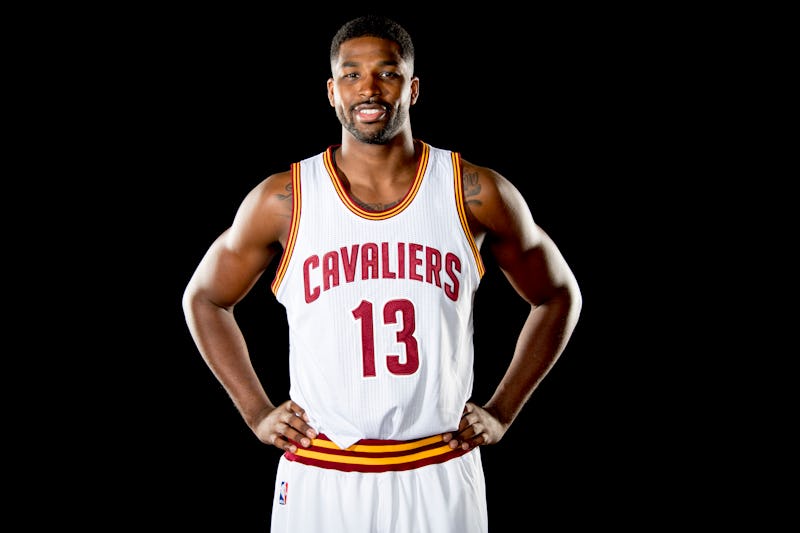 Jason Miller/Getty Images Sport/Getty Images
It's a momentous occasion for fans of the Kardashian family: Khloé Kardashian confirmed her pregnancy in an Instagram post on Wednesday, Dec. 20. And obviously, fans are eager to see Tristan Thompson's response to Khloé's pregnancy, since you know, he's the father of her child. As Elite Daily pointed out, Thompson's reaction was so subtle, you might've missed it entirely.
Nestled among a casual 3 million Instagram likes, Thompson liked Khloé's baby announcement, signifying his approval of their major news. He has yet to post anything on his own page, but it's sweet nevertheless. Especially since the reality star gave her basketball player boyfriend an incredibly heart-melting shoutout in the post. She wrote of Thompson:
"I still at times can't believe that our love created life! Tristan, thank you for loving me the way that you do! Thank you for treating me like a Queen! Thank you for making me feel beautiful at all stages! Tristan, most of all, Thank you for making me a MOMMY!!! You have made this experience even more magical than I could have envisioned! I will never forget how wonderful you've been to me during this time! Thank you for making me so happy my love!"
It's OK if you're shedding a tear right now, because it's really stinking cute. Making the announcement all the more adorable, the photo shows the pair touching hands over Khloé's baby bump.
And as you can see for yourself in the screenshot below, Thompson liked the photo, alongside a few other big names — including Gigi Hadid (a well-known friend of Khloé's sister, Kendall Jenner) and momager Kris Jenner herself.
Clearly fans, friends, and family couldn't be more excited for Khloé, and in her Instagram post, she even thanks everyone for all the support. She wrote,
"Thank you to everyone for the love and positive vibes! I know we've been keeping this quiet but we wanted to enjoy this between our family and close friends as long as we could privately. To enjoy our first precious moments just us. Thank you all for understanding. I am so thankful, excited, nervous, eager, overjoyed and scared all in one! But it's the best bundle of feelings I've ever felt in my life!"
Naturally, there are several heart emojis scattered throughout the caption, just to show how much love is flowing here. And she even posted a follow-up response on Twitter, expressing just how overwhelmed (in a good way) that she feels about the situation. Khloé tweeted,
"I was so nervous to post our announcement but WOWWW I am overwhelmed with the response by you guys!!! Thank you! Thank you! I love you guys!!"
Besides wondering when or if Thompson will make an official statement on the situation, another question has sprung to mind among fans: Are Khloé and Thompson engaged — or even married? It sure looks like Khloé is rocking a major ring on her engagement finger, but there was no mention of that in the post itself. It could purely be just a beautiful piece of jewelry. (Bustle reached out to Khloé's rep for comment, but did not receive an immediate response.)
Regardless, there's plenty to celebrate here — and based on Khloé's Instagram caption and subsequent tweet, she's soaking in the moment and making the most of it. And even if he didn't drop some major Instagram of his own, Thompson's liking of Khloé's photo shows he has his girlfriend's back no matter what — a point she also makes very clear in her love-filled caption. And at the end of the day, that's what matters most.