Trix Cereal Is Getting A Throwback Makeover That Will Make '90s Kids Ridiculously Happy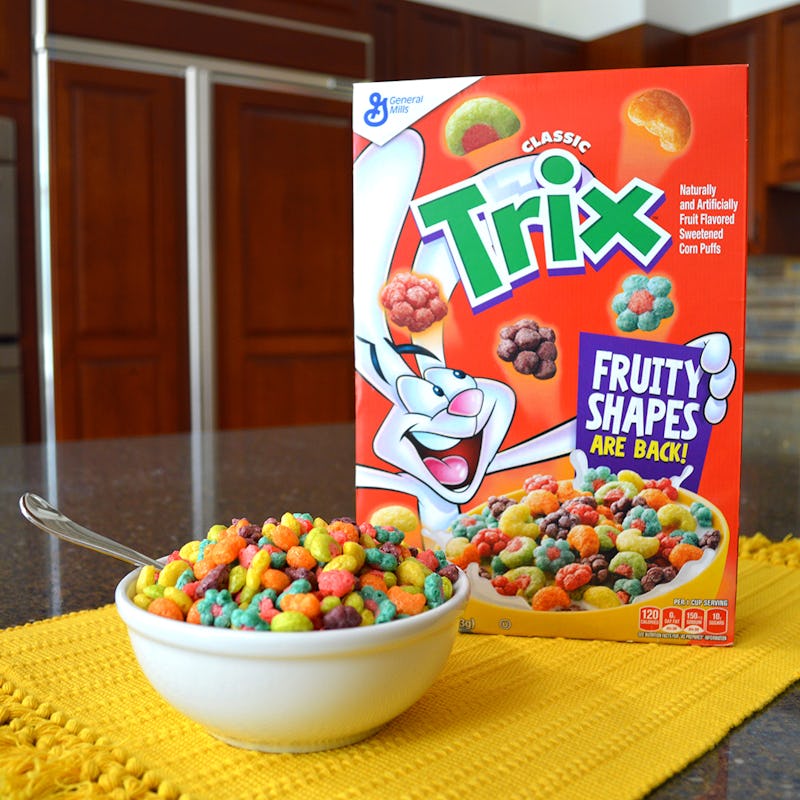 General Mills
And today in News That's Sure To Push All Your Nostalgia Buttons, we have this: Trix is bringing back the fruit-shaped pieces for which the cereal was known during the 1990s — and soon. According to a press release, General Mills "Classic Trix Fruity Shapes," as the cereal will be known, will be making its appearance on grocery store shelves in the fall of 2018... which is, uh, now. It's not clear whether the cereal is available literally right this second, but, hey, it might be. Even if it's not, though, we've probably only got a short while to wait, since we're already knee-deep in fall. What a time to be alive!
On Oct. 1, General Mills announced that the fruit-shaped pieces of the '90s would be making their return due to popular demand. "Trix cereal is beloved by our fans, and we heard loud and clear that they wanted to see the iconic shapes back in their bowls," said Scott Baldwin, director of marketing for General Mills cereal, in a press release. "When Trix launched in 1954, it was the first fruit-flavored cereal that was colorful and fun. We're excited to continue that legacy, bringing an extra dose of joy to breakfast."
When Trix debuted in 1954, it came in only three colors and flavors (orange, lemon, and raspberry), and the cereal shape was round. But while various flavors and their respective colors were introduced over the following years — "Grapity Purple" came along in 1984, for example, while "Lime Green" made its debut in 1991 — the cereal shape stayed the same for decades.
In 1991, though, General Mills made a big change: They introduced fruit-shaped Trix pieces, laying to rest the spherical shape that had characterized the cereal for its nearly 40-year history. The pieces debuted in this commercial, where the Trix Rabbit refers to them as "orangey slices, green limes, raspberry red clusters, lemony curls, and grapity bunches":
(If you're wondering why the "Wildberry Blue," "Berry Blue," and "Watermelon"-flavored pieces aren't present, that's because they didn't appear until later on: Wildberry Blue arrived in 1996, Watermelon in 1998, and Berry Blue, which actually replaced Wildberry Blue, in 2007.)
For any millennial adult born after roughly 1988, Trix will always fruit-shaped in their childhood recollections — 1988 being the first year for which this is true, due to the fact that humans don't generally remember much that happens to them before the age of three. (Kids born in 1988 would have been around three in 1991.) The cereal retained this shape for about 15 years — but in 2006, General Mills made the decision to revert back to the round shape. It's not known why, exactly; I would imagine it's because the spherical shapes are generally easier to produce and don't require different molds for each piece, but that's purely conjecture on my part.
And ever since then, people have been clamoring for the fruity shapes to return. I may be one of the few people who never had a problem with the return to spherical cereal pieces; because I am An Old, that's actually what the Trix of my own childhood looked like. As far as I'm concerned, it's the fruit-shaped pieces that were the pretenders, not the round ones. But according to General Mills, they've received over 20,000 requests for the fruit-shaped pieces to come back in the past 18 months alone, so, uh... I guess I'm alone here.
In any event, boxes of Trix have been filled with round cereal pieces for more than a decade — until now.
The shape of the pieces isn't the only element of Trix that's undergone a change recently; the color, too, has seen a few revisions over the past few years. In 2015, General Mill pledged to remove artificial colors and flavors from all of its cereals, citing the growing demand toward "simpler food" as the impetus behind the move. In practice, however, the changed worked better for some cereals than others. Reese's Puffs, for example, looked almost exactly the same due to the cereal's brown and tan shades; Trix, however, was noticeably muted, largely because natural dyes made from sources like fruit juices and turmeric just aren't capable of reproducing the neon quality that artificial dyes can achieve. Additionally, some pieces had to be eliminated due to the limitations of natural dyes: According to the Washington Post, the revamped version of Trix had only yellow, red, orange, and purple pieces, with no blue or green ones present simply because a suitable replacement for those dyes couldn't be found in nature.
So, knowing that The People Had Spoken, General Mills brought back the artificial dyes in 2017 and began marketing this version of the cereal under the name "Classic Trix." Both versions — the one with artificial dyes and the one with natural ones — coexisted alongside each other on shelves for a time.
Now, with both the artificial dyes and the fruit-shaped pieces back in boxes, today's Trix is quite a faithful reproduction of the Trix sold throughout the '90s — and, indeed, the call for the one may have also influenced the call for the other. Said Scott Baldwin in a post on General Mills' official blog, "As soon as we brought back the colors, people immediately started asking for the shapes to come back." However, doing so was not as simple as it would seem," said Baldwin. "Bringing back shapes required the cooperation of a cross-functional team of people. From research and development ensuring the shapes were just like fans remember to our plant and operations teams actually producing the cereal shapes, the teams worked tirelessly to ensure the shapes are just as our fans remember."
It's not known precisely when Classic Trix Fruity Shapes will be making its first appearance, but again, according to a press release, it will be "appearing on shelves in major retailers nationwide in Fall 2018." Given that it is currently October… well, you do the math. Be on the lookout for it soon!