Trump Jr. Compared His Penis To His Dad's & No One Wanted This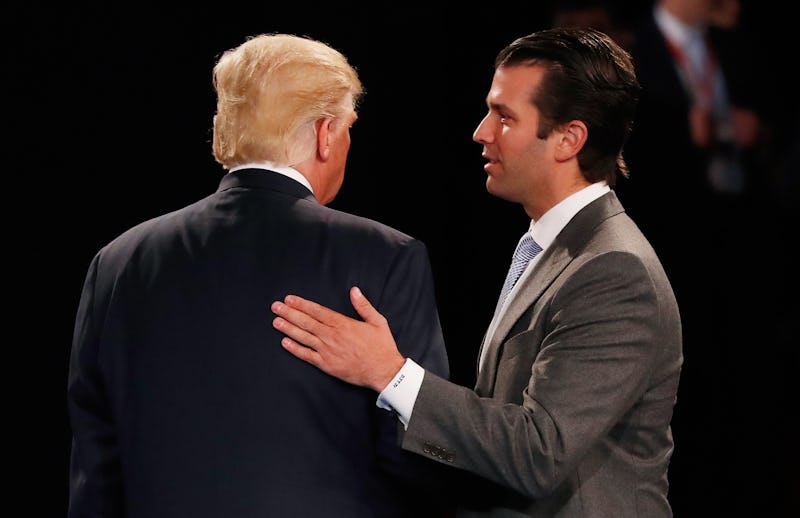 Pool/Getty Images News/Getty Images
In a recently-surfaced 2007 interview with Adam Carolla, Donald Trump Jr. talked about his dad's penis, how hard it is to be at the Playboy Mansion with a pregnant wife, whether he'd ever murder his father to inherit his fortune, and various other topics. In the interview, Trump Jr. implied, but stopped short of outright asserting, that he has a larger penis than his dad.
"When you and your pops are in the shower, who's got the bigger package? You know what I'm saying," the former Loveline host asked Trump Jr., who was at that point 30 years old.
"You know, and I will get fired for this, but I'm never going to say that I don't," Trump Jr. replied. "I will get fired for that. By the way, they're both pretty substantial, I think."
The elder Trump raised eyebrows in 2016 when when he insisted at a Republican debate that he has a sufficiently large penis. He made a similar suggestion in January 2018, when he claimed in a tweet that his "Nuclear Button" is "much bigger [and] more powerful" than that of North Korean leader Kim Jong Un, "and my Button [sic] works!" The next day, conservative shock-jock and Trump supporter Alex Jones assured his listeners that the president does indeed have a big penis.
The 13-minute interview took place at the Playboy Mansion, and although it appears to have been taken offline, it's been preserved by the Internet Archive and was uncovered Thursday by the Huffington Post's Ashley Feinberg.
Corolla and Trump Jr. covered a lot of ground during their exchange, including patricide, the age gap between his wife and Melania Trump, and whether Trump Jr. is sexually attracted to his mother-in-law.
"Have you ever thought about killing your dad for his money?" Carolla asked at one point.
"Well, you know..." Don Jr. replied.
"That's a yes," Carolla replied, although it should be stressed that at no point did Trump Jr. actually say that he'd take his father's life in order to get his money.
Later, the two discussed what it's like to be at the Playboy Mansion with a pregnant wife, which was the position Trump Jr. found himself in that day.
"Can you believe the hell I'm going through?" young Trump said. "I'm at the Playboy Mansion with a pregnant wife! It doesn't get worse than that, does it? Now, I love my wife, but that is rough. And I'm going to pay for these statements later on tonight. I'm gonna pay."
More than 10 years after the interview, Trump Jr.'s wife, Vanessa, filed for divorce. It was reported that he'd had an affair with Danity Kane singer Aubrey O'Day when Vanessa was pregnant with their fourth child, although neither Trump Jr., Vanessa, or O'Day has publicly responded to those reports.
Carolla also asked Trump Jr. if he'd ever had sex with Miss USA, to which Don Jr. replied, "Which one?" He then clarified that he was "just kidding, baby!"
At another point, the two discussed the age difference between Vanessa and Melania Trump.
"[It's] much closer than most would ever guesstimate," Trump Jr. said. "Probably about five years, six years." Carolla then asked who was older.
"My wife," Don Jr. replied. "No, I'm just kidding." Vanessa is in fact seven years younger than Melania.
Finally, Carolla asked whether Trump Jr. had always planned "to follow in your father's footsteps, meaning become a billionaire and bone hot chicks?"
"I think the answer to that is an obvious yes," the now-president's eldest son said. Trump Jr. then sarcastically added, "No, I wanted to go to work in a coal mine."