Trump Wants To Cut Funds For Global Female Empowerment Programs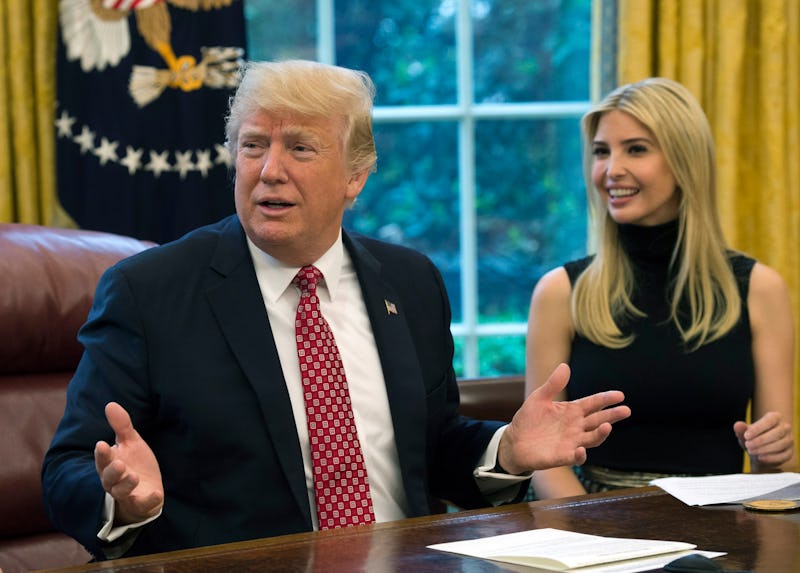 Pool/Getty Images News/Getty Images
Beginning during Donald Trump's campaign for president, his daughter Ivanka often had the difficult task of defending her father against claims of sexism and misogyny — something she's still doing now, on some of the biggest stages available. Well, her job may have just gotten a lot harder.
Trump may cut funding for the Global Women's Issues Office, a State Department office that fights for the rights of women all over the world, often defending those who are in the most precarious and vulnerable situations.
This proposed cut in the federal budget comes at a moment when all American foreign aid programs are in danger of losing funding. According to Foreign Policy, the money from State Department aid programs like USAID or the Office of Global Women's Issues will instead be sent to programs focusing on national security — this, apparently, is the America First slogan being put into policy terms. Cutting this office's entire budget, though, won't exactly free up a whole lot of money; their $8.25 million budget amounts to far less than a penny out of every dollar the federal government spends.
Even with such a small investment, since its founding in 2009 (under the watchful eyes of Barack Obama and Hillary Clinton), the office has spearheaded initiatives to prevent gender-based violence and female genital mutilation, get women college scholarships or vocational training, and end forced marriages.
The irony is lost on precisely no one (besides, perhaps, the administration itself) that this news broke right after Ivanka defended her father at the Women20 summit against claims that he didn't support women and families enough. According to Ivanka, the president is "a tremendous champion of supporting families and enabling them to thrive."
In regards to her own support of women's equality, Ivanka said that she was "striving to think about how best to empower women in the economy." Before she said that, though, she must not have seen the 2018 State Department budget in which the proposed cut appears.
"It's clear that women's empowerment and gender equality are on the chopping block in this budget," said Paul O'Brien, the vice president for policy and campaigns at Oxfam America. "Talk is cheap when you don't fund the efforts you tout."
Irony about women's empowerment aside, programs like this are actually more important for American national security that the Trump administration gives them credit for. Educating women can help prevent violent radicalization, which in turn leads to fewer men choosing to become ISIS fighters.
But just as the administration doesn't seem to have much regard for preventive medical care, this budget hasn't taken creative terrorism prevention methods like the work of this office into account. Instead, if this budget passes, the Trump administration will continue its assault on global women's rights that started with reinstating of the global gag rule that stripped aid funding from international organizations providing abortions.
If Ivanka wants to be taken seriously as a champion of female empowerment, then she's going to have to be a little bit louder when her father's administration makes decisions like these.