Trump May Name Callista Gingrich As Ambassador To The Vatican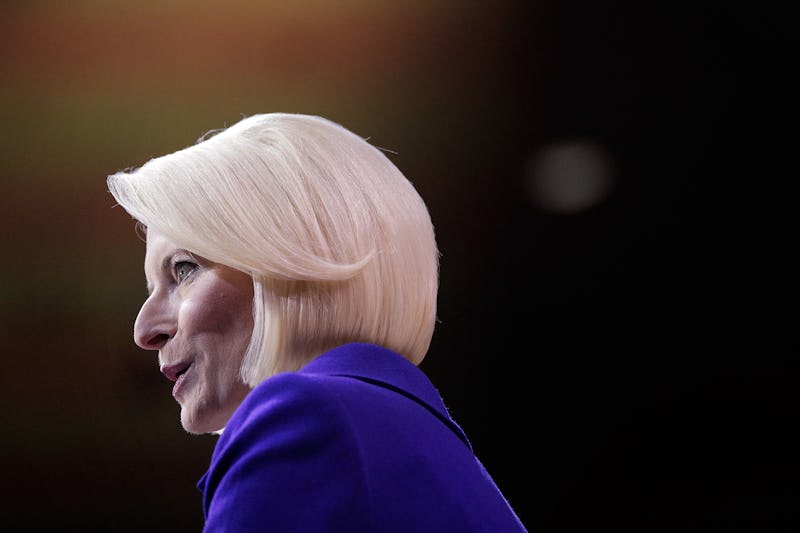 T.J. Kirkpatrick/Getty Images News/Getty Images
President Donald Trump is reportedly planning on naming Callista Gingrich, former House Speaker Newt Gingrich's wife, as his nominee for ambassador to the Vatican, according to CNN. Although it's unclear exactly when Gingrich may be officially nominated, the White House is reportedly looking to make the announcement prior to President Trump's May 24 visit to the Vatican. While Gingrich's nomination has yet to be confirmed, reports of the announcement have left some wondering who Gingrich is and what put her at the top of the list for ambassador to the Vatican.
While you may not have heard that much about Gingrich herself, her husband has certainly dominated his fair share of headlines. Gingrich is Newt's third wife, and the two met in the 1990s while he was working on Capitol Hill. After graduating from Luther College with a music degree, Gingrich began interning for then-Wisconsin Congressmen Steve Gunderson in Washington, D.C. In 1995, Gingrich was appointed chief clerk of the House Committee on Agriculture, a position she held until 2007.
While Gingrich married Newt in 2000, NPR reports their relationship allegedly began as an extramarital affair six years prior. During a radio interview in 2007, Newt, a man who has run most of his political campaigns on platforms of family values, admitted to having been unfaithful to both of his first two wives.
In recent years, Gingrich has worked as president of Gingrich Productions, a company she and Newt founded that produces historical documentaries. She has also written at least three books with her husband, as well as the children's book series Ellis the Elephant, which tells the story of a patriotic little elephant who time travels to witness important moments in American history.
Every person ever appointed to serve as the U.S. ambassador to the Holy See has been a Roman Catholic, and Gingrich would be no exception.
"I have always been a very spiritual person," Callista told NPR in 2011. "I start each day with a prayer, and pray throughout the day, because I am grateful for the many blessings that God has bestowed upon us."
For the last 20 years she has sung in the Basilica of the National Shrine of the Immaculate Conception Choir and is credited for inspiring Newt to convert to Catholicism.
According to CNN, Trump has already settled on nominating Gingrich for the position of ambassador to the Vatican but is waiting for the Office of Government Ethics to give her their stamp of approval before making an announcement. Gingrich's husband, Newt, revealed she is among those being considered for the post in January in an interview with CNN. Newt said he would be "very excited for her" if she were selected.