Trump Mocks Asian Leaders' Gestures Just Weeks After They Hosted Him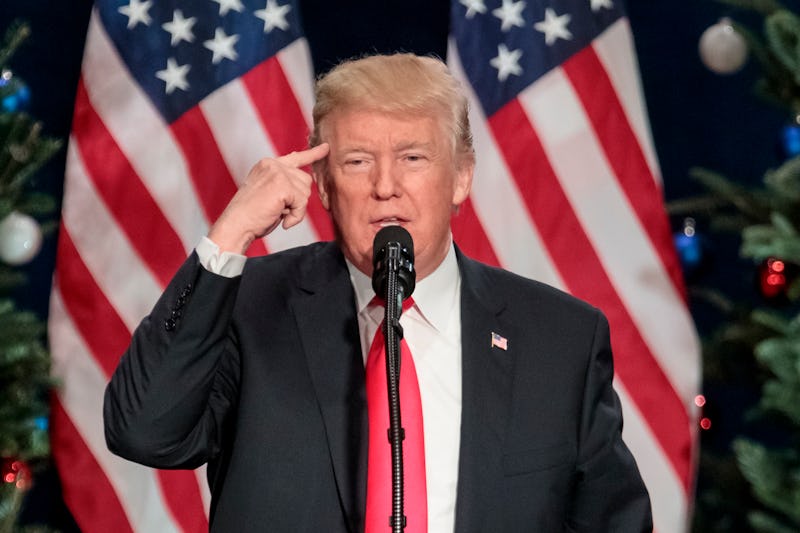 Whitney Curtis/Getty Images News/Getty Images
He was supposed to be addressing U.S. tax reform, but when the president got on stage in Missouri on Wednesday, he went on a rather bizarre tangent. During his tax reform speech, Trump imitated Asian leaders, seeming to mock the very nations that so recently hosted him.
Earlier in November, Trump and First Lady Melania Trump took a five-nation tour through Asia, meeting leaders from the region over a week and a half. During his trip, Trump met with leaders from Japan, South Korea, China, Vietnam, and the Philippines. But after calling his recent tour through Asia a "tremendous success," the American president proceeded to copy gestures that he claimed were made by these Asian political figures.
Lamenting but still not specifically naming trade deals struck under previous administrations, Trump asked on Wednesday why negotiations were not changed to reflect the modern times. According to the president, his recent tour in Asia ushered in a new approach to dealing with the continent's leaders. And that's when Trump physically mimicked — or mocked — the Asian leaders' body language.
While holding his arms in front of his chest, Trump copied Asian political figures and said, "And when I was in Asia, I spoke to a couple of the countries about it. And they looked like this, you know what this is? Hmm, hmm. That means they know they're getting away with murder and they got to start helping us out, OK?"
Leading up to that point, Trump was explaining how the United States was protecting affluent Asian countries who supposedly could not manage their own accumulated wealth. Without naming any specific leader or country, Trump said:
And we're going to work on trade, but we're also to work on military. When we defend nations that are very wealthy and we do it for almost nothing. I say, why are we defending them, we love them, I won't mention names. But there are a lot of them. We love them, they're wealthy. One of them has a cash flow that they say is unsustainable it's so large.
Think of that. How would you like to have an unsustainable cash flow? They don't know what to do with their money and we defend them.
Then to switch things up, Trump said that the unnamed affluent state will now treat the United States "fairly" and "pay for their defense." His proclamation was met with applause from the crowd.
Trump's apparent predilection for racially insensitive behavior and quips isn't entirely new to the American public. Although he didn't imitate another racial group in this instance, Trump did land in hot water Monday when meeting with Navajo code talkers at an Oval Office event meant to honor the veteran military members who helped transcribe and decode coded messages during World War II.
In an indirect reference to Massachusetts Sen. Elizabeth Warren, who once claimed Native ancestry in 2012, Trump told the senior Navajo leaders, "[W]e have a representative in Congress who has been here a long time... longer than you — they call her Pocahontas!" In a 2016 tweet, Trump first deployed the name "Pocahontas" to describe Warren.
The Massachusetts senator responded to Trump's remarks shortly after the Monday event.
It is deeply unfortunate that the President of the United States cannot even make it through a ceremony honoring these heroes without having to throw out a racial slur.
Trump has not yet apologized.
In his Missouri address, Trump may have been attempting animated storytelling for his audience. But from the looks of the video, Trump's narration with his arms-in-front and head-bobbing, could very well be seen as an offensive gesture.