Hours After His Team Addressed Election Interference, Trump Denounced The "Russian Hoax"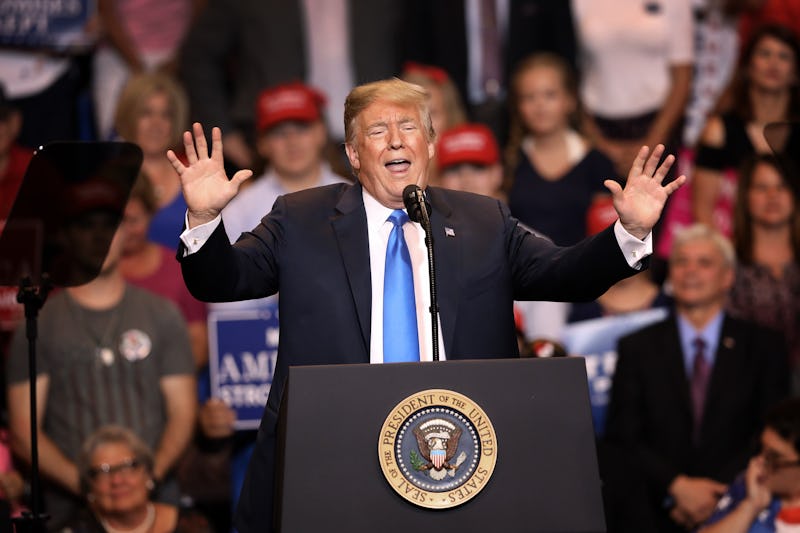 Rick Loomis/Getty Images News/Getty Images
It's hard to walk down the street and not overhear a conversation involving the word "Russia" these days. And today will be no different. On Thursday, Aug. 2 President Donald Trump reviled the "Russian hoax" while defending his meeting with Russian President Vladimir Putin — hours after his heads of national security announced that Russian meddling is still happening as midterm elections approach, CNN reported.
The security officials had also noted earlier Thursday that Trump was taking the Russian inference seriously. "President Trump has not and will not tolerate interference in America's system of representative government," National Security Adviser John Bolton said in a letter to Senate Democrats, Politico reported.
However, when Trump spoke at a rally in Wilkes-Barre, Pennsylvania, on Thursday night, he didn't set out to reiterate that sentiment. Instead, he attacked the media for their coverage of his meeting with Putin in Helsinki and gave himself a pat on the back for his handling of the meeting and Russia in general.
"In Helsinki, I had a great meeting with Putin," Trump said to the crowd. "We discussed everything. ... We got along really well. By the way, that's a good thing, not a bad thing. Now we're being hindered by the Russian hoax — it's a hoax, OK?"
As the conference went on, Trump attacked the media for their coverage of the Helsinki conference last month, during which he seemed to denounce the intelligence community's assessment that Russia tried to interfere with the 2016 election. He later walked back those comments and said that he misspoke.
His tone at the rally surrounded by supporters on Thursday night was drastically different than his announcement walking back his original Helsinki comments, though. "Everybody said, 'Wow, that was great, that was great.' A couple of hours later, I started hearing these reports that they wanted me to go up to the podium — they wanted me to go up like this," Trump said, as he performed boxing motions. "They wanted me to go up and have a boxing match."
Trump also wanted to make it clear to his supporters that he wasn't "soft" on Putin, as he said members of the media had implied:
I mean, I was the one that let out 60 diplomats. I was the one that complained about the fact that Germany is paying billions of dollars for a ridiculous pipeline coming into Germany. They are paying billions and billions of dollars a year to Russia. I was the one that complained about it.
The pipeline comments were made to German Chancellor Angela Merkel during a NATO summit this summer, The Washington Post reported. Trump was reportedly angry that the U.S. had expelled so many Russian diplomats in order to punish the country for poisoning of a former Russian spy and his daughter in Britain. Germany and France each expelled only four Russian officials at the time of the incident, and Trump had wanted to match those numbers, according to The Post.
During the rally, he also asserted that Russia was "very unhappy" that he'd won the 2016 election. This directly contradicted a statement from Putin at the Helsinki meeting, Vox reported.
Vox reported recently that Trump has been ramping up his attacks on Special Counsel Robert Mueller's investigation into Russian collusion, and now these rally comments are coming just as the intelligence community is telling the public how serious the Russian threat still is. While the reason for this drastic contrast in tone between the president and the security community is unknown, the differences are stark.