Trump Told A Female Reporter "Don't Be A Baby" When She Questioned Him On Immigration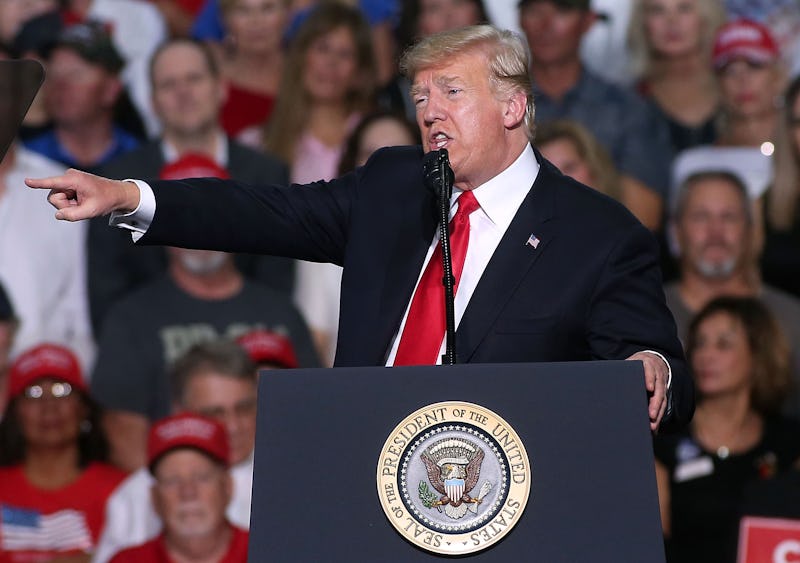 Ralph Freso/Getty Images News/Getty Images
On Friday, after New York Times reporter Emily Cochrane asked a follow-up question about his anti-immigrant rhetoric, President Donald Trump said, "don't be a baby." Trump's comments came during a roundtable with journalists before he attended a rally to support Republican Senate candidate Martha McSally.
"I asked President Trump what evidence he had that 'hardened criminals' are trying to enter the country. 'Oh please, please, don't be a baby,' was his response," Cochrane tweeted on Friday about the exchange.
She wasn't exaggerating.
"What evidence do you have that these are hardened criminals that are coming to the United States?" Cochrane asked Trump, according to video of the exchange published by NBC News.
Trump started shaking his head as he answered Cochrane.
"Oh, please. Please. Don't be a baby. OK? Take a look. Just take a look. Look at what's happening. Look at the Mexican soldiers that are laying on the ground. Take a look. These are hardened — I didn't say in all cases," Trump told Cochrane.
"But in many cases, these are hardened criminals. These are tough, tough people, and I don't want them in our country," Trump said.
Then, he added, "And neither does our country want them in our country. OK?"
Trump then went on to make similar comments — almost word for word — at the rally while supporting McSally. "Right now as you know, they're fighting some bad people," Trump said at the rally, according to The Washington Post.
"There are some bad people in that group. This country doesn't want them," Trump told the Mesa, Arizona, crowd, according to The Post.
Cochrane's question was in response to an extended riff Trump went on at a rally in Missoula, Montana, on Thursday. While claiming that Democrats are advocating for open borders, Trump then falsely claimed that if an undocumented immigrant enters the country, the government can't deport them, according to CNN.
"You know, if a foot hits the ground, we're not allowed to say 'Hey, go back.' Every other country in the world, they say go back. 'Can't come in, sorry,'" Trump told the crowd in Missoula, according to CNN. "A foot hits the ground, we have to, by law, with these horrible people that are making their own rules having nothing to do with our Constitution."
The "horrible people" appear to be Democratic lawmakers, but Trump didn't elaborate. He continued, falsely claiming that some undocumented immigrants are "hardened criminals."
"We have to take those people in even if they are criminals. And we have hardened criminals coming in. You think those people are perfect? They're not perfect," Trump said, according to CNN. "We have some bad people coming in, and by law, we have to take them in and then we have to."
Trump made his position clear with three tweets on Thursday, claiming that Central American people entering the United States via the U.S.-Mexico border include "MANY CRIMINALS" and "Criminal elements."
Trump tweeted:
I am watching the Democrat Party led (because they want Open Borders and existing weak laws) assault on our country by Guatemala, Honduras and El Salvador, whose leaders are doing little to stop this large flow of people, INCLUDING MANY CRIMINALS, from entering Mexico to U.S. ...
In addition to stopping all payments to these countries, which seem to have almost no control over their population, I must, in the strongest of terms, ask Mexico to stop this onslaught - and if unable to do so I will call up the U.S. Military and CLOSE OUR SOUTHERN BORDER! ...
The assault on our country at our Southern Border, including the Criminal elements and DRUGS pouring in, is far more important to me, as President, than Trade or the USMCA. Hopefully Mexico will stop this onslaught at their Northern Border. All Democrats fault for weak laws!
Time will tell if Cochrane's comments will rise of the level of Trump's feud with Megyn Kelly, which resulted in numerous tweets about the former Fox News anchor.