Trump Says He Won't Force A Government Shutdown Over His Border Wall After All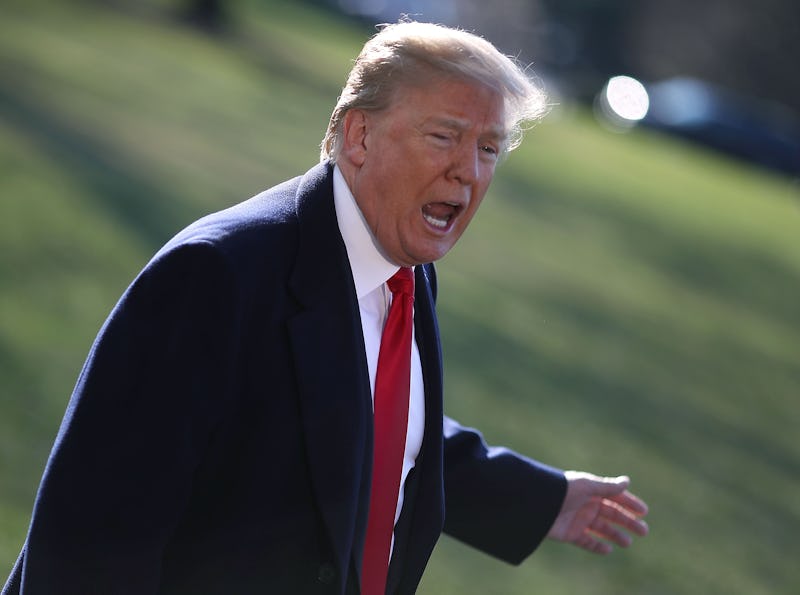 Mark Wilson/Getty Images News/Getty Images
With just days before the federal government is set to run out of funding, President Donald Trump said that he will sign a bill to avert a government shutdown, backtracking on his own threats to close the government in exchange for border wall funding. "We're going to keep the government open," Trump said Wednesday in New York, where he is taking part in the 73rd session of the United Nations General Assembly, according to Politico.
The House and Senate have been working to pass funding measures to keep major government departments open for another year and to keep others operating through the first week of December. What had remained unclear was whether Trump would go along with lawmaker's efforts. The president has threatened to use the Sept. 30 government funding deadline as leverage for a key part of his immigration proposal, which has stymied this Congress.
While Republican leaders were loathe to contemplate a shutdown this late in the election cycle, per The New York Times, Trump's signature on the funding bill wasn't considered a done deal. Friday is the last workday before government funding runs out at the end of September, and before then, Judge Brett Kavanaugh's Supreme Court nomination will be addressed for a second time by the Senate Judiciary Committee, and a shake-up is expected at the Justice Department. Taken together, the threat of a shutdown could have drawn attention away from the chaos in Washington — or, solidified voters' awareness of it.
"At this point, it's part of the larger dysfunction in D.C.," says Krista Jenkins, a political science professor and executive director of the PublicMind Poll at Farleigh Dickinson University. "If anything, I think [a shutdown] would harden the base of support for Trump, but it could energize people on the left," she says, "people who are are opposed to Trump, who might have been Trump voters in '16, but are disenchanted with him."
Congress offered up legislation that funds the Pentagon and the Departments of Labor, Education, and Health and Human Services, along with a continuing resolution to fund other agencies until Dec. 7, according to The New York Times. Crucially, the spending bill doesn't include the $25 billion Trump demanded for a wall along the U.S.-Mexico border in June, or the $5 billion Trump demanded in July and then again in August.
The president has been stoking the flames of a potential shutdown since at least Sept. 5, when he said this about a possible government shutdown, according to a White House pool report:
If it happens it happens. If it's about border security, I'm willing to do anything. We have to protect our borders. If we don't protect our borders our country isn't going to be a country, so if it's about border security I'm willing to do what has to be done.
Two days later, it sounded as though cooler heads prevailed. While Trump didn't shy away from the prospect of a shutdown in an interview on Fox & Friends on Sept. 7, he said the midterm elections were keeping his impulse at bay. "We are getting the wall done," Trump said. "But I've had so many people, good people, great people, [say] they would rather not do [it] before [the midterms], they'd rather do it right after the election."
On Sept. 18, 93 members of the Senate voted to pass a spending bill that would avert a government shutdown and punt the decision over border wall funding to Dec. 7. The House is schedule to vote on it Wednesday. From there, it would go on to an uncertain future on Trump's desk. Two days after the Senate passed it — and 10 days before the funding deadline — Trump took aim at congressional Republicans and cast doubt on whether he'd sign the funding bills headed for his desk. "I want to know, where is the money for Border Security and the WALL in this ridiculous Spending Bill, and where will it come from after the Midterms?" Trump tweeted. "Dems are obstructing Law Enforcement and Border Security. REPUBLICANS MUST FINALLY GET TOUGH!"
Both parties seemed eager to stave off a government shutdown fewer than 40 days until voters head to the polls, fearing that a blow-out battle could cause undecided voters to change their votes or stay home. Because Republicans control both chambers of Congress and the White House, conventional wisdom is that they would take a greater share of the blame if the government does shut down — and Democrats would use the shutdown to paint Republican leadership as weak and ineffectual during TV ads and on the campaign trail.
"A shutdown of some kind right before this election wouldn't be helpful to all the Republicans," says Kyle Kondik, Managing Editor of Sabato's Crystal Ball at the University of Virginia Center for Politics. "I think one of the big vulnerabilities for Trump and the Republicans right now is this feeling that things are sort of crazy and dysfunctional and certainly a shutdown would not disabuse anyone of that notion."
This article was originally published on