Trump Says His "Tapes" Tweets Were Meant To Influence Comey's Testimony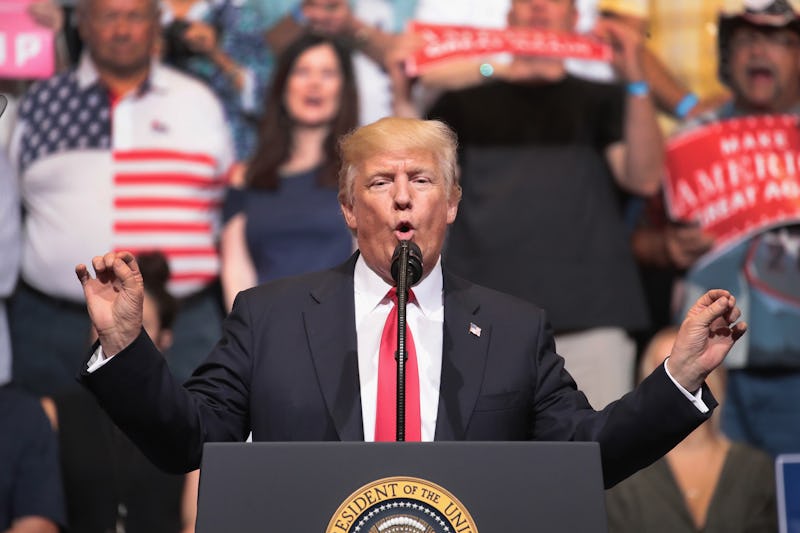 Scott Olson/Getty Images News/Getty Images
Last month, President Trump implied that he may have tapes of his conversations with former FBI Director James Comey. This week, after conceding that he didn't actually record their exchanges, Fox & Friends' Ainsley Earhardt asked him about it in an interview aired on Friday. In explaining why he tweeted about the tapes, Trump suggested it was to affect Comey's testimony before the Senate.
"When he found out that there may be tapes out there, whether it's governmental tapes or anything else, I think his story may have changed," Trump told Earhardt. "I mean, you'll have to take a look at that, because then he has to tell what actually took place at the events."
Trump's explanation implies that his tweets would have intimidated Comey into telling the truth instead of fabricating the details of their interactions. However, Trump also accused Comey of lying under oath and leaking information, and offered to provide sworn testimony to disprove allegations that he had attempted to obstruct justice. Comey's memos and testimony about his interactions with the president were damning; the former FBI director said that Trump had routinely demanded his loyalty, encouraged him to stop investigating Michael Flynn, and asked Comey to help him clear up his public image.
Back in May, shortly after Comey was fired, Trump tweeted that Comey "better hope that there are no 'tapes' of our conversations before he starts leaking to the press!" However, according to Comey's testimony before the Senate Intelligence Committee earlier this month, this tweet actually pushed him to publish his memos, in which he documented multiple one-on-one interactions with Trump. During the Senate Intelligence Committee hearing, Comey added that he hoped there were tapes, and he encouraged the president to release them if they existed.
On Thursday, Trump tweeted, "I did not make, and do not have, any such recordings."
In his interview with Earhardt, Trump reiterated his allegations about the Obama administration's "unmasking and surveillance," though it is unclear that he was trying to imply.
"Well I didn't tape him," Trump told Earhardt. "You never know what's happening when you see that the Obama administration, and perhaps longer than that, was doing all of this unmasking and surveillance. And you read all about it and I've been reading about it for the last couple of months about the seriousness and horrible situation with surveillance all over the place."
Trump concluded by maintaining that he had never changed his story, and that his "story was always the truth." It is difficult to understand what Trump was trying to argue, but Earhardt suggested that Trump's strategy was "smart."
"It wasn't stupid, I can tell you that," Trump replied. "You never know what's out there but I didn't tape and I don't have any tapes."
It is unclear what link Trump was trying to create between his tweet about having tapes and the Obama administration's alleged unmasking of Trump campaign officials. Trump previously claimed that former President Barack Obama wiretapped him, an allegation that led Comey to describe Trump as "outside the realm of normal."