Trump Says Ivanka "Looks Down On Him" In Newly Uncovered Interview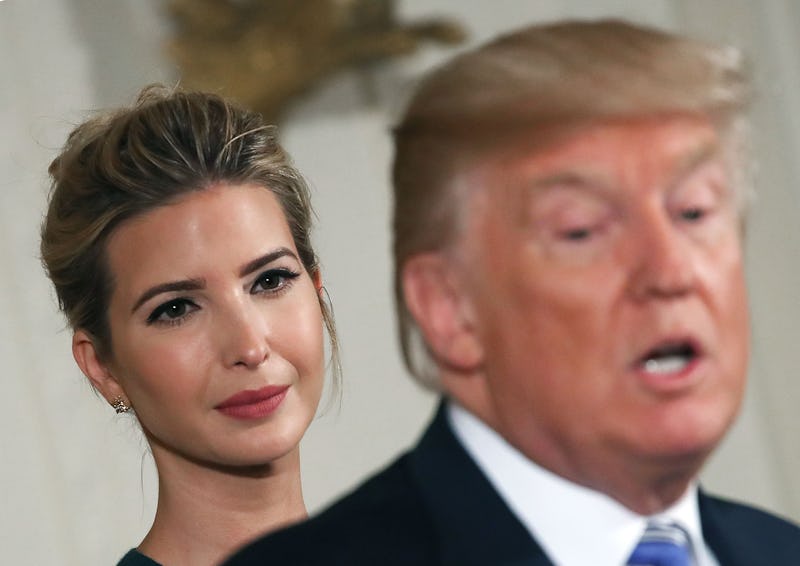 Mark Wilson/Getty Images News/Getty Images
In newly released recordings of archives of The Howard Stern Show, Trump said he thinks Ivanka "looks down on him." And one point he made about his daughter stood out. In a September 2004 interview with Howard Stern, Trump joked about his daughter's love life and how high society she was becoming.
At one point in the interview, he talked about wanting to introduce Ivanka to a football player, and she wasn't interested because of his athlete status. He joked with the hosts about how she's becoming very "blue-blooded," adding that she's becoming very "white shoe," meaning white elite, basically.
"I think my daughter looks down on me," Trump said. "She said, 'Oh my God,'" he continues, before being interrupted by Stern, who went on to tell Trump that he should hook Ivanka up with him, laughing about how much fun they would have if he was Trump's son-in-law.
The recordings were posted on Factba.se, a website dedicated to making unedited versions of a person's entire statements, interviews, and the like available to the public. There are 15 hours of Trump and Stern talking, and the transcripts contain all sorts of tidbits, including Trump's admission to having "felt up" Melania while in public.
This is far from the first time Trump has talked about Ivanka with Stern. Most famously, he told the shock jock that he could call his daughter a "piece of ass." At that time, he said:
Trump: My daughter is beautiful, Ivanka. She…
Stern: By the way, your daughter.
Trump: She's beautiful.
Stern: Can I say this? A piece of ass.
Trump: Yeah.
And even more came out in the newly released recordings. In 2006, Stern asked Trump about who Ivanka was dating, mentioning rumors about Lance Armstrong. Trump expressed that he needed to "guard" her from suitors and said he wouldn't want his daughter to be with a guy like himself.
Everybody loves Ivanka. She's beautiful she's smart she was a top student at the Wharton School of Finance. She's in business. She's really smart. She was a very top model. And she really is a great beauty. You know, you talk about a great beauty, but she's a great beauty and everybody wants to go out with her. Every guy is calling her, and I have to really guard her. But one of the people that calls her consistently and all the time is Lance Armstrong.
Trump claimed that Armstrong called Ivanka so often, and Stern asked if Trump was thinking about calling the authorities.
Yes, I'll have him arrested because he's much too old for her. See, I would only allow my daughter — see, I don't want anybody to take after me. I want my daughter to be with somebody relatively her own age.
In February of 2007, Trump talked with Stern about a situation in which Ivanka had gone on Jimmy Kimmel Live and guest Andy Dick physically harassed her, causing Kimmel to remove him from the set. Trump and Stern talked about how Kimmel did the right thing by getting rid of Dick, and then Trump chimed in:
Right. My — when my daughter did the show, like 2 weeks later. And —by the way, did my daughter looked beautiful?
Again, that led Stern to joke about how he would make a play for Ivanka. Eventually, the conversation moved on to even more uncomfortable territory:
Trump: She's a great kid.
Stern: She's a great kid. What a great catch. I still think she got implants. She — her chest looks bigger to me.
Trump: Ohh... But so what? They... Well, she hasn't told me about it.
Stern: Well, that's nothing she's going to discuss with you.
Trump: No, I don't think so.
Stern: And can I tell you something? The face, gorgeous. The body, gorgeous. Bright. And I'm sitting here going, you know what, when I met her, there she is, put her on a mini skirt — when I met her, I thought she was kind of saying to me, I like you.
Trump: Oh, that would make me thrilled.
Later, in an October 2007 interview, Stern once more tried to goad Trump about dating his daughter, with Trump saying that Stern isn't what he had in mind for a son-in-law. "Not exactly, but of course, I wouldn't say I'm exactly what a lot of mothers have in mind either, but I'm .... I do have some compensating balances," he said.
In that same interview, he criticized the media for how it painted the way he talked about Ivanka.
And it was terrible what they did. I did The View. And they were talking about Ivanka and I said, "Ivanka is so beautiful." I said it. Laughing. The audience was laughing, everybody was laughing.
So they put out a press release — "Trump wants to date his daughter."
Oh, it's terrible.
The archives are full of comments like this. If you've got time, take a listen to how the president of the United States talked. Even if you can't devote the full 15 hours, pop in to a few of the various videos. Who knows what you might hear.