Trump Still Hasn't Reached Out To Charlottesville Victim Heather Heyer's Family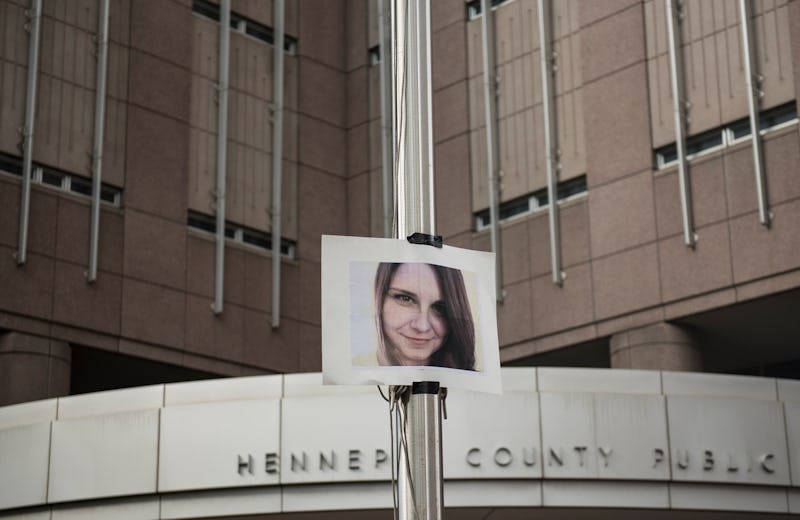 Stephen Maturen/Getty Images News/Getty Images
Although the president has given several statements (with varying success) following the white supremacist protests in Charlottesville, Virginia over the weekend, Trump still hasn't reached out to Heather Heyer's family, The Hill reported. Heyer, 32, was killed on Saturday while participating in counter-protests of the "Unite the Right" rally. A young white supremacist protester drove his car through a crowd, killing Heyer and injuring over a dozen others who were walking down the street near the University of Virginia.
When asked by reporters from The Hill on Tuesday whether he had contacted Heyer's family, Trump said he hadn't yet.
"No," he said. "I will be reaching out,"
In his statement on Monday, where he condemned the groups behind the rally, Trump commented on the statement given by Heyer's mother. He said:
I thought that the statement put out, the mother's statement I thought was a beautiful statement. I'll tell you — it was something that I really appreciated. I thought it was terrific.
However, Trump's continued rhetoric blaming "both sides" for the violence in Charlottesville reached a boiling point in his unscripted, impromptu comments on Tuesday, when he wondered aloud whether the so-called "alt-left" have any sort of "semblance of guilt."
As the New York Post reported, Heyer's mother — Susan Bro — did give a statement thanking Trump for "words of comfort" when he finally denounced the white nationalist groups in his second stab at a statement about Charlottesville. Though, she did not explicitly express support for the president. Per her statement:
Thank you, President Trump, for those words of comfort and for denouncing those who promote violence and hatred. My condolences, also, to the grieving families of the two state troopers and quick recovery to those injured.
In an interview with NBC News, Bro opened up about her daughter's death and the hate-fueled groups that she was protesting:
She was there with her friends, and she was trying to simply cross the street as the movement was breaking up that day, and she was plowed down by a young man who was intent on spreading hate and thought hate would fix the world. And hate does not fix the world.
The Hill also reported that Trump has yet to explicitly say whether the driver (a 20-year-old from Ohio with ties to white nationalist groups) was committing an act of terrorism when he drove his vehicle into the crowd.
"The driver of the car is a murderer and what he did was a horrible, horrible, inexcusable thing," Trump said, but he never used the word "terrorism." (Which he hasn't been shy about doing in the past.)
While Trump hasn't reached out to Bro yet, Heyer's memory will surely continue to be honored.