Trump's Got A Short Trip Planned To Argentina, And It's Basically Because He's A Homebody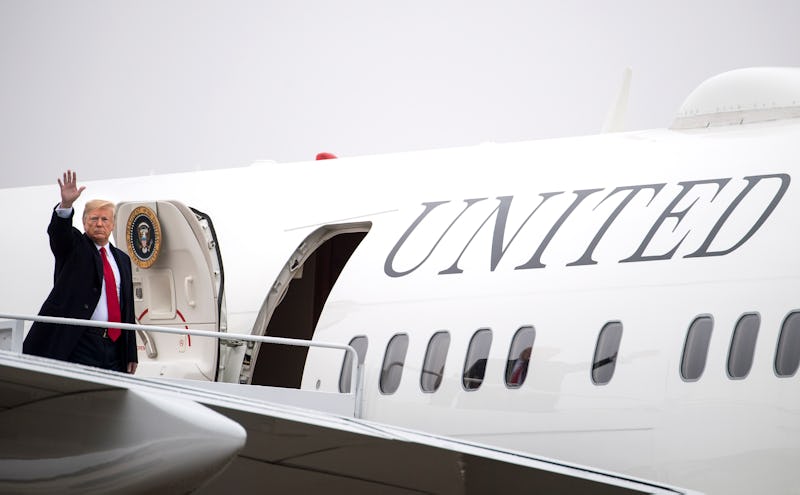 Pool/Getty Images News/Getty Images
Being the president is a job that necessarily involves a lot of travel. As effectively the nation's top diplomat, the president is required to go to meetings around the world to discuss all sorts of topics with other leaders. One such meeting is coming up in Argentina: the G20, which gathers the leaders of 20 of the world's leading nations to discuss the most important issues facing the globe today. President Donald Trump's trip to Argentina for the G20, however, is going to be short and packed, and there's one preference of the president's that explains that planning choice.
Basically, Trump is a homebody, according to reporting from the Associated Press. While he took a couple of longer trips during the first year of his presidency, the second has seen him establish a pattern of planning short trips, cutting planned stops, or canceling trips altogether. Take his trip to Canada for the G7 meeting in June, which he cut short to go meet with North Korean dictator Kim Jong Un. In 2017, he skipped the East Asia Summit in the Philippines so that he could come home a day early.
Bustle has reached out to the White House for comment.
The G20 meeting in Argentina isn't an occasion the president can miss, though, so instead, the AP reports that he's just packing as much into a short time as he can. Following his departure on Thursday, Trump will spend just 48 hours in Argentina, but he still has eight meetings on his schedule. This includes a Saturday meeting with Russian President Vladimir Putin, which the Kremlin confirmed despite Trump's threats that he might cancel it over the Russian spat with Ukraine in the Azov Sea, according to The Washington Post.
The tight schedule has also forced some concessions in terms of quality time with his fellow world leaders, according to the AP. For example, Trump has long expressed his fondness for Japanese Prime Minister Shinzo Abe, but his bilateral meeting with Abe will be turned into a trilateral meeting with Abe and Indian Prime Minister Narendra Modi because of time constraints.
There are a number of factors that could explain Trump's preference for short trips. His dedication to sleeping in his own bed became clear even during the 2016 presidential campaign, as he would travel back to New York after each day of campaigning. According to the AP, he's carried this habit over into his presidency, which has led to a very limited number of overnight stays at properties besides the White House and his own properties.
Gatherings of world leaders, then, have also not proven to be occasions at which Trump shines, as CNN laid out. His November trip to Paris to commemorate the 100th anniversary of the end of World War I featured a very public argument with French President Emmanuel Macron, for example. That trip also led to significant embarrassment for the president and his team in the media, when he opted not to visit a cemetery for a ceremony honoring thousands of marines who died in the First World War. With the tight schedule in Argentina, maybe there will be less of a margin for these kind of missteps.