Women Were Not Having It With Trump's IWD Tweets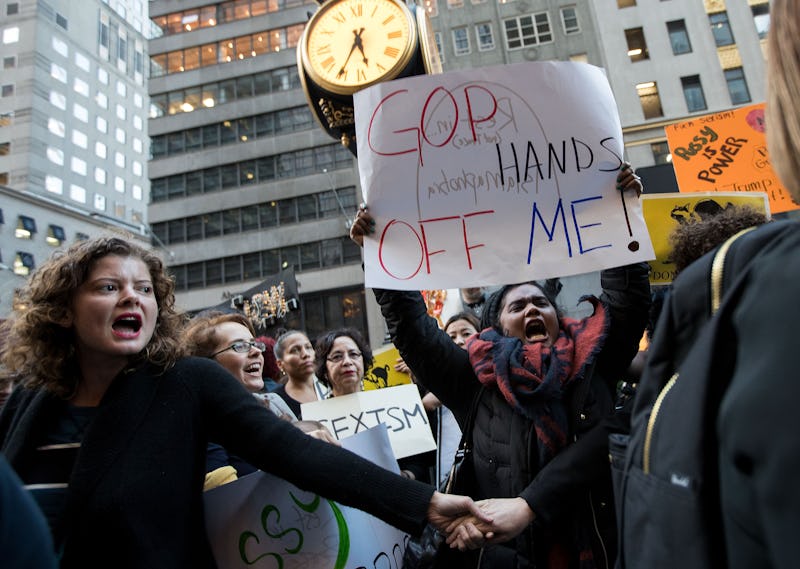 Drew Angerer/Getty Images News/Getty Images
Ah — another day, another tweet from our 45th president that may just make you want to roll your eyes so far into the back of your head that you never see a tweet again. On March 8, Donald Trump tweeted about International Women's Day about his "respect for women" and their importance to society and the economy, and you can bet your bottom dollar that the women of Twitter would not let him forget all the other choice things he's said about women. In fact, the amount of sass it has garnered might make you laugh so hard that you forget that this is the same man threatening to defund Planned Parenthood if they don't stop offering abortion services*!
(*JUST KIDDING, but while you're thinking about it, it's always a good time to donate if you feel it in your heart.)
In any case, it was not lost on many women that in praising the economic and labor power of women, Trump did not in any way acknowledge the historic "Day Without A Woman", a general strike organized by the same organizers of the Women's March the day after his inauguration. While Trump was tweeting yesterday, many women had taken a day of leave from their jobs to protest on behalf of women's issues, including workplace discrimination, the ever present wage gap, the inaccessibility of affordable childcare, among many other issues — immigration, the refugee ban, Black Lives Matter, and the Dakota Access Pipeline, to name a few — that are decidedly feminist issues. The strike shut down school districts and offices nationwide, and although the economic impact is still being determined, many women refused to shop for the day in solidarity with the strike as well. If there were ever a moment to not just acknowledge the economic and societal importance of women, but the historic and persistent injustices to women in the workplace and in society that threaten their ability to contribute and thrive in those capacities, it was during this monumental strike.
Unsurprisingly, Trump did not acknowledge the strike. And unsurprisingly, women latched onto the opportunity to remind Trump of things he has acknowledged about women — none of which are in line with the "respect for women" he tweeted about on March 8.
This Lovely 'The Office' Reference
May The Sass Be With You
A Crucial Reminder
The Resurgence Of This Glorious Meme
These Donald Trump Quotes That Speak Louder Than His March 8th Tweets
Sorry, Trump — even on a A Day Without Women, turns out we'll still flock to social media to remind you about the Trump Comments On Women Past. And in the spirit of never not forgetting, here's a round up of all Trump's worst quotes in a song, for your blood pressure raising/viewing pleasure!
*Drops mic*. Women OUT.