Cassie From 'The Bachelor' Is Giving Fans AND Colton Plenty Of Butterflies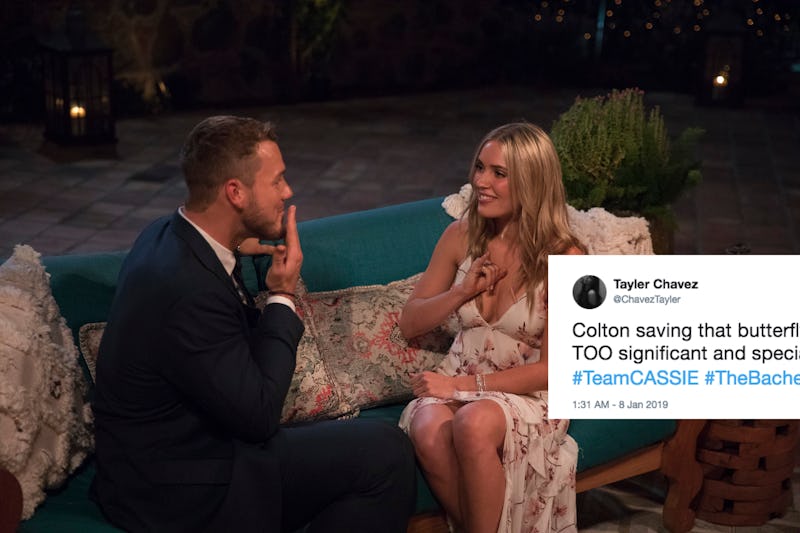 ABC/ Rick Rowell; ChavezTayler/Twitter
Even though we're just one episode into this season of The Bachelor, fans already have a few favorites. Tweets about Cassie from The Bachelor prove that people are convinced she'll be a frontrunner. Even with 29 other women trying to get a rose from Colton Underwood, Cassie still stood out from the pack. Could she be the final rose recipient? Some viewers are already convinced that might be the case.
As for how exactly she stood out, Cassie is one of the few Bachelor contestants that got an introduction video during the premiere, which means we got to "meet" Cassie before she even got out of the limo. During that video, the fans learned that Cassie is a speech pathologist from California, i.e. she has a "real" job instead of a humorous title like "Cinderella" or "Sloth."
During the premiere, she even had an adorable limo entrance, admitting to Colton that she had butterflies. Then, she revealed that she literally had some (fake) butterflies with her in a box and she dumped them onto the Bachelor mansion driveway.
However, the cutest part of her entrance happened when she was already in the house. Colton went out of his way to pick up one of the butterflies. Then, he put it in his pocket. Did he save anything from any other limo entrance? Not that the viewers saw at least.
At this point, all eyes are on Cassie. Just check out the tweets about her from Monday night's episode.