Twitter Watched Justin Timberlake's Halftime Show & Was Like, "Um, We're Good"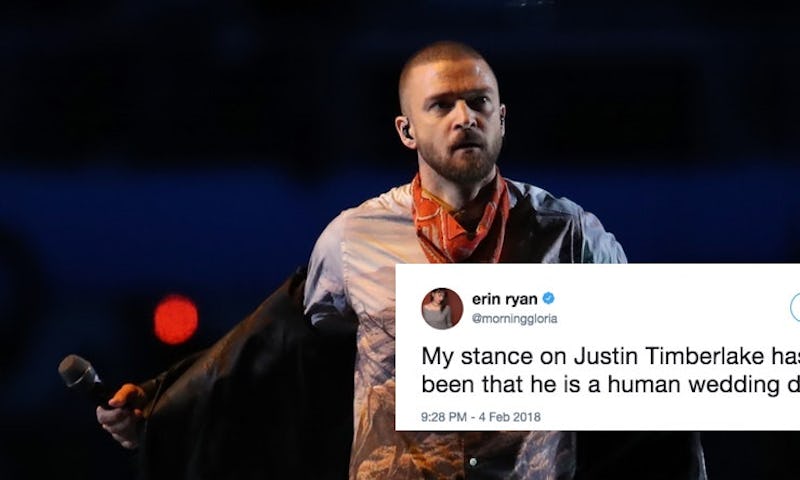 Andy Lyons/Getty Images Sport/Getty Images
In the time leading up to Justin Timberlake's Super Bowl halftime show, there were many rumors about what might happen: Would *NSYNC reunite? Would there be a Prince hologram? Would Janet Jackson show up? All of these were shut down, which left people wondering what Timberlake would do. And it turns out... well, not that much.
In a press conference on Thursday, Feb. 1, Timberlake teased that there would be some never-before-seen aspects to his Super Bowl performance. "Without giving too much away, we're doing a few things with this halftime show that they've never quite done before," he said, as reported by Billboard. "I'm excited to do that, I always like to push to be able to do something like that. But also, too, I think on a more serious note, it's a moment where you have the opportunity to bring so many people together through what I think is the greatest art form."
But, after shooting down rumors that Jackson, *NSYNC, or JAY-Z would show up, the 37-year-old singer made it seem like his halftime show would be a simpler one, totally focused on the music. "To be honest, I had a ton of grand ideas about special guests," he said. "We talked about it a lot ... but this year I'm just excited — my band, the Tennessee Kids, I feel like they're my special guests and I'm excited this year to rock the stage. It's gonna be a lot of fun."
And that was exactly what happened. While he didn't include a Prince hologram, he did perform part of "I Would Die 4 U" with a video of Prince projected behind him in honor of the singer's home state of Minnesota. (The game was held in the Minnesota Vikings stadium.) Other than that, there were no special guests, and the only thing that seemed different at all was that Timberlake started the show from inside the stadium and then made his way out to the field.
Some Twitter users were glad that Timberlake stuck to his old songs — he only included one song, "Flithy," from his new album, Man of the Woods — but overall viewers weren't all that impressed.
He's A "Human Wedding Dance"
It's not the worse thing to be, I suppose.
The Singing
Not sure if this person is implying he was lip syncing or just thought there was too much dancing. Timberlake did say "woo!" a lot. That's for sure.
More Prince, Please
The "duvet" comment is in reference to the video of Prince being projected on a gigantic piece of fabric hanging from the top of the stadium. This idea doesn't sound bad, though, honestly.
Seriously, Prince Was A Highlight
More Prince!
"White Male Mediocrity"
This became a theme.
And...
The performance was also "mediocre," according to this viewer.
Yikes
Um, maybe they were just too far away to see anything...?
The Woods
If only one celeb can be "of the woods" at once, this Twitter user wants Hillary Clinton back.
Katy > Justin
Also, bring back Katy Perry while we're at it.
Appropriating White Culture?
This likely has to do with his choice of a camo suit, fringed jacket, and bandana. After releasing an album called Man of the Woods. After never previously seeming "of the woods."
As If
At least this person is recognizing him as a woodsman?
A Thorough Review
If anything should "scream iconic," it should probably be your Super Bowl halftime show.
The Old Songs Were Appreciated, Though
On the bright side, many of those who watched were glad he only performed one of his new songs.
Well, it was far from the most exciting Super Bowl halftime show ever (especially after Lady Gaga's big jump last year). And considering these reviews, it sounds like a lot of people are ready to look forward to 2019, rather than re-watching JT's performance online.