Twitter Verified The Charlottesville White Supremacist Rally Organizer & People Are Livid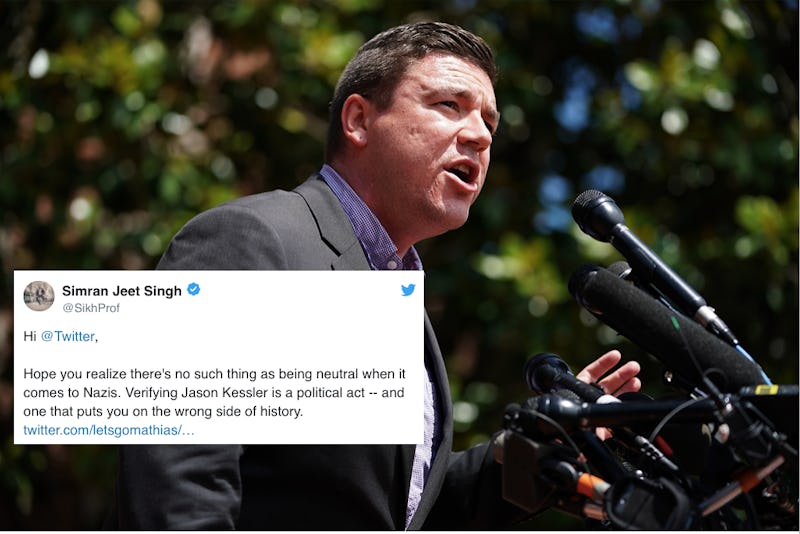 Win McNamee/Getty Images News/Getty Images
The blue verification checkmark is a status symbol of sorts on Twitter. It protects celebrities from being impersonated, gives journalists credibility, and allows the platform's well-known accounts to be easily recognized. But on Wednesday, that blue checkmark created controversy when Twitter verified Charlottesville white supremacist rally organizer Jason Kessler.
If you don't recognize the name, Kessler organized the August "Unite the Right" rally that resulted in the death of Heather Heyer, a counter-protestor. Kessler's Twitter bio states he's a freelance journalist, and his header photo is a Confederate flag. Recently, he deleted his account after sparking backlash for calling Heyer a "fat, disgusting Communist" in a tweet. (Kessler blamed the tweet on the fact that he'd taken a mixture of prescription drugs.) But he later returned to Twitter and was granted a badge of authenticity.
Many of the platform's users were furious the company chose to verify Kessler, arguing that it gave him an even larger platform to spread the alt-right's hateful message online.
On Allowing Hate Groups
Many didn't hesitate to point out that Twitter claims to prohibit hate groups, yet verified a known white supremacist.
On Enabling White Supremacy
"Twitter is full of shit," said journalist Monique Judge, adding that the choice effectively enables white nationalist ideology.
On The Wrong Side Of History
Some even claimed it was a political act. As Simran Jeet Singh wrote, "There's no such thing as being neutral when it comes to Nazis."
On The Hypocrisy
Twitter users have been frustrated with the company's failure to curb hate and abuse for a long time, so it's no surprise many felt this exemplified Twitter's hypocrisy.
On Who's Suspended And Who's Verified
Other users who have previously been suspended from the site were furious, as well. "Are you out of your mind?" Thomas Almirall asked the social media company.
On Giving Kessler A Place Of Distinction
Some demanded to know how Twitter could justify telling people of color they're safe on the site now.
On The Symbol Of Legitimacy
In the same vein, comedian Michael Ian Black explained that the blue checkmark doesn't simply verify someone's identity — it also gives their account legitimacy.
On Annoying Trends
Filmmaker Jeremy Newberger pointed out that the prominence of white supremacists is a growing trend in America.
On @Jack's Role
A lot of responses were addressed directly to Twitter's CEO, Jack Dorsey.
On 280 Characters
Kessler's verification came on the heels of Twitter rolling out the 280-character feature to most users, and Laurie Crosswell would like to return the extra space in exchange for Kessler's checkmark being revoked.
On Deleting Kessler's Account
The fact that Kessler was verified means Twitter confirmed who he claims to be, an organizer of the Charlottesville "Unite the Right" rally. So, some asked, shouldn't his account be deleted now that he's a confirmed white supremacist?
On Firing The Employee Responsible
The person known on Twitter as "Neural Culture" recommended Twitter fire whoever verified Kessler and replace them with the employee who briefly deleted President Trump's account on their last day at the company.
On Signing Off
And some took it as a sign that they needed some space from Twitter dot com. "Can't face twitter now. Signing off," wrote Lorinda Chamberlain.
Kessler responded to one Twitter user calling out the site for verifying a white supremacist, saying: "I never claimed to be 'superior' to anyone else because of my race. However, my people are beautiful, unique & deserve to have a voice like anyone else."
However, the Southern Poverty Law Center lists Kessler as a white nationalist, and many say that his role in organizing the "Unite the Right" rally speaks for itself.