The Story Behind The Most Popular Athleisure Brand On Instagram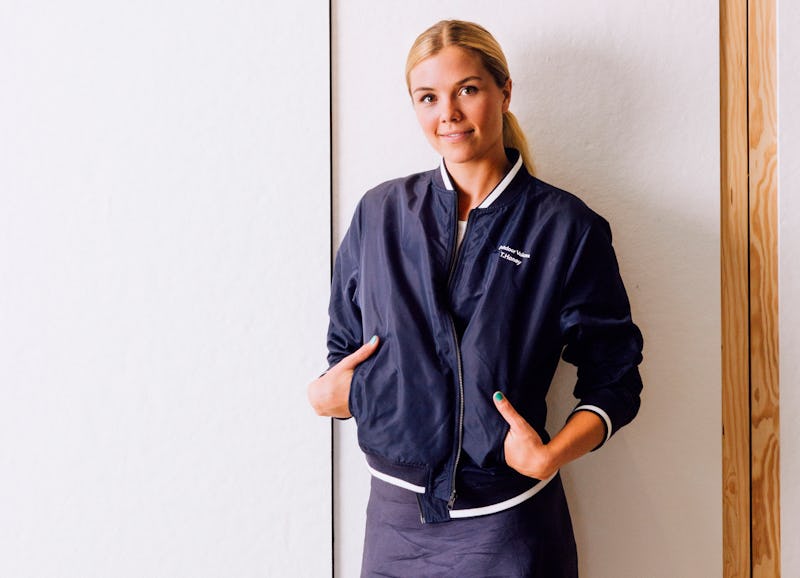 Ben Sklar/Outdoor Voices
Even if don't know who Tyler Haney is, you may know her brand. Haney is the master mind behind the ultra-chill, stylish activewear brand Outdoor Voices. Her woman-centric, cool girl vibe is exactly what has made OV the must-have athleisure brand for those who love a laid-back approach to being active. From sweats to active accessories, OV is making its mark through no fuss, non-intimidation athletic gear — but the brand, and its success, is much more.
Simply put, Haney and Outdoor Voices aren't simply a brand. They're part of a broader movement to bring women, their ideas, and their products to the forefront for the fashion and beauty industry.
You've probably seen Outdoor Voices on celebrities like Gwyneth Paltrow and fashionable women like fashion bloggers Leandra Medine and Ingrid Nielsen. Medine, the creator of Man Repeller, even curated her own OV Kit — a set of matching activewear and accessories from the Outdoor Voices brand. But the brand and their relaxed mission is expanding even further than influencers, and it's because of their founder's unique philosophy. Haney tells Bustle that while she grew up as an athlete, as she got older and stopped competing, she no longer had a motivation to be active. This realization inspired OV and its mission.
"That moment I woke up and said, 'Wouldn't it be amazing to build the next great activewear brand that approached activity differently, with moderation, and ease, and delight rather than pressure to perform'," she says.
As a young, female entrepreneur, Haney and her brand have also set out to help and assist other women succeed in their own start-up ventures. Haney has some incredibly successful friends who have been integral in her journey as a business owner, like Glossier's Emily Weiss. In a business world that can often foster feelings of animosity between women and encourage competition instead of cooperation, Haney is looking to change the narrative, making female partnership integral to Outdoor Voices' success and growth.
She has teamed up with female lead brands like Glossier, even modeling in the brands's Body Hero campaign. Haney says women helping women is a core value for her brand.
"I feel very fortunate to have this little group of friends," she says, "We all are really open with what we learn and how we go about things, the mistakes we've made, etcetera. And it's become this really like friendly awesome network, but we're stronger together.
"When we are going up against the Nikes or the Estee Lauders or these thirty year-plus big companies that are male-founded, we're a lot stronger together."
Haney doesn't just focus on working with other female entrepreneurs, though. She also has a passion for her female customers. As part of an industry dominated by men-founded companies selling products for women, Outdoor Voices has an essential perspective. It's a female-led company help female customers find what they need.
"We know as women what we want, and so, we should be the ones creating the products that we're selling to women," Haney says. "And I think that's why it's working. Through the messaging, the products, the social media, like the voice of the brand, we're making brands that all of us fall in love with. It only makes that people similar in age or the same gender would fall in love with our brands as well."
She explains that crafting a brand for women as a woman is more about relatability than aspiration, and says making sure the narrative of the brans is authentic is key.
"Be open and friendly and inclusive and warm," she says to other woman-lead, woman-focused businesses. "Be kind always. I think there's a big movement around reliability, and it's refreshing."
As for what's coming next for Outdoor Voices, Haney couldn't reveal specifics — but she did let Bustle know that a lot is coming for the brand in 2018. From the sound of it, more collaborations and partnerships with other women-led companies are coming.
"This group of girls are getting tighter and tighter, and we're expanding because there's so many more girls starting companies," she says. "It only makes sense to start bringing them together and start overlapping in new ways."
Fueled by warmth, inclusivity, and a laid back approach to life, Outdoor Voices is a brand unlike any other on the market. And Haney is only just beginning.