Uma Thurman Accuses Harvey Weinstein Of Sexual Assault & Claims He "Attacked" Her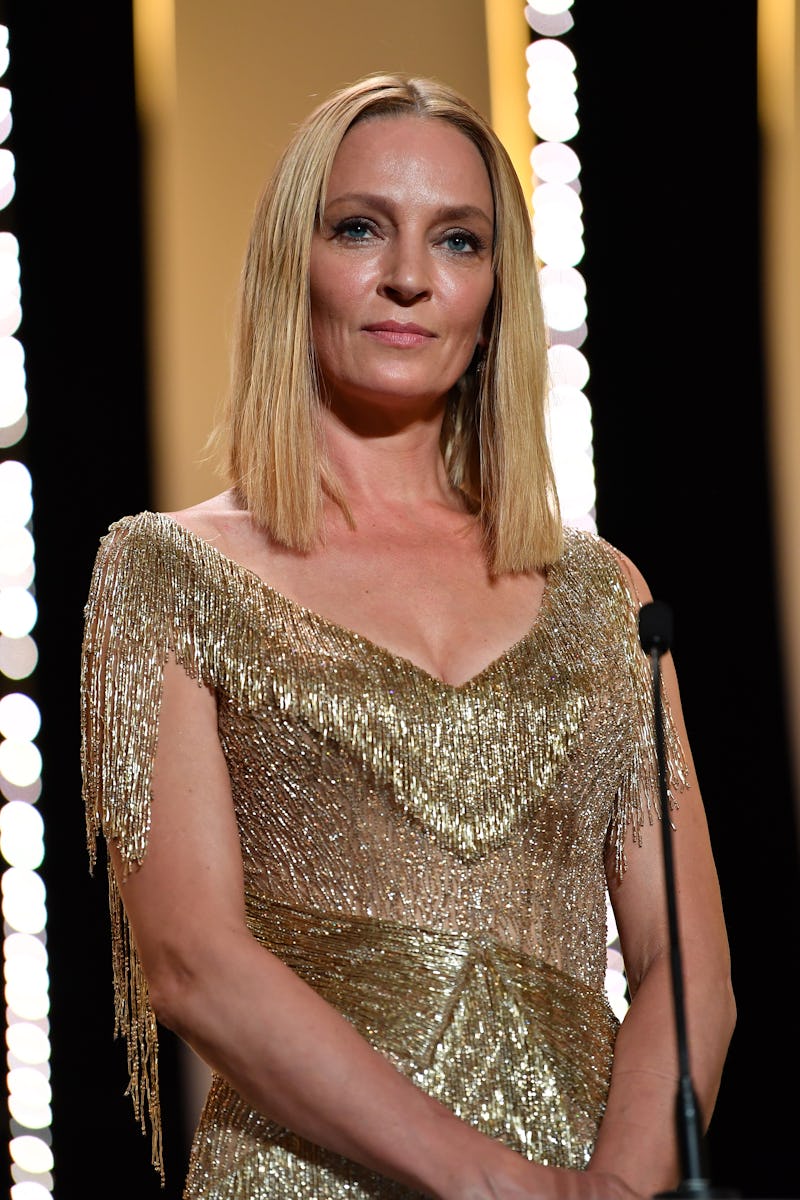 Pascal Le Segretain/Getty Images Entertainment/Getty Images
Just over two months ago, Uma Thurman wrote a message to Harvey Weinstein on Instagram. In the ominous holiday caption, she typed, "Happy Thanksgiving Everyone! (Except you Harvey, and all your wicked conspirators - I'm glad it's going slowly - you don't deserve a bullet) -stay tuned." And now, she's elaborating on what exactly that meant. In a New York Times op-ed, published on Saturday, Feb. 3, Thurman alleges Weinstein sexually assaulted her in a hotel room and claims he threatened to derail her career. Through a spokesperson, Weinstein denied the latter accusation to the Times, but said,
"Mr. Weinstein acknowledges making a pass at Ms. Thurman in England after misreading her signals in Paris. He immediately apologized."
UPDATE: On Saturday afternoon, Weinstein's attorney, Ben Brafman, told Bustle in a statement:
"Harvey is stunned and saddened by what he claims to be false accusations by Uma Thurman, someone he has worked closely with for more than two decades. Mr Weinstein acknowledges making an awkward pass at Ms Thurman 25 years ago which he regrets and immediately apologized for. Why Ms Thurman would wait 25 years to publicly discuss this incident and why according to Weinstein, she would embellish what really happened to include false accusations of attempted physical assault is a mystery to Weinstein and his attorneys. Ms Thurman's statements to the Times are being carefully examined and investigated before deciding whether any legal action against her would be appropriate."
EARLIER: When Bustle reached out to Weinstein's rep, a spokesperson shared several images of Weinstein and Thurman together, and released the following statement:
"We have pulled a number of images that demonstrate the strong relationship Mr. Weinstein and Ms. Thurman had had over the years and we wish the New York Times would have published them.
Mr. Weinstein acknowledges making an awkward pass 25 years ago at Ms. Thurman in England after misreading her signals, after a flirtatious exchange in Paris, for which he immediately apologized and deeply regrets. However, her claims about being physically assaulted are untrue. And this is the first time we have heard those details."
In the Times story, Thurman talks about getting to know the producer more through working together on Pulp Fiction in the '90s. She claimed,
"I knew him pretty well before he attacked me. He used to spend hours talking to me about material and complimenting my mind and validating me. It possibly made me overlook warning signs. This was my champion. I was never any kind of studio darling. He had a chokehold on the type of films and directors that were right for me."
As for what exactly happened, Thurman alleged that things went downhill after he came out in a bathrobe in a hotel room in Paris. She told the Times, "I didn't feel threatened. I thought he was being super idiosyncratic, like this was your kooky, eccentric uncle." However, he then allegedly led her into a stream room, where she said to him, "'This is ridiculous, what are you doing?" Then, she claimed, Weinstein got "flustered and mad and he jumped up and ran out."
However, it wasn't until a separate hotel, this time in London, that the alleged attack happened. Thurman alleged to the Times:
"It was such a bat to the head. He pushed me down. He tried to shove himself on me. He tried to expose himself. He did all kinds of unpleasant things. But he didn't actually put his back into it and force me. You're like an animal wriggling away, like a lizard. I was doing anything I could to get the train back on the track. My track. Not his track."
In the same story, Thurman recalled telling Quentin Tarantino about the alleged hotel incident with Weinstein years later at the 2001 Cannes Film Festival. While she says she had told Tarantino before, this time, he reportedly confronted Weinstein, who was hurt and surprised by the accusations. Then, Thurman told the Times that she reminded Weinstein of what happened in London and that "at some point, his eyes changed and he went from aggressive to ashamed." She also claims Weinstein then apologized, which his spokesperson reportedly confirmed did happen to the Times.
Regarding the specific allegations above, Weinstein's spokesperson claimed to Bustle:
"There was no physical contact during Mr. Weinstein's awkward pass and Mr. Weinstein is saddened and puzzled as to 'why' Ms. Thurman, someone he considers a colleague and a friend, waited 25 years to make these allegations public, noting that he and Ms. Thurman have shared a very close and mutually beneficial working relationship where they have made several very successful film projects together.
This is the first time we are hearing that she considered Mr. Weinstein an enemy and the pictures of their history tell a completely different story."
In her interview with the Times, Thurman also touched on her "complicated" feelings about the matter, specifically regarding the other women who have come forward. She said,
"The complicated feeling I have about Harvey is how bad I feel about all the women that were attacked after I was. I am one of the reasons that a young girl would walk into his room alone, the way I did. Quentin used Harvey as the executive producer of 'Kill Bill,' a movie that symbolizes female empowerment. And all these lambs walked into slaughter because they were convinced nobody rises to such a position who would do something illegal to you, but they do."
To date, more than 50 women have accused Weinstein of inappropriate behavior, ranging from alleged sexual assault to harassment to misconduct. (He has denied all allegations of nonconsensual sex.) He has been fired from the Weinstein Company and kicked out of the Academy of Motion Picture Arts and Sciences. According to the latest Times report, he is currently in therapy in Arizona.
If you or someone you know has been sexually assaulted, call the National Sexual Assault Telephone Hotline at 800-656-HOPE (4673) or visit online.rainn.org.