This Chic Plus Size Workwear Collection Includes A Killer Jumpsuit You Definitely Need To Cop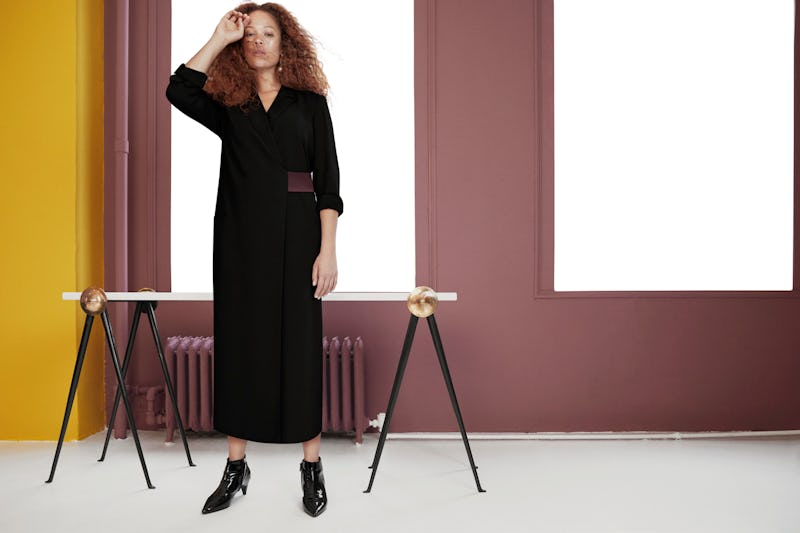 If you had come to me 10 years ago and told me that one day, there'd be a brand like Universal Standard for plus size women, I probably wouldn't have believed you. Of course, there have been plenty of improvements in the plus size fashion market since then, but Universal Standard just launched a collection of chic plus size workwear. Workwear, guys.
When I think of that particular genre of clothing, a cascade of unfortunate memories flood into my brain: Squeezing my size 18 body into a size 16 Ann Taylor suit to interview for my first editing job in 2007, because that's the highest size it came it. Forcing myself to wear ill-fitting black slacks for bartending gigs in 2008, because I didn't get the editing job (I blame the suit). Half-heartedly sifting through racks searching for a blazer, but only finding options that I'd have an easier time convincing my grandmother to wear.
Though things have changed since then, plus size contemporary workwear remains a relatively bleak landscape. That's why Universal Standard's New Executive Class collection feels like such a bright light in poly-blend suiting slack darkness. It's sophisticated, it's clean, it's modern — and most importantly, it comes in sizes 10-28.
"Quality workwear hasn't been available for a vast majority of American women. We want to remove the stress of dressing for success," Alex Waldman, Cofounder and CCO of Universal Standard, said in a statement. "Our consumer has always been burdened with ill-fitting, poorly made clothing. I want these brilliant women to have the same tools their straight-size peers have, so they too can feel empowered in the workplace."
Talk about speaking my language. The 13-piece collection is sophisticated, full of unexpected details that prevent the boardroom-adjacent pieces from feeling boring, and all of them are available for $80-$230, an approachable price point for high quality contemporary. There's even an oversized jumpsuit in the mix, the kind of professional-but-cool-AF item I've always wanted to wear to work, but could never find in my size.
The collection also includes a unique feature to Universal Standard: The brand offers curated clothing assortments sold as a group — in this case, the four-piece workwear kit includes a blazer, a fitted dress, a top, and a free pair of pants — all the workwear basics for a total of $450 (retail value $560). There are also an additional array of tops, skirts, and even a knee-length blazer that could make the perfectly seamless transition from boardroom HBIC to international assassin.
There are some drawbacks to the collection, which won't appeal to every shopper. All the colors are pretty neutral, which makes it a tough sell for plus size professionals who prefer to inject their office wardrobes with color. Additionally, the collection is limited to just 13 pieces right now, which may not give everyone the options they're looking for.
However, if you're looking for simple, clean and classic pieces for your work wardrobe, The New Executive Class collection hits the mark, while staying true to the Universal Standard brand identity.
Polina Veksler and Alexandra Waldman launched Universal Standard in September 2015, designing their own fabrics and keeping both quality of materials and quality of design in mind. The brand's strength is it's ability to produce what they call "elevated essentials." In other words, the pieces aren't the flashiest or most colorful, but they offer plus shoppers a chance to shop for and invest in classic, clean pieces. The New Executive Class is an exciting addition to the Universal Standard roster — especially when I think about how hard it was for 2007 Me to find a goddamn trouser.
Universal Standard's The New Executive Class collection is available now on UniversalStandard.com