Urban Outfitters Is Selling Retro Landline Phones If You Want A Blast From The Past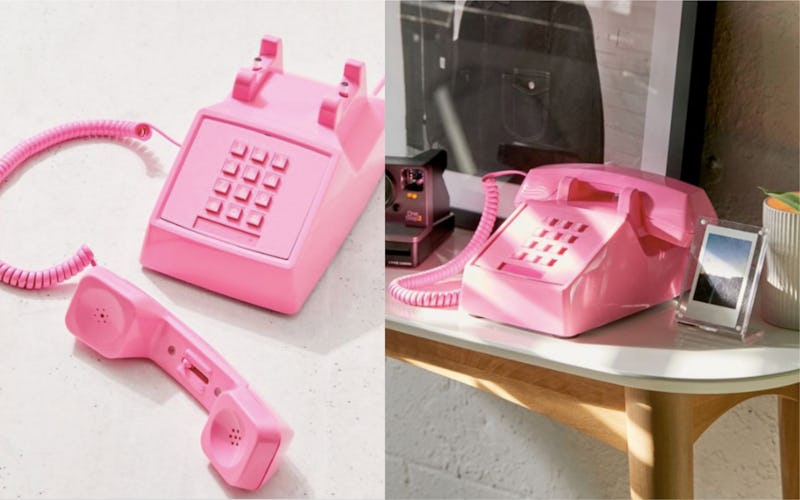 Urban Outfitters
With all the advancements in pocket-sized, slender cell phones, we've lost our love for the landline. Remember the days of phones with curly chords? Remember your days begging, I mean full on pleading for your own, private landline? Great news. Now that you're an ~adult~, you can finally have your teenage dream. And to achieve that, the Wild & Wolf 2500 Phone, a retro landline phone at Urban Outfitters should be at the top of your wish list this holiday season.
Your smartphone makes you believe that you have it all. A communication device that snugs into the palm of your hand. You can blast off e-mails. You can fire off text messages. You can even swipe for your future partner. And you can do ~all of this~ while also taking a phone call. With the amount of storage space and assorted apps available to us, our personal word is downloaded and wireless. But, wouldn't it be kind of nice to be connected to the way it was. At least hang on to it by a thread? And by thread, I mean a curly phone chord?
The obvious answer is: yes, it would! While I am sure that your smartphone is as stylish as ever, complete with a designer case and adorable accessories, there is no competing with the aesthetic of a retro phone. It's a ~mood~ and I'm here for it.
While we are way past waiting around for Dan to call with an invite to the sock hop, the phone throws it back to when poodle skirts were in style. As described on the Urban Outfitters page, "The landline is back with this corded phone from Wild & Wolf, featuring a retro aesthetic that brings color and analog charm to your space. Equipped with ringer on/off switch and receiver volume control so you can have the line to yourself late into the night without your fam ever noticing. Finished with a plug-in cord that connects to a phone jack." Yes, your home definitely still has the antiquated phone jack built in. The phone retails for $60, but you better hustle — it's going fast.
If you're planning on going to the sock hop — or the 24-hour diner — and decide that you'd like Dan to accompany you, this is the perfect phone to call him up on. Also, you don't necessarily have to wear a poodle skirt. Despite the dated looking phone, this is still 2018. You can wear whatever you want.
Whether you decide to outfit your coffee table or bedside table with a one of these, you will undoubtedly be styling with this no fuss phone. In case you need further convincing beyond the simple pleasure of twirling a curly chord in your fingers, having a landline can be totally personalized. Give your number out to only your best friends, including mom for a truly private (finally!) phone line. Also, you'll never misplace it. It'll never slip between the sofa cushions. It'll never sink to the bottom of your bag. You'll always be connected to it because it is always plugged in.
Urban Outfitters is selling other landline phones you can check out on its website as well, but regardless, of this much you can be sureL no matter what style of landline phone you add to your wish list, you'll certainly be ~ringing~ the holidays in in style.