This New Royal Wedding Ice Cream Flavor Tastes Exactly Like Meghan & Harry's Wedding Cake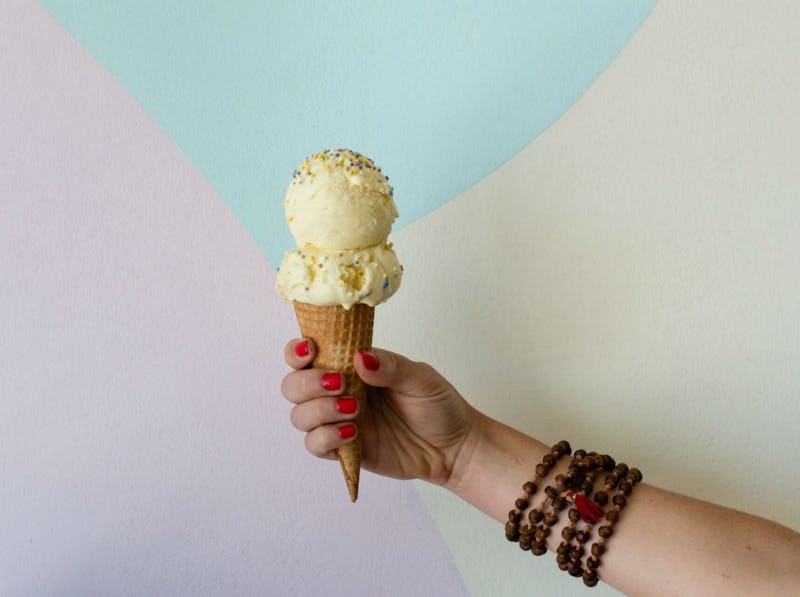 Van Leeuwen
After months of talking about it and waiting for it, the big day is finally almost here: the royal wedding is happening this Sat., May 19! In just a few short days, we'll all finally be able to catch a glimpse of Meghan Markle marrying Prince Harry. I say "catch a glimpse," of course, because the majority of us commoners will not be present at the wedding of the year — we'll just be watching the festivities at home, and maybe celebrating on our own with some special royal wedding-themed treats, which there is definitely no shortage of. And while you probably can't try a piece of the royal wedding cake for yourself, we've got the next best thing: Van Leeuwen released a royal wedding ice cream flavor to commemorate the couple's special day, and you need to try it ASAP. After all, if there's one dessert that could come close to the perfection of cake, it's ice cream.
Instead of just having your regular old ice cream sundae, though, you need to really get in the spirit of things with an ice cream flavor that mimics the wedding cake guests will eat at the actual royal wedding. This exclusive Royal Wedding Cake flavor can be found at Van Leeuwen, a Brooklyn-based ice cream shop with locations around NYC and in Los Angeles that serves up delicious, unique flavors. This flavor is legit, you guys, and it's the perfect accompaniment to your royal wedding viewing party.
The Royal Wedding Cake flavor was inspired by Claire Ptak of Violet Bakeshop, who is creating the actual cake for the wedding. According to Kensington Palace, Meghan and Harry asked Ptak "to create a lemon elderflower cake that will incorporate the bright flavors of spring." The statement also added that the cake "will be covered with buttercream and decorated with fresh flowers." Sounds delicious — and also extremely aesthetically pleasing.
The ice cream based on this plan sounds equally delicious. It's made with sweet cream ice cream, with swirls of elderflower buttercream frosting, and housemade lemon pound cake pieces. Are you drooling yet? Because I am. While the ice cream won't be topped with fresh flowers (that seems messy), you could always throw a few on top of your cone for the Instagram photo opp.
There's just one catch: you need to head to LA or NYC to be able to buy this ice cream for yourself. Van Leeuwen has shops in New York in Greenpoint, Williamsburg, Boerum Hill, East Village, Lower East Side, the Seaport, West Village, and Nolita, with trucks in Williamsburg and Soho. In Los Angeles, they have shops in Franklin Village, the Arts District, and Culver City, with trucks at the Broad Museum, and Abbot Kinney, Venice. You can also buy pints directly from the website (they ship nationwide) or in stores that sell them if you want, although the Royal Wedding Cake flavor will only be available in stores.
The good news? The Royal Wedding Cake flavor will be in shops from now until the end of the summer, so you have plenty of time to head to one of them to try this out. Sure, it's nice to be able to eat a cone while watching the royal wedding, but let's be real: it will be delicious at any time of the year.
And if you haven't tried Van Leeuwen's yet, this is a great opportunity to do so. The ice cream is so good, and they always offer the coolest flavors, like one of their current specials, lemon verbena rhubarb jam crumble (which is another great option for royal wedding viewing). Bonus: Van Leeuwen has truly incredible vegan ice cream for anyone who doesn't eat dairy.
Now, if you'll excuse me, I'm heading to the nearest Van Leeuwen's to give this one a try myself.