Ariana & Sandoval Are About To Make A Big Change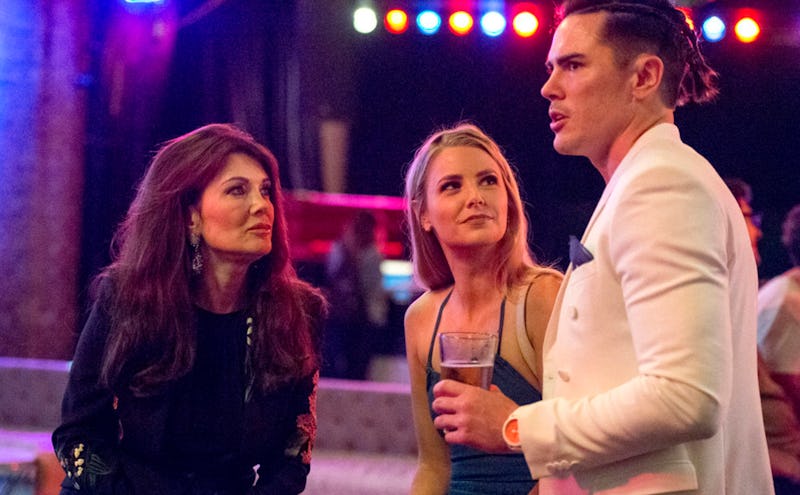 Nicole Weingart/Bravo
Uh oh. Ariana Madix of Vanderpump Rules went and jokingly pitched a reality series idea to Bravo's The Daily Dish, and now I am obsessed with that joke pitch. In a recent interview with the publication, Madix said she and Tom Sandoval are preparing to buy a house together sometime in the near future. (Aw, the Golden Nugget seems like just yesterday, doesn't it? Where does the time go?) Though the two SURtenders don't know when it'll happen exactly, Madix does believe she and her boyfriend would be down to tackle a renovation project. "I think Tom and I would be open to something that's a little bit of a fixer upper," she said. "We would do a lot of stuff ourselves and make our own stamp."
Two of my favorite reality stars would like to fix up a house? I hope they Snapchat the whole reno process. Gotta see as much of that magic as possible. If only there was a whole genre of television dedicated to home makeovers.
"We should totally have a home improvement show," laughed Madix. "First of all, we would fight a lot on which things to pick. Eventually, it would all get it done and I think it would be dope."
Ding ding ding. We have a winner of a reality show premise. Whether she's kidding around or not, I do not care. Madix just planted a seedling and I want to see that seedling blossom into the Pump Rules home renovation program flower of my dreams. I know Madix and Sandoval told Australia's NW magazine back in December that they'd love to have their own travel show one day, but I think a home makeover spinoff would be incredible.
I want to watch Sandoval and Madix argue over wainscoting, flooring, and cabinet knobs. I want to watch Sandoval and Madix spend hours scraping off stubborn panels of old, crusty wallpaper. I want to watch Sandoval and Madix debate about shiplap. I want to watch them design a vanity specifically for forehead shaving. I want to watch Madix and Sandoval ask Tom Schwartz and Katie Maloney to go back to that paint store and pick out swatches for them. I want to watch Lisa Vanderpump offer up design advice ("More sparkle, more blush pink, more tufted seating, more dog armoires" I imagine she'd say). I want to watch the rest of the Pump Rules cast come over for a housewarming party. I want to watch Sandoval give a housewarming party toast. And I want to watch Sandoval pick up a dog and wipe away his tears of joy the second he's done delivering the housewarming party toast.
Thank you for the seedling, Madix. I will cherish it always.