'Vanderpump Rules' Stars Will Be Featured In A Fun Choose-Your-Own-Adventure Mobile Game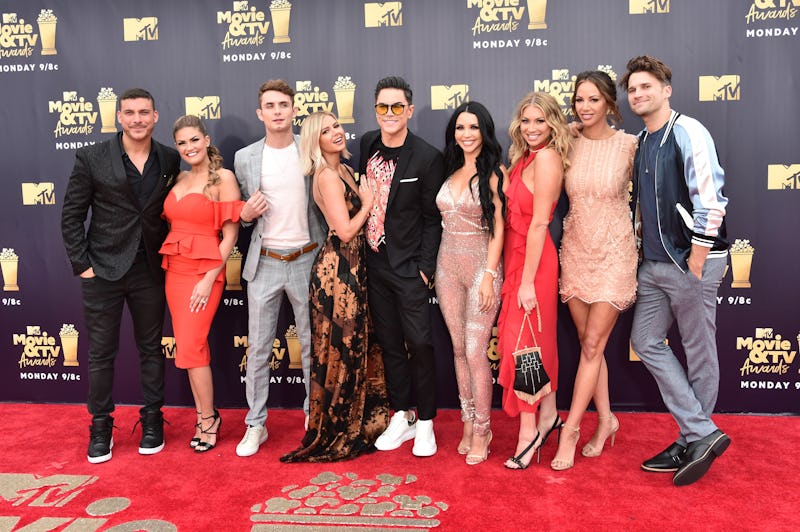 Alberto E. Rodriguez/Getty Images Entertainment/Getty Images
Fish your cell phone out of the SUR ice box that you dropped it in during an especially busy shift behind the bar, because Vanderpump Rules will be in a mobile game. As Variety reported on Wednesday, Oct. 17, Universal Games has teamed up with Endless Entertainment on a mobile game called Series Your Story Universe. In this game, players (well, their avatars) are given the chance to interact with characters from popular TV shows and movies, take part in storylines, and make choices throughout the game that change the course of the story. The first four story options are The Breakfast Club, Saved by the Bell, Law & Order, and Vanderpump Rules. The other movies and TV shows to be featured in the game will be unveiled at a later date.
According to Variety, Games and Digital Platforms, Universal Brand Development executive vice president Chris Heatherly said in a press release,
"Storytelling is the soul of what we do at NBCUniversal, and Series Your Story Universe will elevate the way players experience a narrative-based game, by letting them direct how they want their stories to be told. Featuring a captivating mix of genres from across NBCUniversal's film and television properties — from comedy and romance, to drama and reality television — fans can look forward to interacting with some of their favorite genre-defining characters."
Series Your Story Universe is slated to be available on both Android and iOS in early 2019. So, if you are a fan of mobile game Choices: Stories You Play and E! People's Choice Awards nominee Vanderpump Rules (or The Breakfast Club or Saved by the Bell or Law & Order or all of the above), then get ready to make some room on your phone for this app next year. Oh, and if you have Google Play, the game is up for a "limited time" for "testing purposes."
Based on one of the screengrabs provided to Bravo's The Daily Dish, it looks like your avatar will get to work for Lisa Vanderpump at SUR. And it looks like LVP will ask your avatar to keep working even after your shift is up. And it looks like you could make a decision that might lead to Sexy Unique Dire Consequences. And it also looks like you could make another decision that might keep you in LVP's Sexy Unique Good Graces. The Sexy Unique Stakes are high. This game already sounds like a thrill.
And that is just the Pump Rules story. The stories set in the worlds of John Hughes's 1985 classic The Breakfast Club, cherished early '90s sitcom Saved by the Bell, and stalwart procedural Law & Order will probably keep players on their toes, too.
Will James Kennedy ask your avatar to stop making it all about the pasta? Will Jax Taylor ask your avatar if they'd like a pair of sunglasses he "found"?Will LVP ask your avatar if they'd like to open a Pomeranian-themed day club? Can't wait to find out.