A 'Saved By The Bell' Alum Has A Reunion Idea That'll Leave You Crossing Your Fingers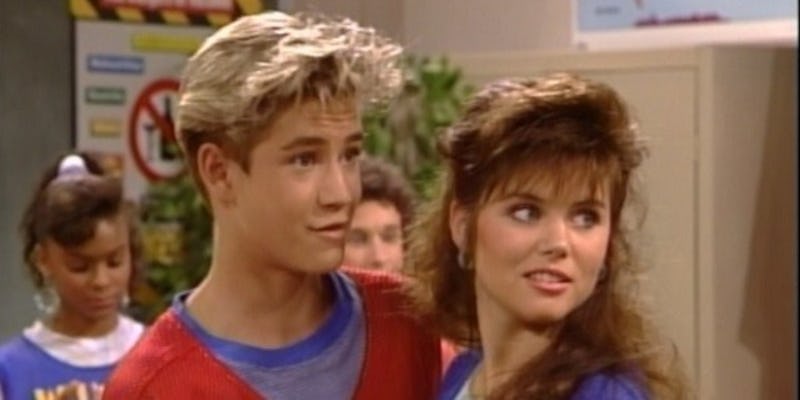 NBCUniversal Television Distribution
For those that wish their Saturday mornings could once again include Zack Morris, Kelly Kapowski, A.C. Slater, Jessie Spano, Lisa Turtle, and Samuel "Screech" Powers, know that you're not alone. In fact, Ed Alonzo, who played Max, has a pretty good idea for a Saved By The Bell reboot. Seriously, you'll be crossing your fingers, hoping it becomes a reality.
While there has been no news of an actual Saved By The Bell reboot, that hasn't stopped Alonzo with coming up with a pitch. "You never say never," he said in a recent interview with Entertainment Tonight, sharing his idea that would bring Zack and Kelly back in mini-me forms. "There should be a show based on The Max to where maybe the kids that were on Saved by the Bell, their kids are now hanging out at The Max."
Basically, Alonzo wants to give Saved By The Bell the Girl Meets World treatment with the children of Zack and Kelly getting a chance to take the lead in this teen series that revisit all their favorite haunts like Bayside High and The Max. And Alonzo knows just who could reprise the role of Max. Well, him, of course. "'Cause look at me. I look awesome!" he said. "I look just the same." Honestly, he really does.
Now, to make this version work, the original cast of Saved By The Bell would have to sign on. Luckily, Jessie herself, Elizabeth Berkley, has said she'd be interested in a Saved By The Bell reunion. Especially, if it took a page from Jimmy Fallon's book. The cast reunited for a Tonight Show sketch in 2015 that had them poking fun at their signature roles and, in Mario Lopez's case, showing off his signature dance moves.
"If something else presented itself that was as intelligent as the way Jimmy did it, I'm not saying we wouldn't consider," she told Us Weekly, "but we did what felt great for all of us at this moment." Berkley also hinted that she could be down with Alonzo's idea of showing the original characters as parents. "Especially in light of the recent Full House success, same generation," she said. "There seems to be a resurgence or an appetite for a little more innocence again in a climate and culture that is not."
Lopez also expressed interest in bringing Saved By The Bell back, but thought it would be difficult to get everyone's schedules figured out. "I've got so much going on, it'd be kind of tough. But if there's a way to pull it off, I'm definitely open to it," Lopez told The Wrap last year. "It'd be a lot of fun to do, and I love those guys." No surprise, since this is the group that once sang "Friends Forever."
It might be a little harder, though, to get Tiffani Thiessen involved in a reboot. In 2016, the artist formerly known as Kelly Kapowski told Entertainment Weekly there will never be a reboot of Saved By The Bell. "You'd never be able to do a reboot of that show and do a good job with it," she said. "The best thing we did was the Jimmy Fallon reunion last year. That's as close as it will get!"
To be honest, it's understandable that Thiessen might not want to bring it back since creator Peter Engel revealed two years ago that Kelly and Zack would have likely divorced. "Probably not," Engel said when TVLine asked him if Zack and Kelly would still be married. "Well, they'd be married — but not to each other."
If Saved by the Bell does come back, let's hope they use Alonzo's idea about the kids. But, let's also keep Zack and Kelly married; this way fans can see Mark-Paul Gosselaar and Tiffani Thiessen together again. After all, the last time they appeared side-by-side on TV, it went pretty well.