Here's How Much Vanessa Trump Could Be Worth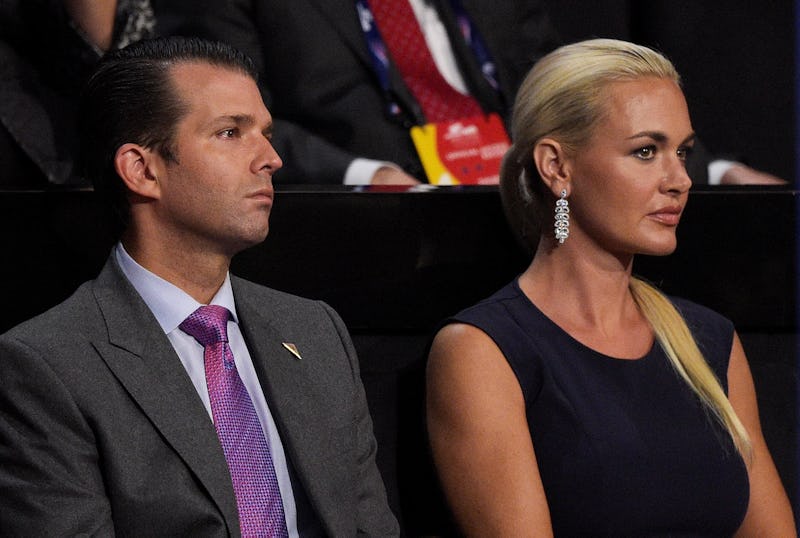 Jeff Swensen/Getty Images News/Getty Images
Forbes' recently pegged President Trump's net worth at $3.1 billion. Although that's far less than the $10 billion-plus Trump claims to be worth, it's still nothing to sneeze at. What's less commonly reported upon, however, is how much money the rest of the Trump family has. For instance, what's Vanessa Trump's net worth?
Vanessa is married to Donald Trump Jr., the president's son, and in 2017, CelebrityNetWorth.com estimated that Don Jr. is worth around $300 million. Reporting on Vanessa's net worth, however, is a lot harder to come by. This makes sense, because unlike her husband, who has a strong social media presence and often finds himself in the headlines, Vanessa generally keeps a low public profile. In fact, she's one of the few members of the Trump family who does not have an Instagram account.
That said, there are some numbers available on Vanessa's earnings. When she met Don Jr. in 2003, she was working as a model for Wilhelmina Models, according to the New York Times. A decades-old article in New York Magazine notes that she had been at that modeling agency since at least 1998, and she was still working for it as late as November 2006, according to the Times.
The question then becomes: How much does a model at Wilhelmina make per year?
This is where things get a bit fuzzy. According to Glassdoor, a website that provides salary estimates for various employers, models at Wilhelmina make anywhere from $153 to $280 an hour. Vanessa appears to have worked at the agency for at least nine years; if she was working 40 hours week during that time, that would put her total earnings from Wilhelmina at between $2,864,160 and $5,241,600, pre-tax.
Of course, this is very speculative. It's entirely possible that Vanessa didn't work $40 hours a week as a model when she was at Wilhelmina. It's also impossible to know how much of that money she spent or, conversely, how much she invested. Further complicating matters is the fact that Vanessa also once had her own line of luxury handbags, La Poshette. It was short-lived, lasting only from 2010 to 2013, but there's no way to know how much she earned, or lost, from that venture. Given all of these variables, it's simply impossible to say how much Vanessa is worth.
Don Jr. and Vanessa were introduced by Donald Trump Sr. at a fashion show in 2003, she told the Times in 2006. Vanessa said that the three engaged in a "brief, awkward conversation," and that Trump Sr. proceeded to re-introduce them again later at the same party.
"Yeah, we just met five minutes ago," Vanessa recalls telling her future father-in-law.
The couple was married at Mar-a-lago in 2005, according to People. Maryanne Trump Barry, the elder Trump's sister and then a judge for the United States Court of Appeals for the Third Circuit, officiated the ceremony, and newlyweds honeymooned in Fiji and Mexico. They have five children.
Despite her low public profile, Vanessa did find herself in the news in February, when she opened a letter addressed to her husband and found that it was filled with an unidentified white substance. According to the Associated Press, Vanessa immediately called 911, reported coughing and feeling nauseated, and was subsequently hospitalized. But her hospitalization was only a precautionary measure, and police later concluded that the substance and letter, which were sent to Vanessa's mother's apartment in midtown Manhattan, weren't dangerous.
"Thankful that Vanessa & my children are safe and unharmed after the incredibly scary situation that occurred this morning," Don Jr. tweeted after the incident. "Truly disgusting that certain individuals choose to express their opposing views with such disturbing behavior."